Woman Impaled By Beach Umbrella at Jersey Shore 'Due To The Force Of The Wind'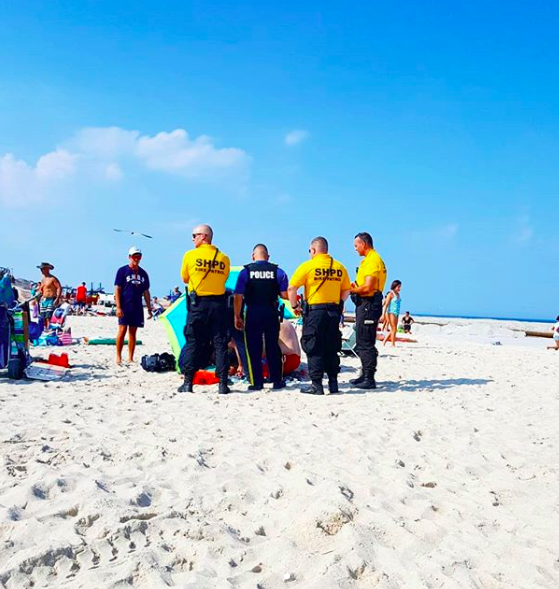 A British tourist was impaled by a beach umbrella at the Jersey Shore and taken to the hospital on Monday, authorities said.
Officers responded to a first aid call at a Seaside Heights beach at around 4 p.m. EST on Monday, WABC reported. First responders found a 67-year-old woman from London with an aluminum umbrella impaled through her right ankle area "due to the force of the wind."
Borough Police Det. Steve Korman told the Asbury Park Press that Seaside Heights Assistant Fire Chief William Rumbolo responded to the incident and cut the aluminum stretcher from the umbrella's frame to free the woman, who was identified as Margaret Reynolds.
Fire crews were forced to use a bolt cutter to dislodge the umbrella and get Reynolds on an ambulance. Reynolds was taken to Jersey Shore University Medical Center in Neptune, New Jersey. The hospital said Reynolds was in good condition.
"It was a beautiful day and a gust of wind blew the umbrella," Reynolds said in a statement released by Hackensack Meridian Health on Tuesday. "It was just an accident,"
A witness to the accident described the incident on a post on social media, The Independent first reported. "This lady had an umbrella go through her leg five feet away from me!" Ricky Z wrote on Instagram.
He continued: "There was a strong gust of wind, there were a couple umbrellas flying. One of the corners of a random one went THROUGH HER F---KING LEG!"
Authorities said they did not know exactly how the incident happened, according to the Asbury Park Press.
The Seaside Heights area received winds of 10 to 18 mph, with gusts of 24 mph on Monday, according to NJ 101.5. Thunderstorms with torrential rain and strong winds are expected in the Northeast on Tuesday, The Weather Channel reported.
Meanwhile, a British couple was struck by lightning during a storm in the south of France on Monday. According to The Local, the woman suffered burns to her chest while her male partner received minor injuries and had "aches and pains." Family members told The Local that the pair were struck while on the road. The man was released from a hospital in Lyon but his companion was being kept for observation.