Britney Spears Blasts Alyssa Milano's Concerns About Her After Police Visit
Britney Spears has lashed out at actress Alyssa Milano after she tweeted "someone please go check on" her.
Milano, 50, tweeted her concern for Spears, 41, in December when fan conspiracy theories were circulating that the singer was missing or that something was amiss.
"Someone please go check on Britney Spears," she tweeted on December 20 and limited the replies to only people Milano followed or had mentioned in the tweet.
But Spears noticed the tweet and shared it to her Instagram stories, just days after police completed a welfare check on the singer on January 25 at the request of fans who had called the authorities when she deactivated her Instagram.
Deputies from the Ventura County Sheriff's Office visited Spears' home and "determined there was no reason to believe she was in danger."
Spears shared a screenshot of Milano's tweet to her Instagram stories on Tuesday.
"It saddens me to see things about me from people who don't know me!!! Ladies, we are supposed to be rooting for one another not pulling one another down!!!" she captioned the post.
Spears addressed her temporary departure from Instagram over on her Twitter account, assuring fans she was fine in a series of since deleted tweets.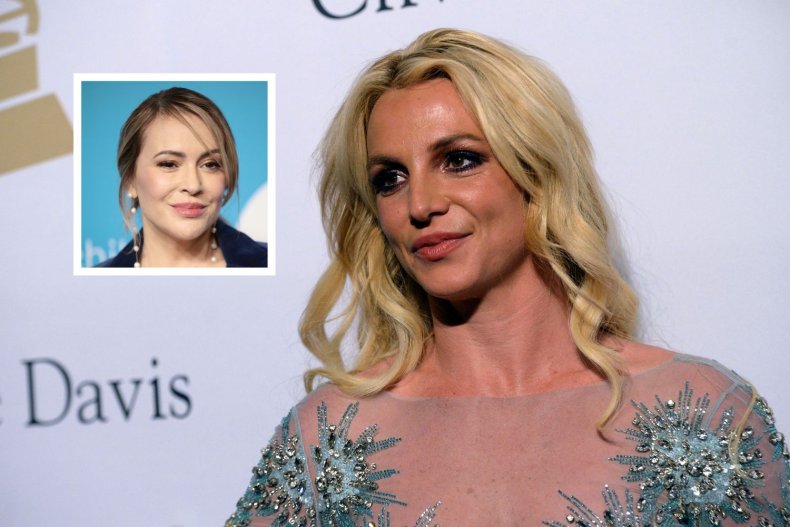 "Yep that's me … I'm alive and well," Spears wrote alongside a video of herself on January 28 in a since deleted tweet.
She then explained why she left Instagram: "I shut down my Instagram because there were too many people saying I looked like an idiot dancing and that I looked crazy. Honestly I was doing my best but it disturbed me to see people freely talk about it on TV … yep it hurt my feelings."
Spears had earlier wrote that her fans calling the police was "uncalled for" and "a way to make [her] look bad."
"As everyone knows the police were called to my home based on some prank phone calls. I love and adore my fans but this time things went a little too far and my privacy was invaded," she wrote on January 26. "The police never entered my home and when they came to my gate they quickly realized there was no issue and left immediately."
She added: "This felt like I was being gaslit and bullied once the incident made it to the news and being portrayed again in a poor and unfair light by the media. During this time in my life, I truly hope the public and my fans who I care so much about can respect my privacy moving forward. All the love, B."
On January 13 Spears and her husband Sam Asghari left a restaurant in San Fernando Valley when people would not stop filming her.
A video of her at the restaurant was then uploaded to TMZ who reported diners said Spears was yelling and speaking in a way that did not make sense.
During the video, Spears is seen holding a menu up to her face and Asghari rushes out, which he explained later was to get their car so they could leave.
Spears later slammed those who filmed and shared the video saying people loved talking about her "like a maniac" and that they got too "hyped about me being a little drunk at a restaurant."