Every Celebrity to Rally Behind Britney Spears After Explosive Court Testimony
Celebrities have rallied behind Britney Spears after the pop star delivered a damning court testimony against her conservatorship.
The 39-year-old told a judge about the conditions she has been under for the past 13 years and how her father had controlled every aspect of her life.
Spears' claims have been heard all over the world with fans horrified at the harrowing details the singer described, which included being sent to a mental health facility as punishment for not working and being forced on harsh medication and birth control.
Celebrities from Mariah Carey to Justin Timberlake are now throwing their support behind the singer.
Her father, Jamie Spears, was also troubled by the singer's allegations, his attorney said.
"He is sorry to see his daughter suffering and in so much pain," a statement read out in court said. "Mr Spears loves his daughter, and he misses her very much."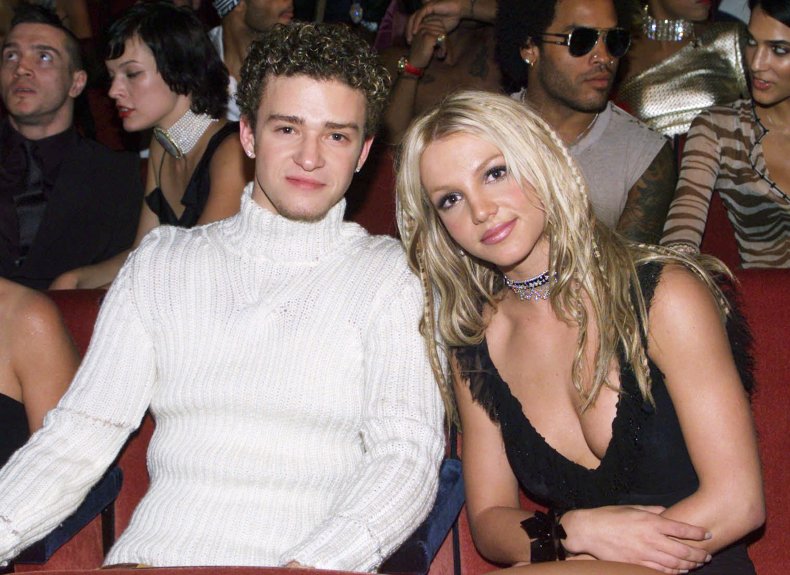 Mariah Carey
Fellow pop icon Mariah Carey tweeted her support early on in Spears' testimony.
"We love you Britney!!! Stay strong," she said.
Justin Timberlake
Spears' ex-boyfriend Justin Timberlake has defended the singer and said the conservatorship is "not right."
"After what we saw today, we should all be supporting Britney at this time," he tweeted.
"Regardless of our past, good and bad, and no matter how long ago it was... what's happening to her is just not right. No woman should ever be restricted from making decisions about her own body."
He added: "Jess [his partner Jessica Biel] and I send our love, and our absolute support to Britney during this time. We hope the courts, and her family make this right and let her live however she wants to live."
Rose McGowan
Actress and advocate Rose McGowan called for an end to women being controlled.
She tweeted: "Britney Spears has every right to be angry. How would you feel if your life was stolen, dissected, mocked? I pray she gets to live your life on her terms. STOP CONTROLLING WOMEN. #FreeBritney."
Kathy Griffin
The comedian tweeted: "Wow. Love her. 25 minutes, and I was hanging on every word. #FreeBritney."
Tinashe
Singer Tinashe tweeted: "We love you SO MUCH @britneyspears."
Ziwe
Comedian Ziwe tweeted: "FREE BRITNEY!!!!!!!!!!!"
Shea Couleé
Drag Race star Shea Couleé added: "Sending so much love to @britneyspears today. We're rooting for you. We're ALL rooting for you #FreeBritney."
Brandy
Singer Brandy tweeted: "Sending all my love and support to Britney Spears and her fans."
Perez Hilton
Celebrity blogger Perez Hilton says he feels "deep shame and regret" for his past behavior towards Spears.
"I feel duped, deceived and disappointed that I trusted and believed, some that are in Britney's inner circle, who alleged that she had been in such poor shape that she couldn't even do a media interview, and she hasn't done one in a very long time," he said on Good Morning Britain.
Chrishell Stauss
Chrishell Stauss from Selling Sunset tweeted: "I will 1000% RIOT if Britney is not freed. We are SO PROUD of you @britneyspears! Listening to her call is equal parts heartbreaking and infuriating. #freebritneyNOW and then change the laws #FreeBritney."
D'Angelo Wallace
YouTuber D'Angelo Wallace added: "What Britney Spears is going through is absolutely inhumane and just so much worse than we could have thought, #FreeBritney and for the love of God treat her like a human being."
Nicole Polizzi
Nicole Polizzi, aka Snookie from Jersey Shore, tweeted: "F****** FREE BRITNEY! We are all here for you queen! @britneyspears."
Meghan McCain
The View presenter asked: "How is what has been done to Britney Spears not a human rights crime? Isolation, controlling her capacity to reproduce without her consent, forcing her to work under inhumane conditions. If she were any other person the people who did this to her would be in jail."
Bree Newsome
Filmmaker Bree Newsome tweeted: "The Britney Spears situation is so disturbing."
Joseph Kahn
Music video director Joseph Kahn added: "I don't understand the California legal system. Murderers are let out all the time with more freedom than Britney Spears."
Vivian Thoreen, attorney for Spears' father, James Spears, gave a brief statement on his daughter's testimony, per AP.
"He is sorry to see his daughter suffering and in so much pain," Thoreen said. "Mr. Spears loves his daughter, and misses her very much."