Britney Spears' father, Jamie Spears, has agreed to step down as her conservator according to documents filed with the Los Angeles Superior Court Thursday.
Last month, after Judge Brenda Penny granted Britney Spears' request to be allowed to appoint an attorney of her own choosing, the singer's new representation, former federal prosecutor Matthew Rosengart, filed a 120-page petition to Los Angeles Superior Court requesting that her father be removed as her conservator. Before that filing, Rosengart suggested publically that her father should remove himself. On Thursday, Mr. Spears' lawyers filed court documents doing just that.
An attorney for Jamie Spears wrote in the filing that there are "no actual grounds for suspending or removing him under Probate Code section 2650," but that he has chosen to step down because of the "public battle with his daughter." The filing's language also appeared to question his daughter's stability, adding, "It is highly debatable whether a change in conservator at this time would be in Ms. Spears' best interests."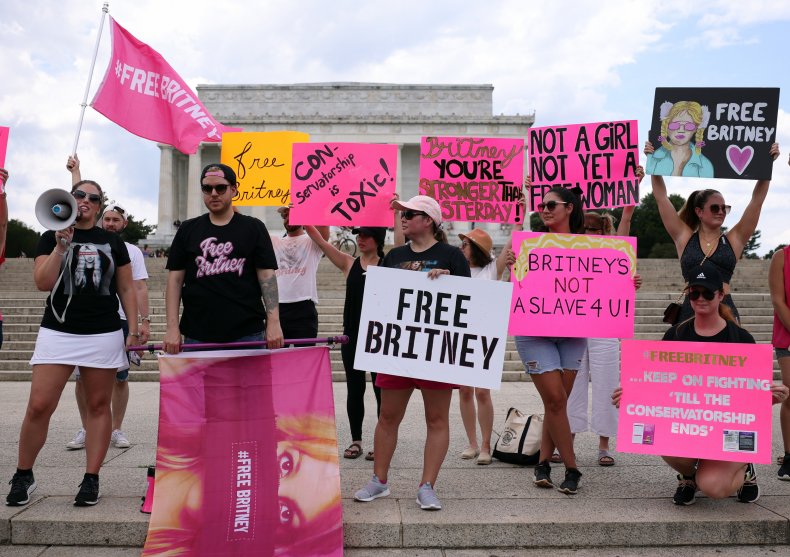 "We are pleased that Mr. Spears and his lawyer have today conceded in a filing that he must be removed. It is vindication for Britney," Rosengart wrote in a statement emailed to Newsweek.
"We are disappointed, however, by their ongoing shameful and reprehensible attacks on Ms. Spears and others," Rosengart's statement says. "We look forward to continuing our vigorous investigation into the conduct of Mr. Spears, and others, over the past 13 years, while he reaped millions of dollars from his daughter's estate, and I look forward to taking Mr. Spears's sworn deposition in the near future."
Jamie Spears' attorneys also claimed in the filing that he had already been planning to step down, and was not doing so just because Rosengart filed against him, saying, "Even though he must contest this unjustified Petition for his removal, Mr. Spears intends to work with the Court and his daughter's new attorney to prepare for an orderly transition to a new conservator. As the Court has likely surmised, before Ms. Spears' new attorney arrived, Mr. Spears had already been working on such a transition with Ms. Spears' former court-appointed counsel, Sam Ingham."
Newsweek has contacted both Britney's previous lawyer, Sam Ingham, as well as Vivian Lee Thoreen, an attorney for Mr. Spears, in order to confirm or deny the claim that Jamie Spears was already creating a plan to step down even before Rosengart's petition.
Currently, Jodi Montgomery is still the conservator of the singer's personal decisions, and the next Los Angeles Superior Court hearing on the matter is scheduled for September 29.
"In the interim, rather than making false accusations and taking cheap shots at his own daughter, Mr. Spears should remain silent and step aside immediately," Rosengart said in his statement.
"This is a major victory for Britney Spears and another step toward justice," he wrote.