'I Designed Britney Spears' Engagement Ring'
I have always been a Britney Spears fan. She has always been, and continues to be, an icon. When you say the name Britney, there is so much it encompasses even though she's just one person. She's younger than me, so watching her evolve as an individual has been amazing. She's definitely up there with Michael Jackson and Elvis Presley.
I haven't met her but three months ago her boyfriend Sam Asghari and I connected on Instagram. I guess you could say fate brought us together. He was looking for somebody to create an engagement ring that was worthy of Britney's finger.
We chatted and hit it off. He was super easy to work with and very chilled. I'm the same way so we just connected. With all of our clients, we try to understand a bit more about them, what they're trying to create and what their love story is about. Then we try to capture some of those details in the design and the creation of the ring itself. Every ring is unique.
Sam expressed to me that he wanted something that was timeless, elegant and classy, like Britney. After that, my team and I shared some artwork with him based on that and then Sam and I developed the ring together.
I immediately had a vision for a solitaire. But at the same time, we wanted to take that concept and tie it in with Britney. Because Britney is such an iconic figure and she's basically on top of the world at all times, I thought of using a "floating diamond" concept. This involved removing the legs from underneath the diamond and allowing it to sort of float on its own. The ring is a four carat cathedral style diamond, with four diamonds that are flush set in the basket and four diamonds that are flush set on the prongs. There is diamond detailing on the bridge and a very special hidden diamond underneath the bridge.
During the design process I would suggest adding some diamonds here and there, and Sam would say he loved a certain style or suggest a different placement. That's how you create something. Sam was very involved.
The engraving was also all him. Engraving and custom features are details an artist can only do when they understand who the ring is for. I had a client who asked his mother-in-law for his partner's ultrasound. He wanted to engrave the rhythm of her first heartbeat on the ring. That client really thought about the details, and so did Sam. He really considered the one word that encompasses who Britney is as an individual. And there is no other word that is more befitting of Britney than the "lioness."
It took about a month to create the ring and obviously knowing it was for Britney we wanted to make sure every detail was perfect. But we always protect the privacy of our clients, so we don't talk about the costs involved.
Of course, we were sworn to secrecy over Britney's engagement ring. We even created code names for Britney and Sam. They were John and Jenna. It sounded more like a regular couple. I also made my wife sign an NDA. She asked me what the work was about, she knew something was up. It was an FBI moment where I had to tell her I couldn't talk about what happens in my job!
The transportation of the ring ended up happening with an armed guard. We don't just throw rings in the mail, but armed guards are definitely not the default. To give the ring security it needed I was going to have to do that or fly it out there myself because Sam needed it. We actually sent it over a couple of days prior to his proposal on September 12. It would have been awful if he'd thrown it in his sock drawer and Britney found it. I had a client once who was getting engaged and hid the ring in his sock drawer. His girlfriend found it and he ended up calling me saying he needed another ring!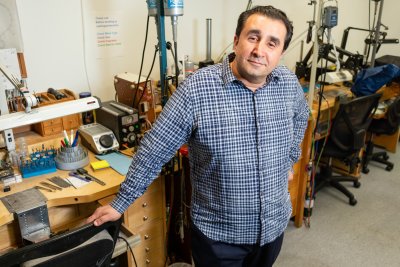 It was a really special moment when I saw Sam had proposed to Britney with the ring I had made. I felt I was involved in their big moment in my own little way. As a jeweller, it's a very gratifying experience to be a part of the moment people decide to spend the rest of their lives together. The ring has a lot of significance. It's a symbol of Sam and Britney's love and their journey together as people.
Sam contacted me when he received the ring and after he gave it to Britney. He was over the moon. I asked him about the sizing to check it was correct and everything was spot on. Sam told me that Britney's reaction was: "Oh. My. God!"
The Instagram messages we have had since Sam proposed have been crazy, it's a completely different demographic. But Britney's ring is an exclusive design. We're not going to be replicating it for any price, because we want her to have her ring and her moment forever. But we have a "lioness" ring on our site that is identical and we will showcase it in our new store so people can come and see it.
I think part of why Sam chose to work with us, is that there is a lot to be said for smaller companies. We have our own niche. I think people are realizing that there are artists who might not have a $50million advertising budget but they can show their talent online.
I have had many A-list clients, but the truth is, the reason I became a master jeweler is because I wanted regular people to have access to beautiful rings. My dad had always encouraged me to join our family business and I never really wanted to. But one time I was riding the train, and across from me was a woman who was staring at her engagement ring. For 20 minutes, she had this smile on her face and this glow. I thought, OK, I can do this. I want to be able to replicate that emotion in other people.
Myself and everyone at Forever Diamonds NY are so happy for Sam and Britney. This is just the beginning for them. They are a beautiful couple and we just want to see them grow. We really just wish them everything that life has to offer, and only blessings and happiness.
Roman Malayev is a master jeweller at Forever Diamonds New York. You can find out more about his work at foreverdiamondsny.com or follow the brand on Instagram @foreverdiamondsny.
All views expressed in this article are the author's own.
As told to Jenny Haward.