Britney Spears fans have been expressing their joy at the singer's wedding to her long-time partner Sam Asghari and now news that all of her income is protected in a prenuptial agreement is putting her fan base's minds at ease.
The pop star's assets are well-protected in a prenup agreement in the event of her and model and actor Asghari ever splitting up.
According to People and TMZ, the newlyweds signed a contract that will ensure Asghari will not receive any of Spears' multi-million dollar fortune earned before the wedding date.
Spears, 40, and Asghari, 28, wed last Thursday in a ceremony at their home where the guests included Madonna, Selena Gomez, Paris Hilton, Drew Barrymore, Donatella Versace and other high-profile celebrities.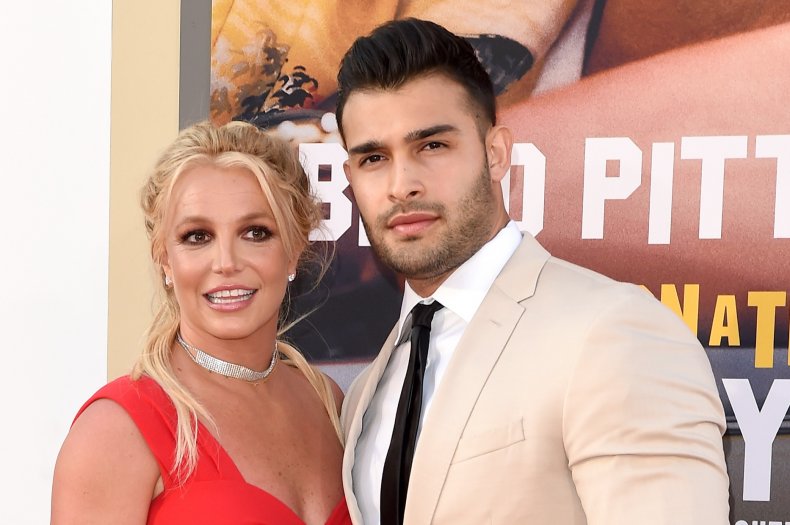 Spears and Asghari, an Iranian-born actor and personal trainer, met in 2016 while she was held under a conservatorship by her family that included preventing the celebrity from getting married and having a baby.
The couple got engaged in September 2021 as her father filed to end the conservatorship, officially stopped by a judge in November.
Soon after the couple announced their engagement, Asghari joked on Instagram that he needed an "ironclad" prenup to protect his assets, which clearly aren't worth as much financially as Spears' fortune—a reported $60 million.
"Thank you everyone who is concerned about The prenup!" the actor joked on his Instagram Story at the time. "Of course, we're getting an ironclad prenup to protect my jeep and shoe collection in case she dumps me one day."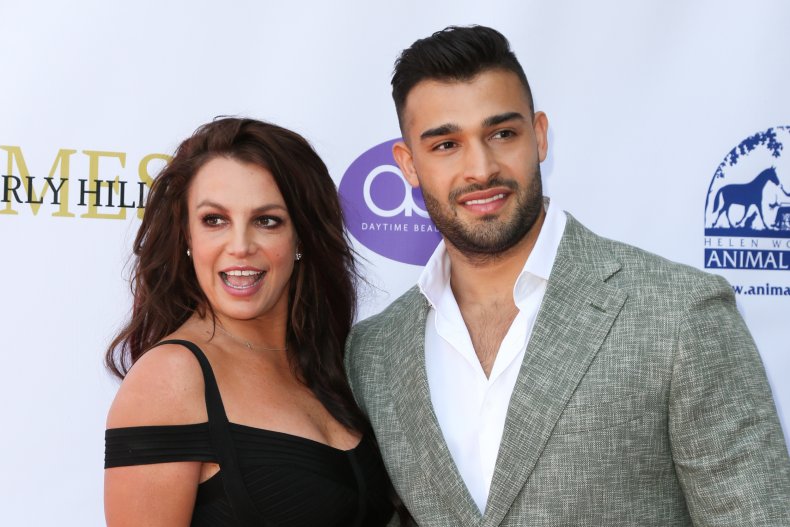 The prenup has prompted relief from fans, with one popular tweet in response reading: "Ok now I'm happy for them."
While another added: "before i found out they signed a prenup i was passively happy about britney + sam's engagement but now that i know she is fully protected from him just in case? oh im cheesin lmao congrats brit."
Although the couple shared many happy snaps and clips from the wedding, ​​Spears' sons Sean Preston, 16, and Jayden James, 15, whom she shares with her ex-husband Kevin Federline, were reportedly not in attendance.
Spears' first husband Jason Alexander also crashed the wedding, resulting in him being apprehended by security and later charged.
Alexander went live on Instagram on Thursday as he entered Spears' home and recorded himself saying: "She's my first wife, my only wife."
Alexander was found to have an out-of-county warrant and was placed under arrest, the Ventura County Sheriff's Office confirmed.
On Monday, he was charged with two counts of misdemeanor battery, one count of misdemeanor vandalism and one count of misdemeanor trespassing following the incident.
Meanwhile, Spears' new sisters-in-law are turning heads online for their glamorous appearance at the wedding, with a photo of them going viral.
The Asghari family are of Iranian heritage. Sam is the youngest of the four children, and he credits his sister Fay with introducing him to modeling in 2015.