In the five years since he's been in a relationship with Britney Spears, Sam Asghari has learned first-hand the upsides and downsides of sudden celebrity status.
The actor and personal trainer, 27, appeared to be amused by claims that he met Spears, 39, as a little boy in Hawaii as he took to Instagram on Tuesday.
Iranian-born Asghari shared a brief throwback clip that showed Spears hugging the young autograph-seeking fan, as she said: "Will you call me when you're older?"
Asghari appeared to see the funny side of the outlandish suggestion that he was the boy in the video, as he wrote: "Just wants to clear things out. This is notttttt me... I had facial hair I was 6'2 and spike 5 different languages at this age."
In a follow-up post, he shared side-by-side photos of himself as a child and the young boy in question, adding "me" and "not me" labels above the appropriate pictures.
While it's not known how the video was brought to Asghari's attention, one Britney fan had joked about his resemblance to the young boy in a tweet shared back in December 2018.
This isn't the first time Asghari has tackled comments directed his way with humor. Following the announcement earlier in September that he and Spears were engaged, a number of fans commented that they should get a prenuptial agreement.
Reacting to the comments, Asghari took to his Instagram Story, where he quipped: "Thank you everyone who is concerned about the prenup! Of course we're getting iron clad prenup to protect my jeep and shoe collection in case she dumps me one day."
The couple met on the set of Spears' "Slumber Party" music video in 2016, making their public debut a couple months later.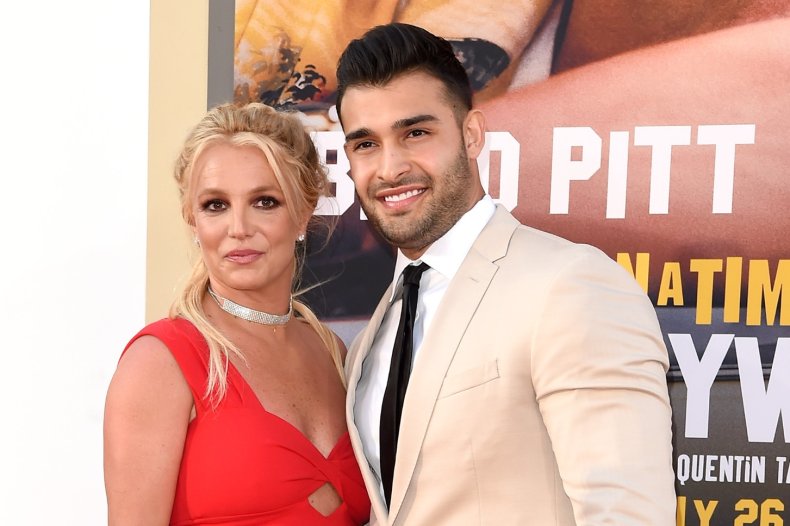 In a March interview with Forbes, Asghari discussed his desire to settle down and have a family with Spears, who has two teenage sons—Sean Preston, 16, and Jayden James, 15—from her previous marriage to Kevin Federline.
"My priorities in life are to remain humble and understand where I came from and where I'm going," he said. "I want to take my career to the next step when it comes to acting. I want to take my relationship to the next step, as well. I don't mind becoming a father. I want to be a young dad."
In a court filing on Wednesday, it was revealed that Spears is in the process of putting together a prenuptial agreement for her fiancé Asghari.
Also in the filing, Spears expressed a desire for her father, Jamie Spears, to not be involved in the financial discussions necessary for the prenup.
Jamie Spears recently petitioned to step down as his daughter's conservator, after 13 years at the helm.
He initially oversaw the singer's personal and professional affairs, before stepping down from being in charge of her person in 2019. Jodi Montgomery now acts as a conservator of Britney Spears' person.
Britney Spears' most recent court filing has stating that Jamie Spears must be suspended from his role of conservator by September 29, which is the date of the next Los Angeles court hearing on the conservatorship.
In a damning testimony in June, the pop star alleged that she was made take medication, perform and wear a contraceptive device against her will—the latter of which prevented her from realizing her desire to have a baby with her partner.