Britney Spears Updates Glory Album Cover to Celebrate 2016 Record Hitting #1 on iTunes
Britney Spears has unveiled a new cover for her album Glory, as the 2016 hit reached number one in the iTunes charts, four years after it was released. Fans rallied together to get the album to the top spot last week, so Spears thanked them with the updated cover.
When Spears found out the album reached number one, she said on in a video: "Hi guys, so today I just figured out that Glory went to number one on the iTunes charts. I have no idea what happened.
"Because of you, I'm having the best day ever. Thank you, guys."
Spears shared the new image on Twitter and Instagram, writing: "You asked for a new Glory cover and since it went to number one we had to make it happen !!!! Couldn't have done it without you all"
The new album cover, which can be seen on streaming platforms like Spotify and Apple Music, sees Spears in a gold one-piece lying on her back in the desert, surrounded by a huge silver chain.
On Instagram, Spears' boyfriend commented "Always #1" and her sister Jamie Lynn Spears commented two fire emojis.
Willie Gomez commented: "this photo is soooooo fire" and artist Saint Hoax dubbed Spears the "queen of alternative covers."
However, others are speculating that the new album cover is not just a celebration of the album reaching number one. There are rumors circulating that suggest Spears could release a Platinum Edition of Glory with three new tracks.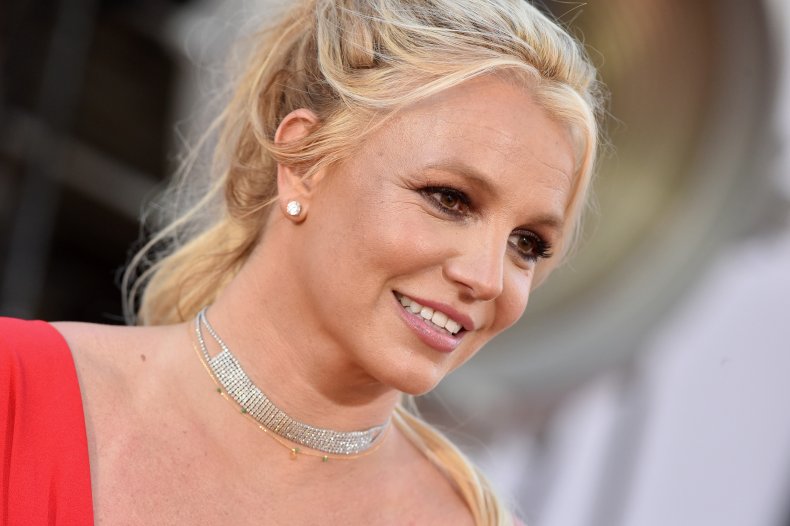 Fans are also calling on Spears to release Mood Ring worldwide and for it to become available on all platforms. Some think that the 2016 song, which was released as an exclusive bonus track in Japan, could be one of three new tracks released on the rumored platinum edition.
On Twitter, fans also pointed out the chain could refer to the fan-led Free Britney movement. Since 2008, Spears has been under a court-approved conservatorship or legal guardianship, which means her father has authority over her finances and some personal decisions.
Last week, it was reported that the conservatorship had been extended to at least August 22. Spears has insisted on social media that she is okay and in control of her life, but fans continue to worry about the singer.
Reporter Trey Serna said: "What I find most fascinating about this new cover is the chain. It goes with the #FreeBritney theme we've heard so much about—how Britney has put themes of being 'trapped' in her videos/performances. These are screenshots from the original #MakeMe video that was never released."