Ahead of Concert, Britney Spears's Arrival in Israel Sparks Pure Chaos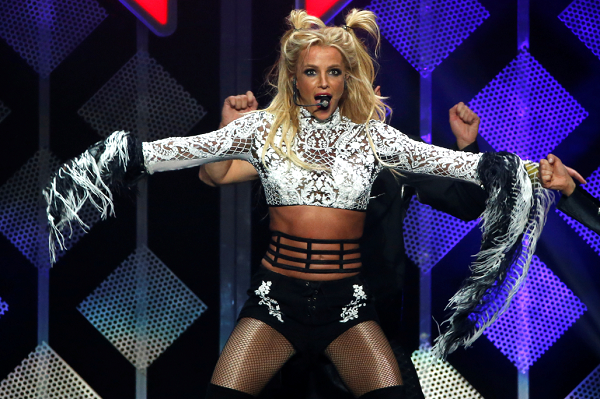 Britney Spears's arrival in Israel for the first time ever sparked pandemonium. Local Israeli news outlets reported that droves of fans flooded many historical sites, excitedly waiting for a glimpse of Spears as she toured Jerusalem on Sunday.
Even Prime Minister Benjamin Netanyahu reportedly anticipated meeting with the "Make Me" singer ahead of her concert in Tel Aviv, according to Israel's Ynetnews. The dinner never happened, after Spears was reportedly mobbed by "hundreds of fans and photographers" during her visit to the Western Wall and the Western Wall tunnels.
A statement from the prime minister's office on Monday said the dinner had never actually been confirmed. Netanyahu and his wife did, however, host cancer patients at the prime minister's residence in Jerusalem, according to the Times of Israel.
Spears was reportedly scheduled to dine with Netanyahu and his wife Sunday ahead of her Monday performance at Tel Aviv's Yarkon Park. Several children from Hadassah Hospital's pediatric cancer ward were also allegedly in attendance at the dinner, to which Spears never showed up. She did still meet with children suffering from cancer. A meet-and-greet with patients was scheduled for Monday before her show.
Her performance in Tel Aviv—at the same venue that Canadian pop star Justin Bieber and rock legends Aerosmith recently appeared—wrapped up the final leg of her Britney: Live in Concert world tour. Music producers in Israel had been trying to book the singer for a performance in Tel Aviv for the past year.
El Al Israel Airline released a tribute music video in anticipation of Spears's arrival in Israel just two weeks before the singer was expected to give her first performance in the country. In the video, El Al stewardesses re-enact Spears's famous "Toxic" video, which included several scenes on an airplane.
Spears's performance in Israel was slated to cost over $2 million.