Britney Spears Calls Lady Gaga Her 'Inspiration' After Show of Support
Britney Spears has called Lady Gaga her "inspiration" after the singer and actress expressed support for her over her recently dissolved conservatorship.
Pop star Spears received an outpouring of public support from a number of celebrities and fans throughout her fight to be released from her conservatorship, which was implemented in 2008 amid mental health concerns.
That support has continued in the days since the November 12 ruling that Spears would be freed from the arrangement, which had seen her personal and financial decisions taken out of her hands for almost 14 years.
Gaga, born Stefani Germanotta, spoke about Spears at the Los Angeles premiere of her new movie, House of Gucci, where she said, per The Independent: "I think that she will forever be an inspiration to women."
When asked by Variety if she would ever collaborate with Spears, Gaga responded: "Of course I would! Britney is, she's a woman in this business that showed a lot of power in her sexuality, even in her youth, in a way that, I think for me as a young woman, was just so inspiring and empowering."
After the interview aired, Spears took to her Instagram Story on Friday to express her gratitude to Gaga, writing: "Thank you Lady Gaga for genuinely taking your time to say something so kind. You made me cry! I love you!"
"Love you @britneyspears!" Gaga responded. "Live your best life. I prayed for the legal system to treat you like a person. You've now changed the course for women in this industry forever. You stood up for yourself and were so brave. Thank you."
In a new Instagram post shared on Monday, Spears uploaded a photo of Gaga in a leopard-print ensemble and a video of the star singing her praises in an interview, in which she called the "Toxic" singer "incredibly inspirational."
Captioning the post, the mother of two wrote: "Why hello sexy lady !!!! Thanks again for your kind words ..... you've inspired me too and I'm in love with this outfit !!!! You're my inspiration for the rest of the year and congrats on your amazing movie !!!! Love, B [kiss emojis]."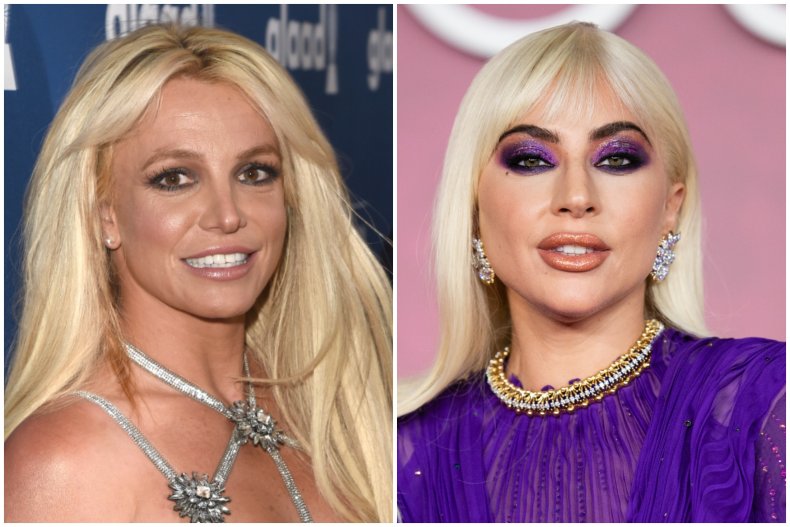 Spears' words were less than glowing for fellow singer Christina Aguilera, after the latter skirted a question about whether she had been in contact with the pop star since the end of her conservatorship.
Aguilera's publicist was seen interrupting the interview, which took place at the recent Latin Grammy Awards, stating: "No, we're not doing that tonight. I'm sorry."
As she was led away, Aguilera winced at not being able to answer the question, though she added: "But I'm happy for her."
Sharing the video on Instagram, Spears wrote: "I love and adore everyone who supported me... but refusing to speak when you know the truth, is equivalent to a lie!!!!"
Spears added: "13 years being in a corrupt abusive system yet why is it such a hard topic for people to talk about??? I'm the one who went through it!!!! All the supporters who spoke up and supported me, thank you... Yes I do matter!!!!!"
For her part, Aguilera has spoken out in support of Spears, who she has known since they both appeared in Disney's The All-New Mickey Mouse Club back in 1993.
In June, after Spears testified about her experience under the conservatorship, Aguilera took to Instagram to share a photo of herself and the star as young girls.
She added the comment: "These past few days I've been thinking about Britney and everything she is going through. It is unacceptable that any woman, or human, wanting to be in control of their own destiny might not be allowed to live life as they wish."
She went on: "While I am not behind the closed doors of this very layered & personal yet public conversation—all I can do is share from my heart on what I've heard, read and seen in the media.
"The conviction and desperation of this plea for freedom leads me to believe that this person I once knew has been living without compassion or decency from those in control.
"To a woman who has worked under conditions and pressure unimaginable to most, I promise you she deserves all of the freedom possible to live her happiest life," she added. "My heart goes out to Britney. She deserves all the TRUE love and support in the world."
While discussing Spears in a July interview with the Los Angeles Times, Aguilera said: "We all deserve some happiness. I'll always be supportive of Britney."