Britney Spears Mocks Therapists She Was 'Forced' to Visit in Birthday Skit
Britney Spears took time out from her 40th birthday celebrations on Thursday to share a skit mocking the therapists she was previously "forced" to visit.
The pop star's notorious conservatorship, which gave other people control over her personal and financial decisions, was dissolved in November after more than 13 years. She testified in June that she had been made to see therapists under the arrangement.
On Thursday, Spears took to her Instagram account to post a video of herself portraying both therapist and patient.
Talking to the camera, she said: "Hi, so as your therapist today, I'm here to just ask you a couple of questions. I'm not here to trouble you, I just want you to be completely relaxed. You just relax, I'll do the work.
"I'm here to help you, key number one, so relax. Totally relax, lay down… everything's gong to be fine. But the psychosis of what's going on in your head kind of goes into mine too, so we just need to clear these blockages… I need to do my work for you to help you succeed."
The camera then cut to Spears lying on her back on a couch, as she said in a monotone voice: "Yes, I'm feeling fine. I had a great year. I had a great day."
As the clip came to a close, the "Toxic" singer yelled expletives at the camera, pausing in the middle of her tirade to belch.
Captioning the video, Spears wrote: "As much therapy as I've had to do against my will … being forced to pay and listen to women telling me how they are going to further my success … it was a joy … no really … 10 hours a day, 7 days a week … no lie … in this beautiful nation it would only be fair for me to dedicate my life to skits to the wonderful therapist !!!!
"I genuinely thank you dear sweet hearts for your efforts !!! The end is me celebrating … it's clearly OVER because my medication is working 'Murica !!!! Pssss BALLS and KISS MY MOTHER F****** ASS !!!!!"
In June, Spears told a Los Angeles court that her team required her to attend therapy sessions every week, regardless of whether she wanted to.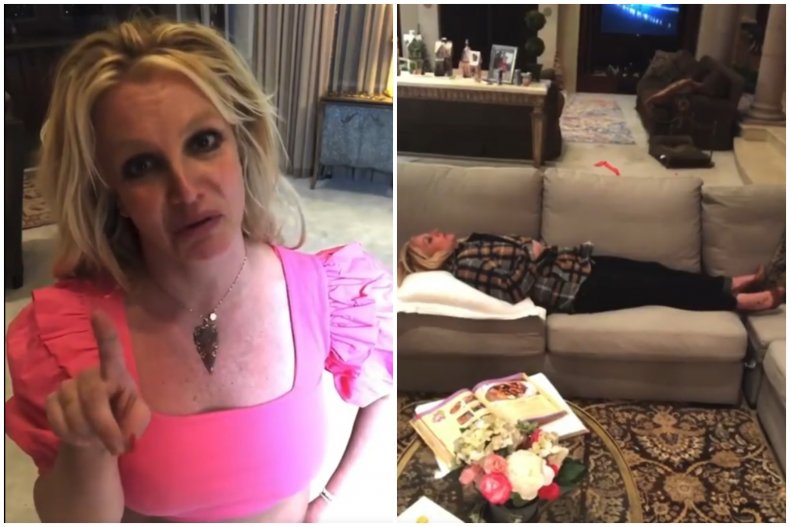 "I have three meetings a week I have to attend no matter what," she said. "I just don't like feeling like I work for the people whom I pay. I don't like being told I have to, no matter what even if I'm sick…
"Jodi [Montgomery] the conservator says I have to see my coach Ken even if I'm sick. I would like to do one meeting a week with a therapist. I've never before, even before they sent me to that place, had two therapy sessions… I have a doctor and then a therapy person. What I've been forced to do is illegal in my life. I shouldn't be told I have to be available three times a week to these people I don't know."
She went on: "They have me going to therapy twice a week and a psychiatrist. I've never in the past had to see a therapist more than once a week. It takes too much out of me going to this man I don't know… I'm scared of people.
"I don't trust people with what I've been through. And the clever setup of being in one of the most exposed places in Westlake [California], which, yesterday, paparazzi showed me coming out of the place literally crying. It's embarrassing, and it's demoralizing. I deserve privacy when I go and have therapy, at my home, like I've done for eight years."
During her testimony, Spears also alleged that she had been forced to perform, take medication and wear a contraceptive device against her will.
The singer's father, Jamie Spears, was suspended from the conservatorship in September. The arrangement, which was implemented in 2008 amid mental health concerns for the pop star, was officially dissolved on November 12.