Britney Spears' Mom Confirms Hope To See Star During Holidays Amid Rift
Britney Spears' mother, Lynne Spears, has confirmed she hopes to reunite with her famous daughter, amid a rift over her recently dissolved conservatorship.
In the latter stages of her fight to be released from released her conservatorship, pop star Britney lashed out at her mother, who she accused of orchestrating the arrangement which was first put in place in 2008.
Despite the apparent family tension, Lynne Spears confirmed that she hopes to see her daughter over the holidays as she arrived in Los Angeles ahead of Thanksgiving.
In video published by TMZ on Monday, the Spears matriarch was seen making her way through Los Angeles International Airport as a paparazzo asked her if she was happy about her daughter being released from the conservatorship.
Wearing a patterned face mask, Lynne Spears nodded in the affirmative in response. Asked if she hoped to see her daughter for the holidays, she answered in the same manner to confirm that she did.
Asked if she had a message for her daughter, Lynne Spears put her hands together in apparent representation of prayer as she made her way out of the airport.
It comes amid heightened family tension among the Spears family.
In an Instagram post that she deleted soon after posting in early November, Britney painted her mother as the brains behind the conservatorship, as she branded her father "not smart enough to ever think of" such an arrangement.
Taking to the social media platform, she shared a quote post that read: "The most dangerous animal in the world is a silent smiling woman."
Britney wrote in an accompanying caption: "The moment I SMILE 😁 and I realize I haven't in a very long time !!!! My mom gets so CONCERNED and says 'You're acting weird ... what's wrong with you ???' I say 'Hi, my name is Britney Spears ... nice to finally meet you !!!'"
Directly addressing her mother, she added: "Pssss my dad may have started the conservatorship 13 years ago ... but what people don't know is is that my mom is the one who gave him the idea !!!!
"I will never get those years back .... she secretly ruined my life ... and yes I will call her and [former manager] Lou Taylor out on it ... so take your whole 'I have NO IDEA what's going on' attitude and go f*** yourself !!!!"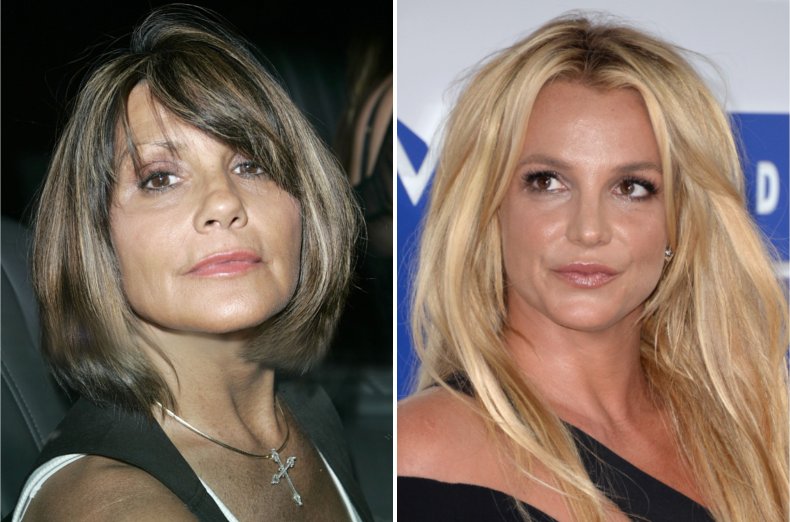 She concluded: "You know exactly what you did ... my dad is not smart enough to ever think of a conservatorship ... but tonight I will smile knowing I have a new life ahead of me !!!!"
The "Toxic" singer's father, Jamie Spears, had been a prominent figure in overseeing the conservatorship—which took the star's personal and financial decisions out of her hands—from its inception until September of this year, when a judge suspended him.
While her mother has publicly expressed support for her during her court battle, Britney Spears said days after the November 12 ruling that set her free from the arrangement that her family "should all be in jail" for what she experienced.
Branding her conservatorship "demoralizing and degrading," the mother of two discussed some of the things that her newfound freedom would allow her to do.
"I might as well do a hint of my thoughts on the gram before I go and set things square on @Oprah 🤔😜🤷🏼‍♀️ !!!!!" the star wrote. "I mean who knows ... I do know how embarrassing is to share the fact I've never seen cash or wasn't able to drive my car."
She added that it "honestly it still blows my mind every day I wake up how my family and the conservatorship were able to do what they did to me ... it was demoralizing and degrading !!!! I'm not even mentioning all the bad things they did to me which they should all be in jail for ... yes including my church going mother !!!!
"I'm used to keeping peace for the family and keeping my mouth shut ... but not this time ... I have NOT FORGOTTEN and I hope they can look up tonight and know EXACTLY WHAT I MEAN !!!!"
During a court testimony in June, the star alleged that she was made to take medication and wear a contraceptive device against her will, among other things, under the conservatorship.