'Oops I Did It Again' Turned 20: Here's the Ultimate Britney Spears Timeline
Britney Spears celebrated 20 years of her smash hit sophomore album Oops!... I Did It Again over the weekend.
Honoring the album's 20th anniversary on Saturday, Spears thanked fans on social media for their years of support and shared a montage video of clips filmed during the album's rollout.
"20 years since the Oops! album ... the anticipation and the butterflies I felt before it came out were crazy ... all of my expectations were exceeded!!!! And it's all thanks to you folks .... Thank you for sticking with me and growing with me. I am one Lucky girl," Spears wrote.
Originally released on May 16, 2000, the album went on to become one of Spears' most successful projects and was credited as the album that catapulted the Mississippi native to global superstardom.
Take a trip down memory lane and remember some of Spears' biggest moments with the timeline below.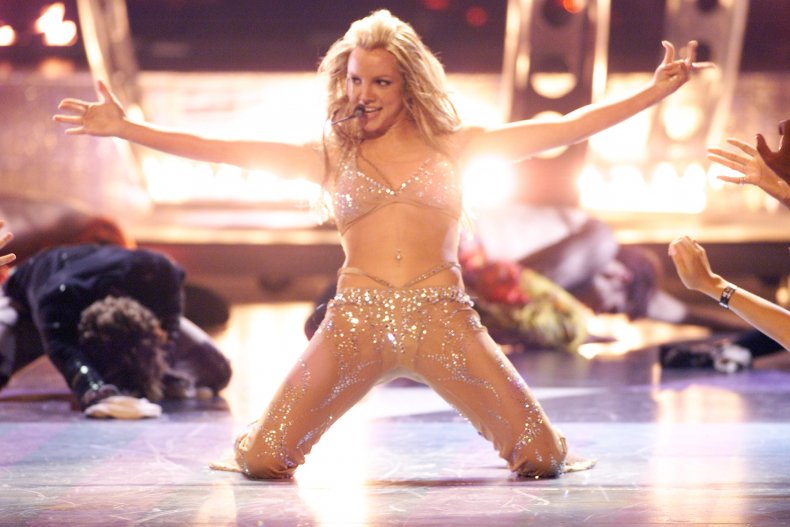 1993
An 11-year-old Spears lands her first gig as a Mickey Mouse Club Mouseketeer. She's cast alongside Christina Aguilera and Justin Timberlake, who would also grow up to become music sensations...you know, in case you missed that.
1999
Spears' first album, Baby One More Time is released under her label Jive Records. The lead single, which shares the album title, debuts in the No. 1 spot on the Billboard 200.
2000
Oops!...I Did It Again is released. Not only did the album become Spears' highest-selling album—more than 1.3 million copies of Oops!...I Did It Again were sold in the first week after its release—the album topped the Billboard 200 and Billboard 100 charts and went on to hold the record for the highest sales week for an album by a female artist for 15 years.
Along with receiving critical acclaim and widespread success for the album, 2000 marked a big year for Spears' love life as well. She went public with her relationship with former Mickey Mouse Club co-star and N'Sync singer, Justin Timberlake.
2001
Spears shocked the world when she seemingly ditched her wholesome girl-next-door image and appeared stripped down in a sexy bra and shorts for her opening performance at the 2001 MTV Video Music Awards. Singing her newest single, "Slave 4 U," Spears put on a sizzling hot performance with a large albino python draped over her shoulders.
Later that same year, she released her third album, Britney.
2002
Spears appears on the big screen in the release of her first lead-starring feature film, Crossroads.
Her relationship with Timberlake also comes to an end.
2003
Just a day after receiving a star not the Hollywood Walk of Fame, Spears releases her fourth studio album, In the Zone, and causes jaws to drop when she famously kisses Madonna at the 2003 MTV Music Video Awards.
2004
Spears left fans bewildered once again when she surprisingly marries her longtime friend Jason Allen Alexander at the Little White Wedding Chapel in Las Vegas. The marriage lasted for 55 hours before it was annulled in March. Eight months later, she'd leave followers stunned again when she revealed marriage to backup dance Kevin Federline.
2005
Along with appearing in her own reality TV show with Federline titled, Chaotic, which aired on the UPN network, Spears announces she is pregnant with her first child. She gives birth to son Sean Preston Federline later that year in September. Her exciting entry into motherhood is tainted with negative press after she's photographed driving with her son on her lap. Her parenting also comes into question after Sean Preston suffered an accidental fall at their home, resulting in Spears being questioned by the Los Angeles Department of Children and Family Services.
2006
Spears and Federline welcome a second son, Jayden James, in September. Two months later, she files for divorce.
2007
The year of Spears' infamous meltdown. The singer checked into a rehab facility in February but leaves the grounds after barely 24 hours. Days later, she makes headlines for shaving off all her hair.
Despite enduring a particularly messy divorce process, Spears and Federline finally reach a settlement and their divorce is finalized in July. However, her celebratory mood doesn't last for long after she delivers a lackluster performance of "Gimme More" at the 2007 Video Music Awards in September.
The single's accompanying album, Blackout, still sees success—peaking at No. 2 on the Billboard 200 charts following its October release—but even that gets overshadowed when Spears loses custody of her children to Federline that same month.
2008
Spears bounces back with the release of her sixth studio album, Circus. The lead single, "Womanizer" tops the Billboard Hot 100, and Spears breaks another record—this time the Guinness World Record for the youngest female artist to have the most No. 1 records.
A family judge eases up Spears' custody arrangement, granting her visitation rights with her sons. Restrictions continue to decrease over the next few years. Currently, Spears and Federline's custody agreement entitles the singer to 30 percent of unsupervised custodial rights.
2011
Spears releases Femme Fatale—yet another chart-topper.
2013
Spears' eighth album, Britney Jean debuts. However, it's the least successful of her catalog, only reaching gold status by the Recording Industry Association of America and the No. 4 spot on the Billboard charts.
2016
Glory, Spears' ninth studio album is released. It reaches the No. 3 spot on the Billboard 200.