Britney Spears Praises 'Adorable' Emma Stone, Gives 'Cruella' Glowing Review
Britney Spears has revealed that she's an avid the fan of actress Emma Stone and her hit Disney movie, Cruella.
Stone has won acclaim for her starring role in the prequel movie as the ambitious Estella Miller, who becomes the infamous Dalmatian hunting villain Cruella de Vil.
And Spears added her name to the lot of movie fans lauding Stone on Sunday, when she shared a post revealing that she's a fan of the actress and her movie.
Sharing a picture of a dress made of tulips on her Instagram account, the pop icon wrote: "I watched Cruella last night ... ok so I watch it at least 3 to 4 times a week ... I like it ok 😂🙄🤷🏼‍♀️ ???
"Emma Stone is f****** adorable and I feel like I'm 6 years old again watching it 🤩 !!!! The imagery and the way the story leads your imagination is so freakin cool !!!!"
Rounding out her caption, the mother-of-two explained the reason behind her choice of graphic, as she wrote: "I posted this tulip dress cause I'm inspired by fashion at the moment 🌷 !!!!"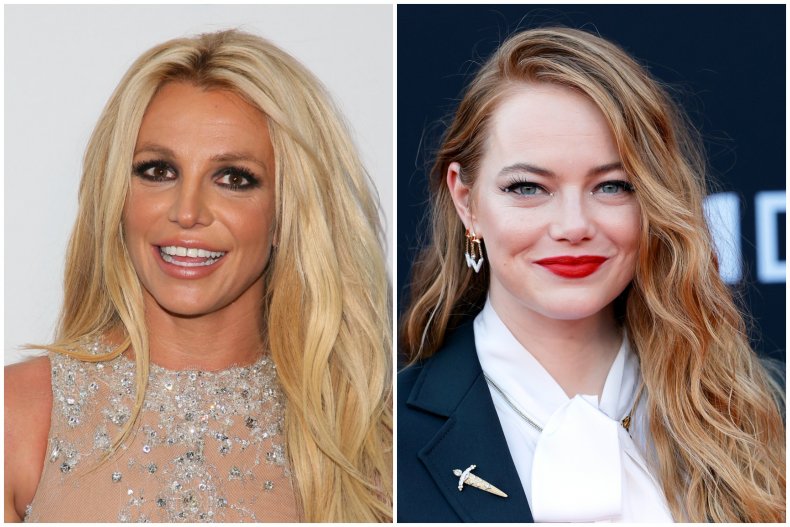 Cruella is the origin story of the villainous Cruella de Vil, who famously wanted to make a coat out of dog fur in the 1961 movie 101 Dalmatians.
Stone's Cruella is set in 1970s London during the punk rock movement, and follows aspiring fashion designer Estella Miller as she becomes notorious on the fashion scene.
Glenn Close—who played Cruella de Vil in the live action movies 101 Dalmatians (1996) and 102 Dalmatians (2000)—served as an executive producer alongside Stone on Cruella, which was released in May 2020.
Elsewhere on her Instagram account on Sunday, "Toxic" singer Spears also shared footage of herself enjoying an energetic dance session at home.
Captioning the video, she wrote: "To bite is defined as to use your teeth to dig into something or being enticed to get I interested in or involved in something !!!!! By the looks of my dancing here I'm definitely biting into something 😜🙄😂 !!!!
"Hey ... it felt like the right thing to do in the moment ... I was feeling it obviously !!! Yellow 📞 ... hello fellows 👋🏼👋🏼👋🏼 !!!!"
Spears' posts come several days after the Ventura County Sheriff's Office said that she is a suspect in a battery investigation, according to NBCNews.com.
An employee for Spears claimed she struck her during a dispute at the star's home. The woman, a housekeeper, is alleged to have been confronted by Spears, who it is claimed slapped her cellphone out of her hand.
KCBS-TV in Los Angeles reported that the employee in question was not hurt in the alleged incident.
In a statement to Newsweek, Spears' lawyer, Mathew Rosengart, dismissed the allegations as he stated that nobody had been struck.
"This is overblown sensational tabloid fodder—nothing more than a manufactured 'he said, she said' regarding a cellphone, with no striking and obviously no injury whatsoever. Anyone can make an accusation, but this should have been closed immediately," Rosengart said.
Spears hired Rosengart as her lawyer in July, amid her high-profile conservatorship battle as she fights to regain control of her life and finances.
Earlier in August, the star scored a major victory in the legal battle, when her father, Jamie Spears, agreed to step down as her conservator.
Jodi Montgomery remains the conservator of Britney Spears' personal decisions. The next Los Angeles Superior Court hearing on the matter is scheduled for September 29.