While Britney Spears seemingly confirmed she's pregnant on Monday, "husband" Sam Asghari shared his feelings with his own sweet social media announcement.
Spears, who recently became free of the conservatorship that her family held over here, wrote on Instagram, "I am having a baby 👶🏼" in a lengthy post. Previously, whilst in the "legal guardianship" set up by her father in 2008, Spears was not allowed to make medical decisions about her own body. The conservatorship prevented her from getting married and from having a baby.
Now she has announced her pregnancy, Spears looks set to have her third child. She has two kids already to ex-husband Kevin Federline—Sean Preston and Jayden James Federline. The next would be her first with new husband Asghari.
After Spears had announced her pregnancy on Instagram, Asghari shared his own feelings on what a baby with his wife would mean to him.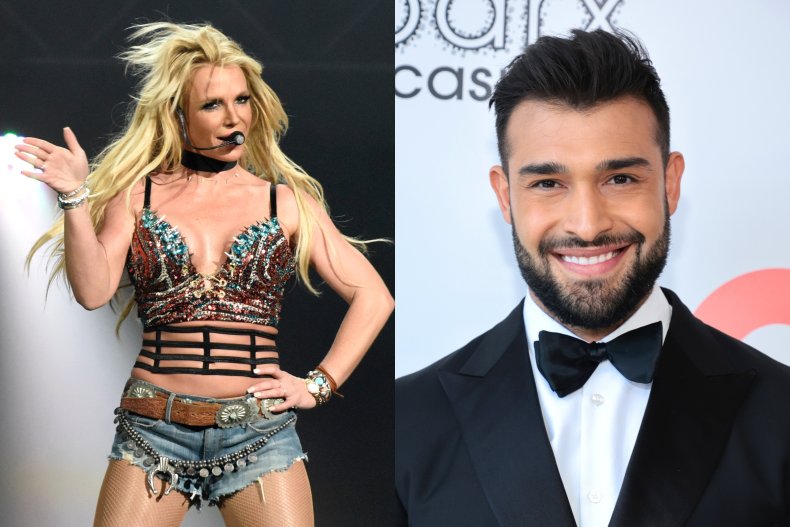 Asghari posted a painted picture of two lions with a cub and wrote, "Marriage and kids are a natural part of a strong relationship filled with love and respect. Fatherhood is something i have always looked forward to and i don't take lightly. It is the most important job i will ever do🙏"
It was not previously known if Spears and Asghari were married but both seemingly confirmed that they were husband and wife in their own social media announcements. Asghari highlighted "marriage" in his own Instagram message while Spears clearly referred to Asghari as her "husband."
On Monday Britney told her 40 million subscribers that she was going to have a baby and also discussed her previous issues with "perinatal depression."
She wrote, "I obviously won't be going out as much due to the paps getting their money 💴 shot of me 📸 like they unfortunately already have ... it's hard because when I was pregnant I had perinatal depression ... I have to say it is absolutely horrible 😔" She continued, "Women didn't talk about it back then ... some people considered it dangerous if a woman complained like that with a baby inside her ... but now women talk about it everyday ... thank Jesus we don't have to keep that pain a reserved proper secret 🤫 😬😬😬"
For those who don't know him, Asghari is a 28-year-old Iranian actor and personal trainer. On Instagram he lists his onscreen credits as including Hacks on HBO, Doll Face on Hulu and Can You Keep a Secret? on Netflix.
Asghari met Spears when he appeared in her 2016 music video "Slumber Party" taken from the album Glory.
Newsweek has reached out to Britney Spears' representatives for further comment.