Britney Spears Says Donatella Versace Is Designing Her Gown for Upcoming Wedding
Britney Spears has revealed that Donatella Versace is designing her couture bridal gown, ahead of her wedding with Sam Asghari.
The "Gimme More" singer, 39, announced in September that she was engaged to marry actor and personal trainer Asghari, 27, after a five-year romance.
And in an Instagram post shared on Tuesday night, the bride-to-be revealed that the Italian fashion powerhouse, who is chief creative officer of Versace, will be responsible for her look on her big day.
Sharing a photo of her off-the-shoulder champagne pink gown, the star wrote: "No ... this is not my wedding dress 👗 bahahah !!!! Donatella Versace is making my dress as we speak 🤫 .... Have a good night folks 🌙💖✨ !!!!"
Spears and Asghari took to their respective Instagram accounts two months ago to announce their plan to tie the knot.
In a short video clip shared by Asghari, he was heard asking the pop icon if she liked her new ring, to which she enthusiastically responded: "Yes!"
"The couple made their long-standing relationship official today and are deeply touched by the support, dedication and love expressed to them," Asghari's talent manager, Brandon Cohen, told Page Six in a statement at the time.
Iranian-born Asghari previously revealed how his modeling career led to him being cast in the music video for Spears' track, "Slumber Party," back in 2016.
"I was excited that I got to meet one of the biggest artists of all time," he said in a 2018 interview with Men's Health. "I had butterflies."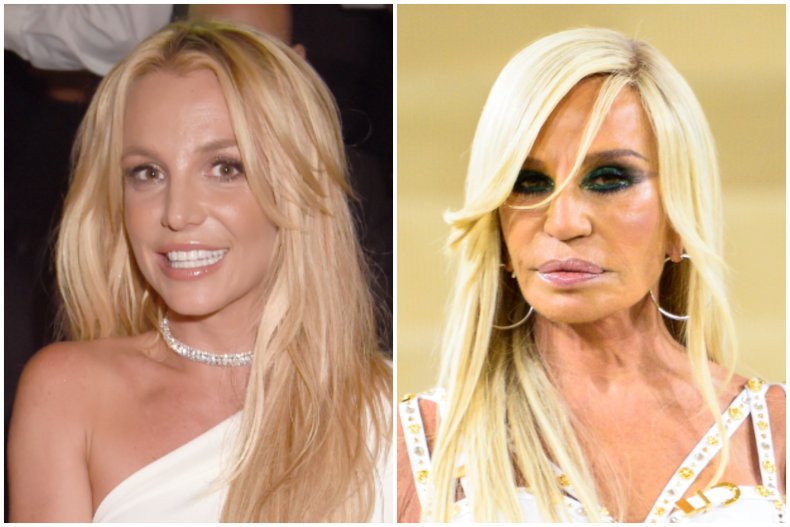 Recounting his first fateful meeting with the pop icon, Asghari went on: "She said, 'Hi, I'm Britney,' and I said, 'I'm sorry. What's your name again?' I tried to be funny. I don't think anybody got it."
After spending time getting to know one another during breaks, they eventually exchanged phone numbers and later embarked on a romantic relationship.
Speaking to People about his partner in February, Asghari said: "I have always wanted nothing but the best for my better half, and will continue to support her following her dreams and creating the future she wants and deserves.
"I am thankful for all of the love and support she is receiving from her fans all over the world, and I am looking forward to a normal, amazing future together."
He has also expressed his desire to start a family with Spears, who shares sons—Sean Preston, 16, and Jayden James, 15—with her ex-husband, Kevin Federline.
"My priorities in life are to remain humble and understand where I came from and where I'm going," he told Forbes in March. "I want to take my career to the next step when it comes to acting. I want to take my relationship to the next step, as well. I don't mind becoming a father. I want to be a young dad."
The marriage will be the first for Asghari and the third for Spears, who was married to her childhood friend Jason Alexander for 55 hours in January 2004, before their union was annulled.
Spears tied the knot with dancer Federline in September 2004, filing for divorce in November 2006. Their divorce was finalized in July 2007.