Britney Spears Reveals Name Change Following Sam Asghari Wedding
Britney Spears may have changed her iconic name if her latest Instagram post is to be believed.
The pop star recently married her longtime partner Sam Asghari in a private but celeb-filled ceremony, and in traditional fashion, she's suggested that she may have taken her now husband's name.
Spears has yet to change her official Instagram name away from her regular last name, but her caption implies that she's made the change privately.
Spears has millions of followers across social media and thousands flooded the comment section to share their opinion on her latest announcement.
Late on Thursday night, Spears shared @condsty_1's video of someone drawing a "Cool S," as it's known to some. The school yard graffiti image was used by the pop star to announce that she's made a big change.
"S for Spears ... Remember that was my name before I was married," the singer wrote before following it up with some sly emoji faces.
As well as all of the nostalgic comments, as people remembered drawing the image in their youth, others congratulated Spears on the change.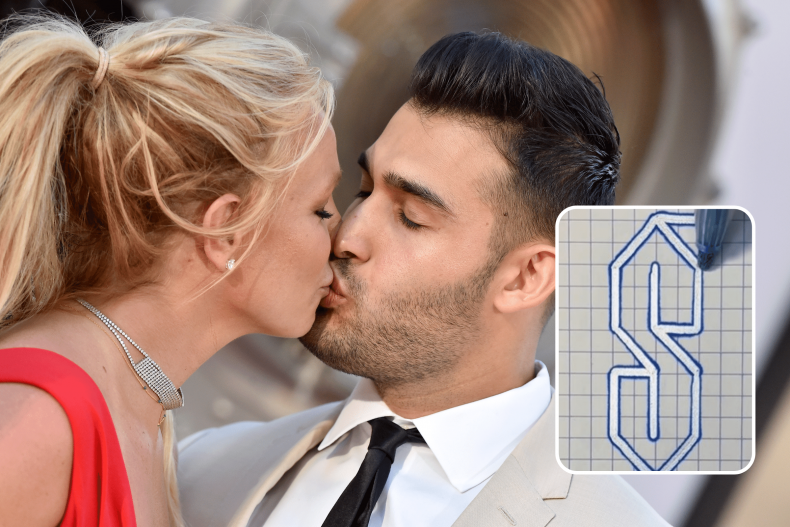 "BRITNEY ASGHARI," @ifuseekjao and countless other fans wrote, trying out her new potential last name. "Is this the beginning of Britney Asghari?!" questioned @fabulousmatty. Spears did not confirm whether or not she had taken her husband's name.
"Spears is so iconic," a potentially disappointed @ambsoanti wrote.
Elsewhere in the comments, excited fans inquired when the "Hold Me Closer" song between Spears and Elton John would drop.
Both artists made the announcement earlier in August, teasing fans with the cover art that features a rose and a rocket. The song is a remix of John's classic song "Tiny Dancer."
Ever since Spears ended her conservatorship from her family, she's been posting regularly on Instagram since then. Either side of the "Cool S," Spears posted about her love of Pringles, and on her love for Madonna.
An ex-husband of Spears' recently made headlines as Kevin Federline shared unseen footage of the pop star shouting at her children.
She once again received an outpouring of support from her fans, and even Jennifer Lopez posted a supportive message online. Spears' lawyers have suggested Federline has "created various legal issues for himself" by posting the videos online.
Another of Spears' exes (Jason Alexander) was recently found guilty of trespassing and battery after he crashed Spears and Asghari's wedding at her home in June.
Spears and Alexander were married for 55 hours in 2004 before they annulled their Las Vegas wedding.
Newsweek has reached out to Britney's representatives for further comment on her supposed name change.