Britney Spears Thanks Fans for Help in 'Freeing' Her From Conservatorship
Britney Spears has thanked her fans for their "constant resilience" throughout her conservatorship battle, as the agreement edges closer to a likely end.
The 39-year-old pop star scored a major victory last Wednesday when Los Angeles County Superior Court Judge Brenda Penny ordered her father, Jamie Spears, be suspended from the conservatorship.
Under the arrangement, Britney's personal and financial affairs have been taken out of her hands since 2008.
And with the "Toxic" singer just weeks away from possibly learning whether the conservatorship will be dissolved altogether, she took to Instagram to thank her core of devoted fans, particularly those who formed the "Free Britney" movement.
Sharing video footage of herself posing in a white ensemble as Kanye West's track "Fade" played in the background, she wrote on Monday: "#FreeBritney movement ... I have no words ... because of you guys and your constant resilience in freeing me from my conservatorship ... my life is now in that direction !!!!!"
Revealing how the unwavering support has affected her emotionally, she added: "I cried last night for two hours cause my fans are the best and I know it ... I feel your hearts and you feel mine ... that much I know is true 💞 !!!!!"
Amid the flood of supportive comments, Spears' fiancé, Sam Asghari, wrote: "From a scale of 0-Britney how free are you? ❤️😍"
The personal and financial arms of Britney's conservatorship had been overseen by her father from 2008 until 2019, when he stepped down, citing health reasons.
Jodi Montgomery subsequently took over part of the conservatorship, a position she continues to hold. And following Wednesday's court hearing, it has been revealed that accountant John Zabel will succeed Jamie Spears.
With Britney scoring one major victory, all parties will return to court on November 12 to discuss the logistics of dissolving the conservatorship altogether.
The #FreeBritney movement rose to prominence on social media in 2019, with fans holding demonstrations outside court hearings in the conservatorship case.
Britney received an outpouring of support from celebrities and fans alike, after alleging in a June 23 court testimony that she had been forced to perform, take medication and wear a contraceptive device against her will.
Following the most recent court hearing in the cause, the star's lawyer Mathew Rosengart suggested Jamie Spears' legal issues may continue due to allegations arising from his handling of the conservatorship.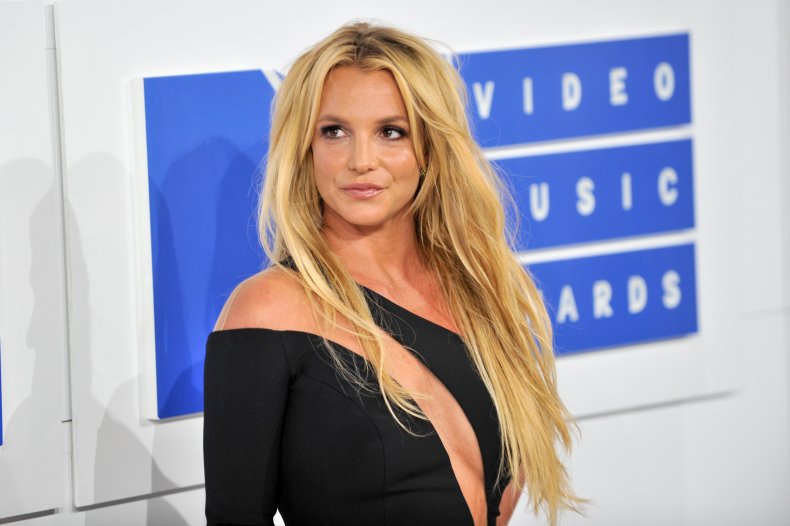 "Jamie Spears and others are going to face even more serious ramifications for his misconduct," Rosengart said. "I said at the outset that my firm and I were going to take a top-to-bottom look at what Jamie Spears and his representatives have done here. That's already in process, and it will continue for as long as [possible] to get justice for Britney."
Addressing claims made in The New York Times' documentary, Controlling Britney Spears, that the singer's home and phone had been bugged, Rosengart added: "I suspect law enforcement—and it's law enforcement's decision, not mine—will be taking a hard look at what The Times uncovered and reported on September 24th.
"And I fully believe that that is why—and I believe Judge Penny agreed with me—his lawyer was fighting so hard against suspension."
He added: "What happens now as a result of him being suspended is he is obligated under the law to turn over his files to the temporary conservator. Those files are also supposed to consist of attorney-client communications. Those attorney-client communications are, in other words, between Mr. Spears and his lawyers.
"It's a cliché, but one question we're going to be asking in regards to Mr. Spears' representatives, not just lawyers, [is] what did they know and when did they know it in regard to eavesdropping, putting a listening device under Britney Spears' bed in her bedroom—something that's very, very troubling."
Meanwhile, Jamie Spears' attorney, Vivian Thoreen, said in a statement to the Associated Press that her client loves his daughter and had tried "to do what is in her best interests, whether as a conservator or her father."
"This included helping her revive her career and re-establish a relationship with her children. For anyone who has tried to help a family member dealing with mental health issues, they can appreciate the tremendous amount of daily worry and work this required," the statement said.
Thoreen went on to call Wednesday's ruling "disappointing, and frankly, a loss for Britney."