'Britney Vs Spears': 6 of the Biggest Revelations and Claims in the New Netflix Doc
Britney Vs Spears is Netflix's take on the circumstances surrounding pop icon Britney Spears, and her ongoing conservatorship battle.
The documentary, fronted by journalist Jenny Eliscu and filmmaker Erin Lee Carr (who began originally making movies two years ago about Spears' artistry and the media's portrayal of her), features exclusive interviews with those who were once closest to her -- including ex-boyfriends, former attorneys, friends, and former staff.
Britney Vs Spears also features leaked court documents from Spears' ongoing court battle to regain control from her father, Jamie Spears, alongside confidential evidence from anonymous sources. The conservatorship has been in place since 2008.
In recent years, the fan-led #FreeBritney movement has gained momentum and was heavily featured in the New York Times Emmy-nominated documentary, Framing Britney Spears. The sequel, Controlling Britney Spears, was released on Friday, September 24.
Newsweek has a full rundown of the six biggest revelations and claims made in the new Netflix documentary.
1. Britney Spears and Adnan's Ghalib's text messages
Britney Spears' ex-boyfriend and former paparazzi, Adnan Ghalib, features off-camera in the Netflix documentary.
Ghalib and Spears became close, with Ghalib stating the singer felt "safer" when he was around. The pair began dating during her divorce from Kevin Federline in 2007, but separated in 2008.
Adnan shared an alleged text exchange between him and Spears in the documentary. However, the date and time of the conversation were not displayed.
Spears allegedly wrote: "I'm f***** sick of this" and "I hate my life please talk to that lawyer."
The lawyer in question being Adam Streisand, who would go on to try and represent Spears in court. He advocated in front of a judge for her to have an independent professional to be the conservator, not her father.
Streisand recalled being asked to leave the court after the judge produced a document that reads: "I have a report that says she does not have the capacity to retain counsel and have an attorney-client relationship. I'm sorry Mr. Streisand, you are not going to be able to represent her."
Spears was then given a court-appointed lawyer, Sam D. Ingham III.
2. Britney Spears was allegedly drugged
Britney Spears' biographer Lorilee Craker appears in Britney Vs Spears, explaining Spears was seen to be in a "crisis" at the time her family decided to implement the conservatorship.
Legally, Spears had five days to contest the conservatorship but did not. Journalist Jenny Eliscu, who leads the documentary, explained that court documents allegedly show: "The only reason given for depriving Britney of five days notice is that Sam Lufti is dangerous and needs to be kept away."
Lorilee claimed Sam Lufti, who was said to be Spears' "former manager," was "crushing drugs, putting them in her food and bragging about it."
Lufti, who also appears in the documentary, denied the claims he had drugged Spears, stating: "I was the perfect scapegoat. I was new, they [Britney's family] didn't know who I was. I was just an expendable guy. It's like alright if that's what you need to get this done get this (conservatorship) done and waive a five-day notice, and to explain a five-day notice means that she would have been notified that this was gonna happen and she would've had the right to contest to it.
"She would have obviously contested it. They knew that everyone knew that and so they had to do everything possible to prevent that from happening."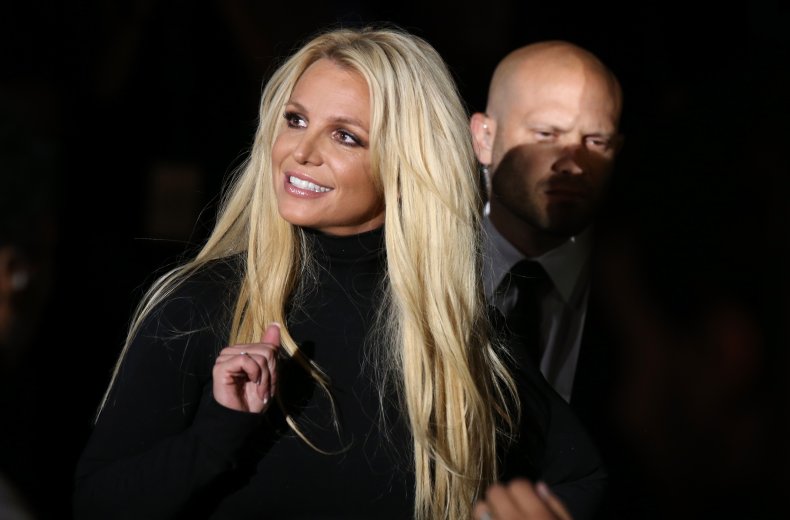 3. Britney secretly hid in a bathroom to sign a court document
In 2009, Britney Vs Spears claims Spears was actively looking to have her own legal representation.
Her so-called former manager Sam Lufti and her ex-boyfriend Adnan Ghalib claimed in the film that she was unhappy with her court-appointed lawyer Samuel D. Ingham III, and how they were willing to help her find a new lawyer.
Eliscu, who was first introduced to Spears during a shoot for Rolling Stone, recalls in Britney Vs Spears how she snuck into the bathroom at Beverly Hill's Montage hotel to meet with the pop star. The date was arranged by Lufti and Ghalib so that Spears could sign court documents asking for a new attorney.
Unfortunately, nothing seemed to come from court papers. Eliscu recalled: "It had been ruled that she lacked capacity to choose her own lawyer and that they had cast enough doubt on to whether that was her signature. I never heard anything of it again. No one ever talked about it again."
4. Britney wrote Blackout on the back of a napkin
Voicing his frustrations about Britney Spears' conservatorship, Adnan Ghalib said he watched Spears write her Blackout album on the back of a Starbucks napkin on Ventura Boulevard in Studio City, proving she was capable and in full control - contrary to what the conservatorship stated.
Blackout, released in October 2007, is widely considered some of Spears' best work. She worked on the album between 2006 and 2007, one year before she was placed under a conservatorship.
5. Britney Spears was advised not to do The X Factor
Despite being under a conservatorship on orders related to a dementia placement, Britney Spears appeared as a guest judge on The X Factor U.S. in 2011.
According to court documents obtained by the documentary filmmakers, Spears' medical team advised appearing in the talent competition would not be good for her mental health.
The documents claimed her management overruled the medical team's advice, pressuring them into allowing her to appear on the show.
6. Britney Spears' voice was finally heard
For the first time throughout the 90-minute documentary film, viewers finally hear Britney Spears' side of the story when some audio snippets of her 20-minute statement to a Los Angeles court on Thursday, June 24 are played.
In her explosive statement, Spears claimed she was "forced" to do a tour in 2018 by her management and was put on lithium "out of nowhere," leaving her feeling "drunk" and "scared."
She also called for those in charge of her conservatorship to face legal action for her treatment, and compared some experiences over the past 13 years as similar to a "sex trafficking" victim.
She said: "And that's why I'm telling you this again, two years later, after I've lied and told the whole world 'I'm OK and I'm happy.' It's a lie. I thought I just -- maybe if I said that enough. Because I've been in denial. I've been in shock. I am traumatized. You know, fake it till you make it. But now I'm telling you the truth, OK? I'm not happy. I can't sleep. I'm so angry it's insane. And I'm depressed. I cry every day."
You can read the full transcript of Spears' statement to the court here.
Britney Vs Spears is streaming on Netflix now.