Briton Pleads Guilty to North Korea Meth Smuggling Charge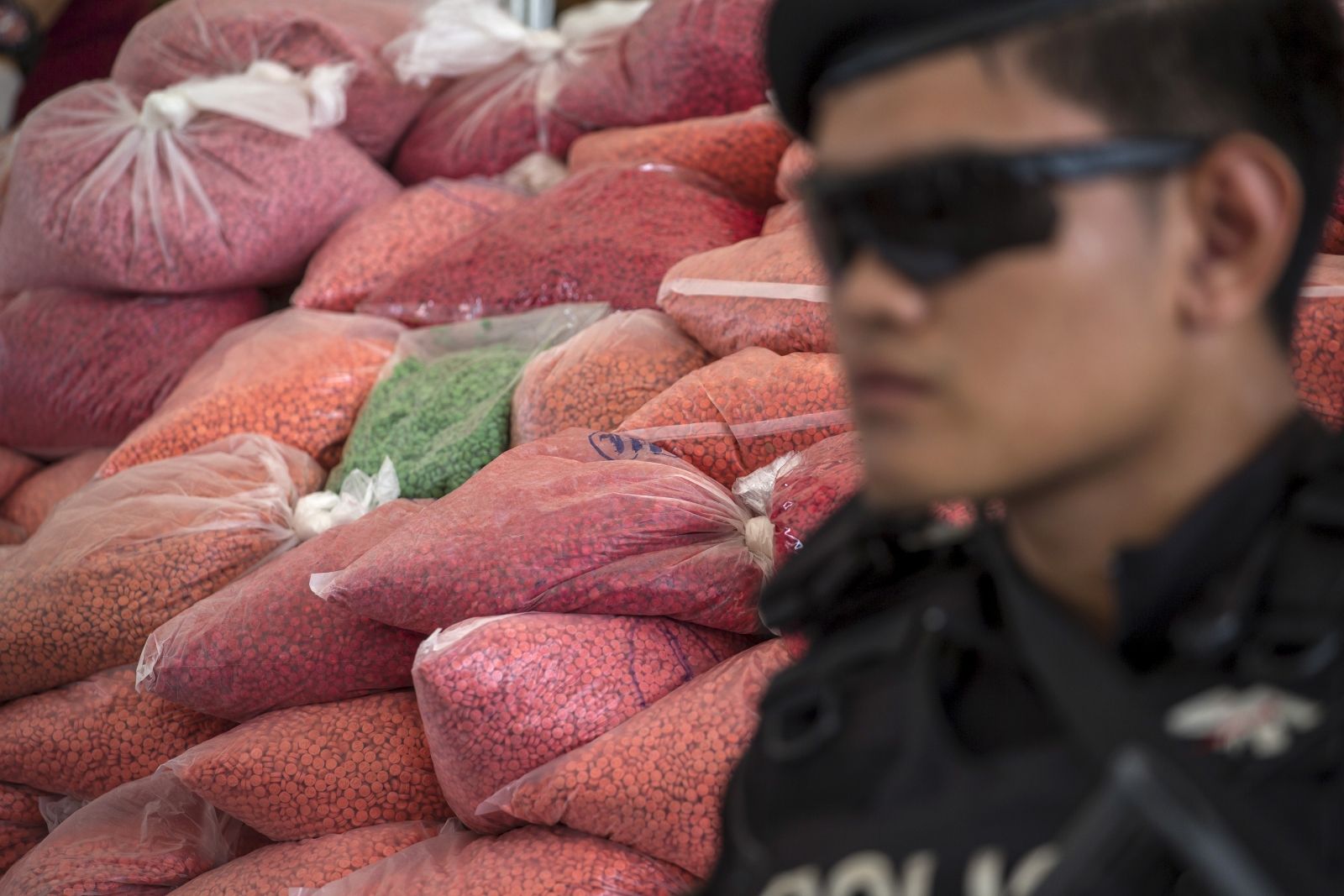 A British man could be facing a maximum possible life sentence in the U.S. after pleading guilty to conspiring to import 100 kilograms of methamphetamine from North Korea into America. According to a press release published on the U.S. Department of Justice website, 46-year-old Scott Stammers, entered his guilty plea yesterday at a Manhattan federal court.
Stammers was reportedly part of a drug gang along with co-defendants Philip Shackels, also a UK citizen; Ye Tiong Tan Lim of China, Allan Kelly Reyes Peralta of the Philippines, and Adrian Valkovic, a resident of Thailand. All five were arrested in Thailand on September 25, 2013, before being extradited to the U.S. where they were charged.
In the statement, Manhattan U.S. attorney, Preet Bharara, said Stammers "conspired to import into the United States 100 kilograms of dangerously pure North Korean methamphetamine. Thanks to the work of the DEA and the cooperation of law enforcement partners around the world, including in Thailand, Liberia and Romania, Stammers's scheme ended, not with the North Korean methamphetamine flooding American streets as he had intended, but rather with a guilty plea in a Manhattan federal court."
According to an earlier statement made by the U.S. Department of Justice, the North Korean-produced methamphetamine was tested and found to be at more than 99% pure.
Yesterday's press release described the allegations made in Stammer's indictment and detailed the extensive Drug Enforcement Administration investigation that led to the arrests.
The five men first began their relationship in 2012 after Tan Lim and Peralta, members of a criminal organization operating in Hong Kong, joined forces with the two BritonsStammer and Shackelswho were based in Thailand. Stammers and Shackels agreed to store the 30 kilograms of North Korean methamphetamine which would then be sold by Tan Lim and Peralta.
In 2013, undercover agents working under the direction of DEA agreed a deal to receive 100 kilograms of the North Korean-produced methamphetamine from the gang. According to the press release, Tan Lim boasted to the DEA sources that he had a monopoly on the methamphetamine being produced in North Korea. Tan Lim is cited as saying, "Before, there were eight [other criminal organizations]. But now only us, we have the [North Korean] product...It's only us who can get from NK." He said that the North Korean authorities and destroyed methamphetamine labs in order to "show Americans that they are not selling it any more." In anticipation of these events, Tan Lim explained that his organisation had stockpiled one ton of North Korean-produced methamphetamine in the Philippines for storage.
The two Britons, working alongside Valkovic, agreed to provide security, transportation, and storage for the crystal meth on its arrival to Thailand. The accusations purport that Tan Lim and Peralta arranged a 'dry run' to test the shipment channels, sending a container of tea leaves from the Philippines to Thailand.
According to the statement, "The two Britons were to arrange for the 100 kilograms to be taken to a warehouse, counted, re-packaged, and delivered to a marina in Thailand, to be transferred to a boat that would deliver the methamphetamine to the United States."
Tam Lin and Peralta travelled to Thailand in September 2013 supposedly to receive payment for the 100 kilogram meth shipment. On September 25 both men, along with Stammers, Shackels, and Valkovic were arrested by Thai law enforcement.
Valkovic, Peralta, and Tan Lim pleaded guilty in New York courts on August 5, 18, and 19, respectively. Shackel's trial is due to commence on September 21, while Stammers sentencing date has yet to be scheduled.