Paralympic Snowboarder Dons Nursing Uniform to Help Community Fight Coronavirus Pandemic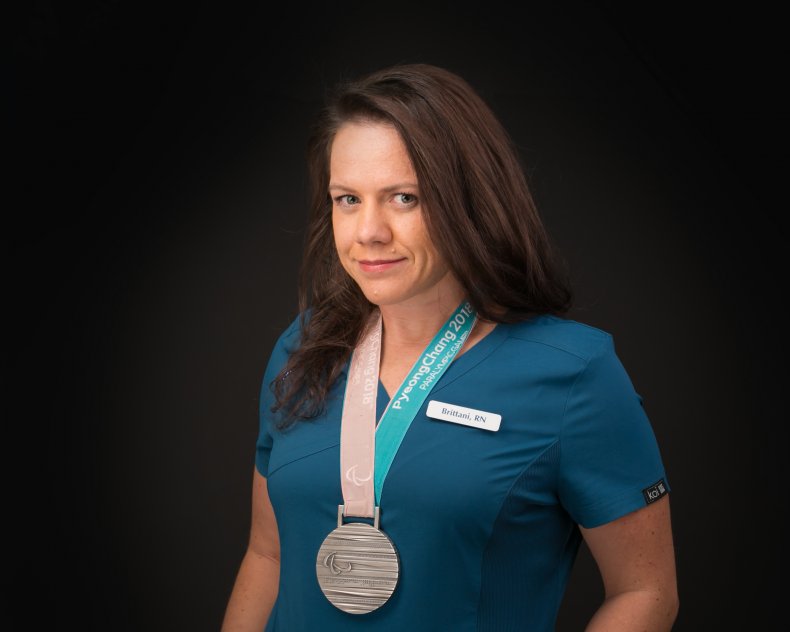 For Brittani Coury—a registered nurse and elite Paralympic athlete—the challenges of patient care during COVID-19 are not far afield from racing down a gate-studded mountain.
"I think for me it's about passion," Coury, 34, explained. "I'm passionate about snowboarding and about being a nurse."
The road to success was not paved for her: It came through steep adversity and years of physical anguish. After an ankle injury at the age of 17 failed to be resolved, Coury said she "started looking into amputation." The only alternative, ankle fusion, was not a viable option. It would have left her unable to return to the slopes.
"My childhood was pretty rough. I had a lot of abandonment issues and a lot of things happen most people never have to go through in a lifetime happen in a span of a few years," she recalled. "When I was on a snowboard, I was free and I didn't have to think about all of that emotional pain."
In June 2011, the portion of her right leg below the knee was removed at OrthoColorado Hospital just outside Denver. A pair of the staff with whom she had bonded sent a Flight For Life air-medic to pick her up.
"The medic talked to me and told me to contact her about getting into flying," Coury, of Durango, Colorado, said. "That was somebody telling me I could still do that. That meant the world to me. It was a pivotal moment in my life, when I realized I should be a nurse because I know what it's like to be a patient."
In 2016, the same year she entered her first post-operation snowboard race, Coury earned her nursing degree. Two years later, she participated in her first Paralympic games in Pyeongchang, South Korea, taking home a silver medal at the banked slalom competition.
When the novel coronavirus hit earlier this year, she was in Canada participating in an able-bodied boardercross race. Her team decamped to Norway to finish out the World Series, and she ended up winning a bronze medal. That same evening, Norway began to close its borders.
"The reality of how serious it was came when I landed in Denver, as events were beginning to be canceled," Coury recounted. "I started thinking, how was I going to help with this?"
Coury knows what it's like to be sitting in a hospital bed, contemplating a future that appears grim. At the University of Utah Hospital, where she works, she notes that the building's COVID-19 precautions mean her patients aren't allowed to have visitors. So every day when she goes home, she says a prayer for them that they'll have some measure of comfort in a time of distress. She also prays for the doctors facing repeated losses.
She sets small, daily goals, in order to reassure herself that she is imparting a tangible impact. Also, it's just in her blood. Coury is a "competitive nurse," as she tells it.
"I want to be the best nurse on the floor, and I'm competing against myself," she said. "I try to learn from things I did the shift before and put that into my next shift. And like with snowboarding, where no run is the same, in nursing, no shift is the same."
Coury said nursing and caring for patients gives an outlet to use her intellectual faculties. The nature of the job demands that she anticipates potential problems with patient care and addresses them before they occur.
She added that she observes that patients in her ward are going through serious illness without the benefit of having family or friends by their side. It falls to Coury and her nursing colleagues to fill that void, providing care and compassion to patients when no one else can soothe them. The risks of contracting COVID-19 are apparent, given the unique susceptibility of health care workers to the disease, but that does not deter her from making sure the University of Utah Hospital is prepared for this crisis.
"Racing boardercross is dangerous. If something happens to me there too, at least I'm doing what I love. I love being a nurse as much as I love snowboarding," she said. "If I could talk to my 17-year-old self, I would tell her to hold on. Everything that happened in my life was for a reason, and it was preparing me for the next step."
"Losing my leg saved my life," she added.