Brittany Mahomes Appears to Call Joe Rogan 'Pathetic' After Divorce Comment
Patrick Mahomes' wife, Brittany Matthews Mahomes, has seemingly clapped back at podcaster Joe Rogan, after he made comments about her on his Spotify podcast.
The latest episode of The Joe Rogan Experience sees the host, a former UFC commentator, taunt Brittany after she suffered trolling for perceived excessive celebration of her husband's successes, especially after he won the Super Bowl with the Kansas City Chiefs.
Brittany has been Patrick Mahomes' biggest supporter and has, throughout his career, championed his wins. However, after the quarterback guided the Chiefs to a second Super Bowl win in recent seasons after they beat the Philadelphia Eagles 38-35 on February 12, Brittany was criticized for her prominent involvement in the joyous scenes that followed.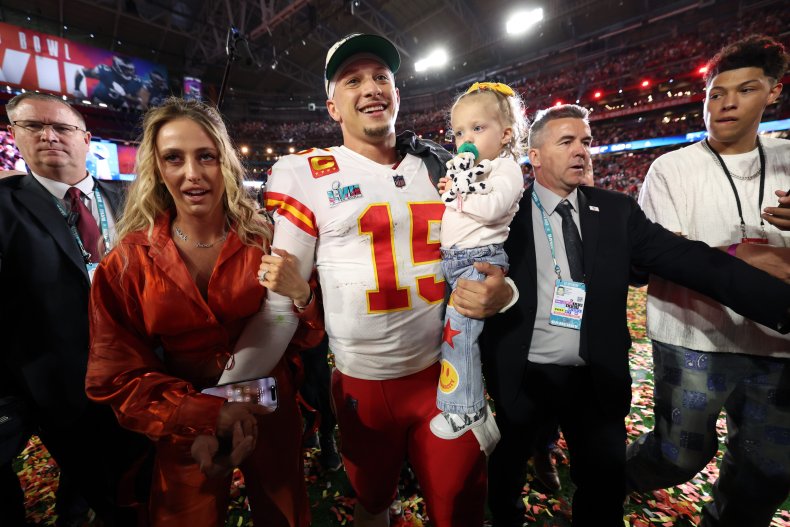 Rogan hit out at her, suggesting that she wouldn't be such a big Chiefs fans if she ever got divorced from Mahomes, who she originally met at high school and dated for a decade before the pair married.
He said: "Promise they keep that same energy when you get divorced. They come after you. They come after you with that same energy."
Matthews Mahomes took to Twitter 24 hours later to post a couple of cryptic tweets that seem to be aimed at Rogan after his comments about her.
First she wrote a message that appeared to be a direct jab at Rogan: "Something about grown men talking s*** about someone's wife is real weird…"
About an hour later, Matthews Mahomes followed it with another tweet that is more general but fans still believe was a dig at Rogan's comments.
She tweeted: "Actually grown ass men hating on women in general is pathetic."
There was plenty of support for Matthews Mahomes' tweets, with one person commenting: "Jealousy makes people do weird things. Hold your beautiful head high!"
Other Twitter users accused Matthews Mahomes of putting herself in the crosshairs of the trollers.
One said: "Brittany when you step into the fray, your fair game. Just the way it is! You won the superbowl, you have a healthy happy beautiful family, rich beyond measure. Can't you just let that do the talking for you? Don't fuel the fire."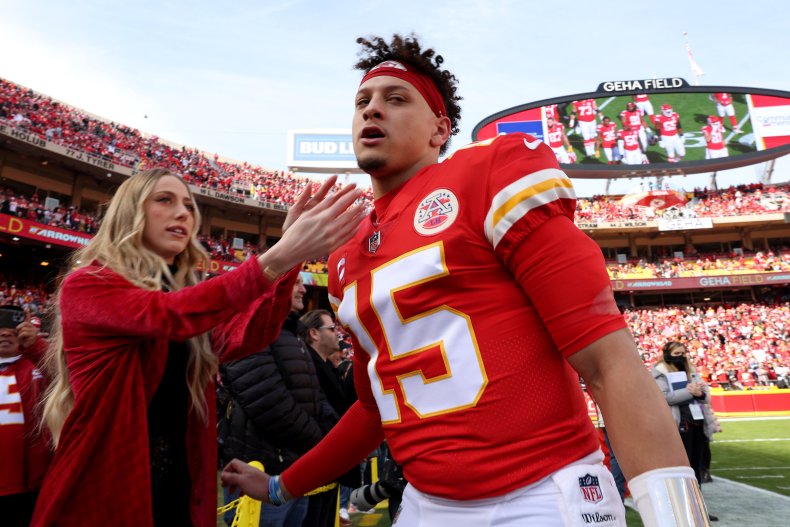 Another added: "I think when we support our husband's endeavors and the attention shifts from them to you, that's where the public takes issue. You don't like the talk—change the conversation. Shift the discussion from your behaviors to your actions. We've all gone through it."
Matthews Mahomes has previously slammed the backlash she has had received online, tweeting before the Super Bowl: "I just wish I could do what I want without getting attacked every week."
Do you have a tip on a sports story that Newsweek should be covering? Do you have a question about the NFL? Let us know via entertainment@newsweek.com.