"There were no cheering crowds and no ribbon there at the finish, but the feeling I had was special." So said Brittany O'Neill, the real-life inspiration behind new film Brittany Runs a Marathon, streaming now on Amazon Prime Video, in an interview with Runner's World about the first time she managed a six-mile run around Central Park.
The new film is based on her story of trying to break out of the cycle of bad food, drinking and partying by taking up running long distances.
O'Neill's became Brittany Runs a Marathon after she moved in with friend Paul Downs Colaizzo, who was looking for a project to turn into a movie. Finding himself inspired by how such a simple thing as running was having a seismic impact on her life, Colaizzo began to write her story into a script, which eventually became the Prime Video movie.
Throughout this process, according to an interview Colaizzo gave to Vanity Fair, he "got her notes on the script" and was "excited and kind of honored," but the version of Brittany we see in the film is far from the real O'Neill. One is blonde and the other brunette, but the differences are more than superficial.
For example, one scene set in a nightclub involving a fairly explicit act definitely did not happen to the real Brittany. Colaizzo said: "She never did that. That was the one thing where we were like, 'Are people gonna think you did this?'"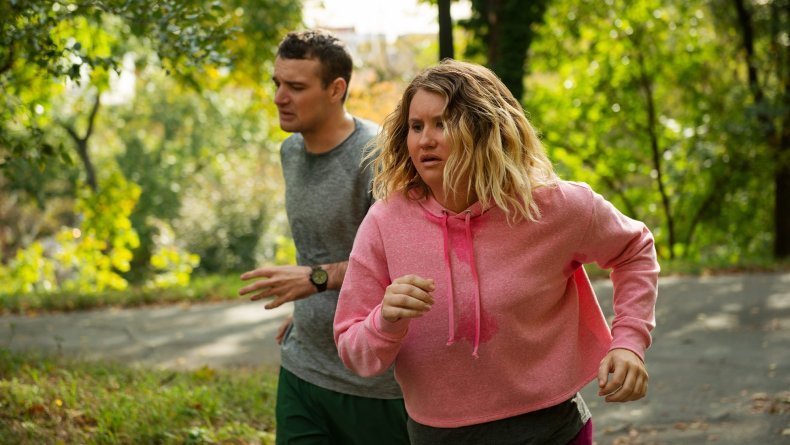 Interestingly, life ended up imitating art, with Colaizzo's script about Brittany running a marathon ending up inspiring the real Brittany to run the New York City Marathon in 2014.
"The first question Brittany asked me was how fast she did it in," Colaizzo told Runner's World. O'Neill added: "I was excited by the idea, because it was the last thing that people would expect from me. I had always been big, and I liked the idea of showing people that looks don't tell the whole story."
This process led the real Brittany on a journey to complete the marathon in 3 hours, 55 minutes and 57 seconds, beating her target of four hours despite heavy winds.
O'Neill said: "My marathon days are over, but I will never stop running, it still brings so much to my life. And when the NYC Marathon comes around, I am always right there on the sidelines cheering on strangers, and crying like a fool."
Not only did the making of the film spur O'Neill into running a real marathon, but it also persuaded star Jillian Bell to go on her own weight loss journey, losing 37 pounds between the development and the end of the movie even though, as Colaizzo told Vanity Fair, "I didn't ask her to... I thought that'd be a weird ask."
Brittany Runs a Marathon is streaming now on Amazon Prime Video