Elementary Teacher Arrested for Alleged Sex With 13-Year-Old Male Student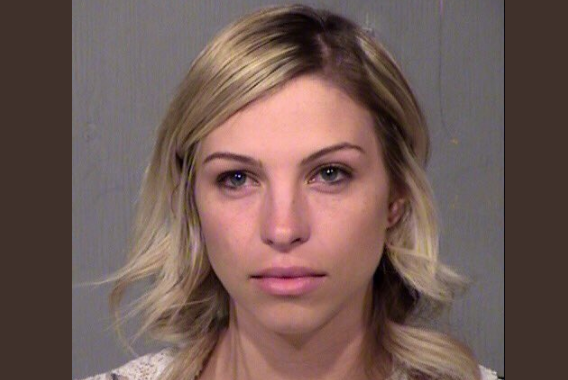 Goodyear Police are continuing to investigate several counts of sexual misconduct and transmission of naked photos between a 27-year-old female teacher and a 13-year-old student at Las Brisas Academy Elementary School.
The father of the teenage victim first reported the sexual relationship allegations to the school's principal Wednesday night after finding text message conversations and naked images on the phone of the teenage boy, KNXV-TV reported. Conversations exchanged between the two indicated that sexual activity was happening both on and off school grounds. Police records show that the victim's parents were alerted to the sexual messages by a parental app.
Court records show one exchange in which Zamora and the victim are discussing having sex for a prolonged period of time. "If I could quit my job and (have sex with) you all day long, I would," she allegedly texted the teen boy.
The victim's father told police Zamora and her husband called and were allegedly "pleading with him not to contact the police." He also claims Zamora's husband requested to meet up and "settle" the dispute.
Zamora was booked into Maricopa County's 4th Avenue Jail Thursday morning on one count of obscene material transmission to a minor for allegedly sending the boy naked photos of herself. But a court commissioner has since found probable cause to hold Zamora in custody on suspicion of eight counts of sexual conduct with a minor and two counts of child molestation. Her bond is $250,000.
A second student told Goodyear police he witnessed Zamora having sex with the victim on the Las Brisas Academy campus and that he also received naked pictures of Zamora.
Parents of other students at Las Brisas Academy on 183rd Avenue and Broadway Road told KNXV-TV they were shocked at the news.
"It just freaked me out right away," said parent Jessica Arroyo. "That's just crazy. I can't even connect that. That's wrong."
"I think as parents, we just need to be here to stand up and protect our kids and do whatever we can," said Bethany Donohue.
Zamora worked at the Goodyear, Arizona school for less than one year after being certified to teach elementary education of Kindergarten through 8th grade, the Arizona Department of Education database shows. She was also licensed to teach Structured English Immersion to non-English speakers at Las Brisas Academy.
Elementary Teacher Arrested for Alleged Sex With 13-Year-Old Male Student | U.S.