Brittney Griner Petition Receives 30k Signatures Urging WNBA Star Be Rescued From Russia
A petition calling for the swift and safe return of WNBA's Brittney Griner from Russia has surpassed 30,000 signatures.
The American professional basketball player was detained by the Russian Federal Customs Service (FCS) over drug possession at Sheremetyevo airport near Moscow, it was reported on Saturday.
The FCS reportedly found vape cartridges that contained hashish oil in her luggage, according to The New York Times, with the athlete remaining in custody since then.
On Change.org, more than 30,000 people have signed the petition calling for Griner's safe return back to the U.S.
Tamryn Spruill, an activist and journalist who specializes in the WNBA, started the petition which had amassed 30,978 signatures at the time of publishing.
Directed to the U.S. Department of State, Spruill urged supporters to "call on elected officials in this country to secure the safe and swift return of Brittney Griner to the U.S."
"Griner is a beloved global citizen who has used her platform since her entry into the WNBA to help others," Spruill wrote on the petition's description.
"Griner was in Russia for work: playing for UMMC Ekaterinburg, where in 2021 she helped the team win its fifth EuroLeague Women championship."
Spruill explained that many women professional basketball players in the U.S. work overseas during the off-season.
"Like many athletes competing in the WNBA, Griner plays abroad during the WNBA offseason because her salary is exponentially higher in other countries," Spruill wrote.
"For WNBA players, that means playing abroad, while NBA rookies who haven't played a professional game yet are handed salaries many-times higher that what title-winning, All-Star designated WNBA veterans could ever hope for," the petition reads.
"These realities are not the fault of the players. They simply want to be paid their worth like their male counterparts, and they do not deserve to be entangled in geopolitical turmoil for doing so."
According to Russian state-owned media, Griner, 31, was stopped in February at Moscow's Sheremetyevo Airport upon arriving from New York at an unconfirmed date.
Irina Begisheva of the Main Directorate for the Fight Against Smuggling of the Federal Customs Service told state-owned channel Russia 24, per CNN: "A criminal case has been opened against an American citizen under section 2 of 229 YK RF (Russian law) for smuggling of a significant amount of drugs."
A spokesperson from the WNBA previously told Newsweek that Griner has the sporting body's "full support and our main priority is her swift and safe return to the United States."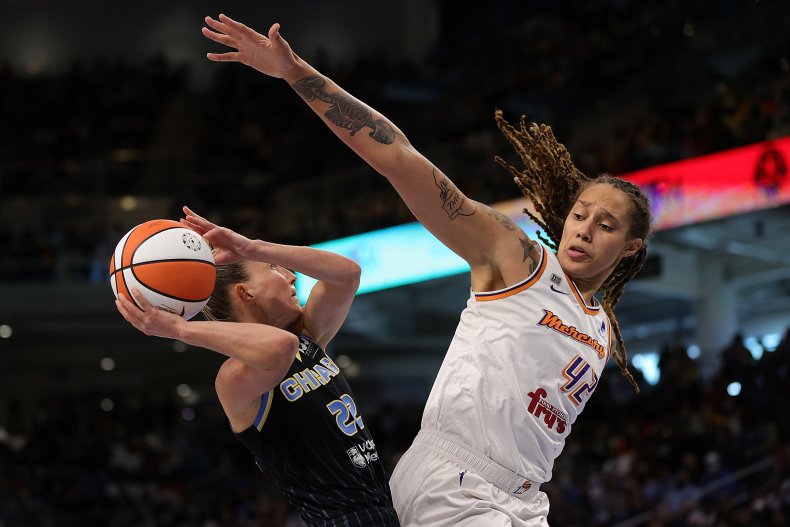 Griner's wife, Cherelle said "there are no words to express the pain" she is feeling in a heartfelt post on Instagram on Monday.
"We love you babe! People say 'stay busy.' Yet, there's not a task in this world that could keep any of us from worrying about you," she wrote.
"My heart, our hearts, are all skipping beats everyday that goes by. I miss your voice. I miss your presence. You're our person! There are no words to express this pain. I'm hurting, we're hurting. We await the day to love on you as a family."
Griner's detention comes at a time of heightened tension between the U.S. and Russia over Vladimir Putin's invasion of Ukraine.