Months after the arrest of Phoenix Mercury center Brittney Griner in Moscow, the U.S. government now considers her wrongfully detained by the Russian government, according to reports.
Griner, a two-time Olympic gold medalist, has been stuck in Russia since she was detained by Russian authorities on February 17 at a Moscow airport. Authorities say they found vape cartridges that allegedly contained hashish oil, derived from cannabis. Griner has not been formally charged.
With her next court date set for May 19, Griner's absence will be glaring at the upcoming WNBA season, which is just days away—May 6.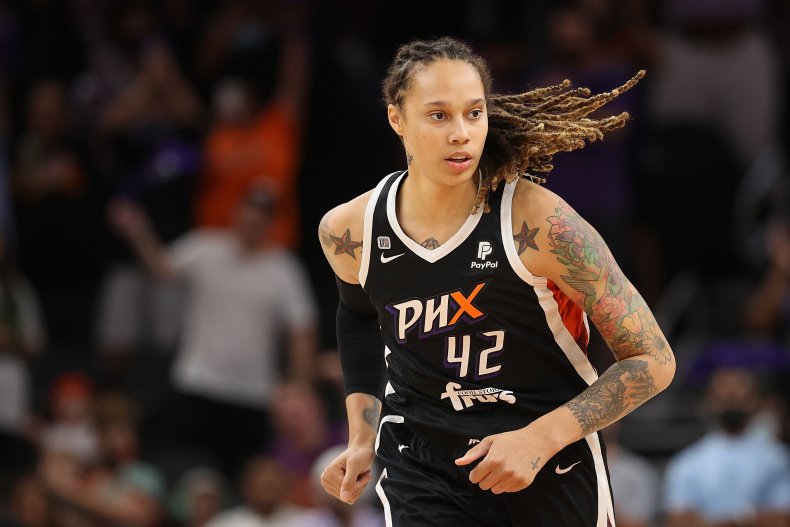 Sources familiar with the case told ESPN that the U.S. government now considers Griner to be wrongfully detained by the Russian government.
"Brittney has been detained for 75 days and our expectation is that the White House do whatever is necessary to bring her home," Griner's agent, Lindsay Kagawa Colas, told the news outlet on Tuesday.
The State Department separately said late on Monday that it has determined that the Russian Federation has wrongfully detained U.S. citizen Brittney Griner.
"With this determination, the Special Presidential Envoy for Hostage Affairs Roger Carstens will lead the interagency team for securing Brittney Griner's release," it said in a statement.
This change in designation may signal that the Biden administration will attempt to negotiate Griner's return, without waiting for her case to make its way through Russia's courts, according to ESPN.
A WNBA spokesperson previously told multiple news outlets last week that the national basketball team holds regular conversations with the U.S. government on Griner's case, and "getting her home safe and as soon as possible remains the WNBA's top priority."
Newsweek has contacted the State Department and Russia's Ministry of Foreign Affairs for comment.
Officials told ESPN that Griner's team became optimistic about her return after U.S. marine Trevor Reed, who had been detained in Russia since 2019, was released as part of a prisoner exchange.
The Russian foreign ministry said on April 27 that "as a result of a lengthy negotiation process," Reed had been exchanged for Russian citizen and pilot Konstantin Yaroshenko, Newsweek previously reported.
Yaroshenko had been serving a 20-year sentence in Connecticut for conspiracy to smuggle cocaine into the U.S. after he was arrested in Liberia in 2010 and extradited to the United States. Reed, from Texas, was serving nine years in a Russian penal colony after he was accused of assaulting an officer while being driven to a police station.
The WNBA will honor Griner with a floor decal featuring her initials "BG" and No. 42, ESPN reported. The decal will be displayed on home courts beginning Friday night, when the season opens.