'Broad City' Meets Sleater-Kinney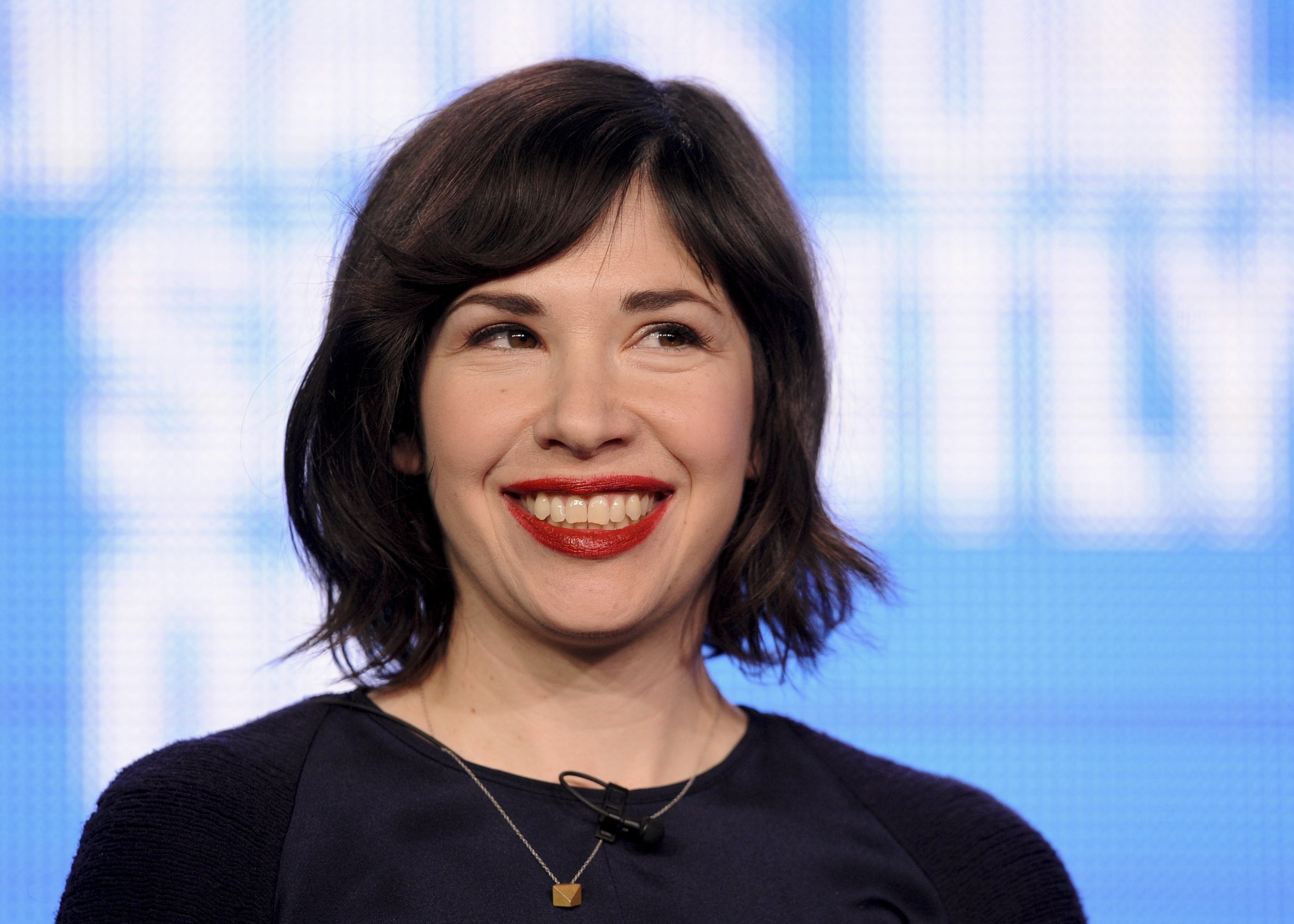 Just past happy hour o'clock on a gusty Friday evening, the intimate basement room under New York's swanky Ace Hotel was alive with an intimate crowd, all of whom seemed awed and empowered by the three veteran rock heroes – Corin Tucker, Carrie Brownstein and Janet Weiss of Sleater-Kinney -- sitting in front of them. The prolific Olympia, Washington-hailing rock trio disbanded in 2005, but they are back with a new album, No Cities to Love, and it's as though that fateful ten-year hiatus never happened. With the new record, the three continue to embody what rock 'n' roll was originally intended to be: irreverent, feral and sure.
That's perhaps why they keenly selected two equally unapologetic voices -- the masterminds behind the brash, paradigm-shifting Comedy Central scripted series Broad City -- to interview them in front of the small audience this night. The engaging chat between the comedians and the musicians was ramshackle and loosely scripted. Instead of asking canonical questions, Ilana Glazer and Abbi Jacobson inquired about improvisation and touring, which appropriately spiraled into tangents as diverse as Iggy Pop, pooping on the tour bus, being a former jam band fan and James Baldwin novels, in addition to the development, process and thinking that went into the band's first album since their recent reunion.
Despite the magnitude of the forces onstage, though, the collective feeling was less of being dwarfed than of being elevated.
There is a blanket sense that ascending to the status of a rock legend requires technical skill, classic training and/or ample connections in the industry. Sleater-Kinney had none of that. This was a band that was born and bred at the grassroots level and stayed that way. Spawned in 1994 by Brownstein and Tucker (who were friends and share vocal credits in the band), Sleater-Kinney was catalyzed by the pair's youthful yet urgent dissatisfaction: with the status quo of the culture that surrounded them, and with the perception that women couldn't play aggressive, challenging, punk music. So they decided to create their own kind of melodic noise, one that championed the other, the excluded, and ultimately found triumph buried deep in the struggle.
Their efforts were anchored by a slow-forming group of equally frustrated and inventive musical peers, part of what would eventually be named "riot grrrl," a movement operating with a do-it-yourself ethos that encouraged all to join in, to participate, to book shows and be a part of discussions that took the middleman out and put the girls front and center. Drummer Janet Weiss came along in 1997, and was intrinsic to the band's golden era of music, including 1997's sensational Dig Me Out that garnered them acclaim and fame and inspired countless creative folks, the actors of Broad City included. "I feel a little bit like we couldn't be a show without you guys," confided Jacobson. "Even though you're music and we're comedy, I feel empowered by you guys." Chiming in, Glazer deadpanned: "It's the zeitgeist, baby."
Sleater-Kinney, alongside their peers Bratmobile and Bikini Kill, are among the most resonant voices of that storied Pacific Northwest rock era, if not the most resonant. After an illustrious career, they tabled the band in 2007 for, well, life: motherhood, new career opportunities (Brownstein stars in the television series Portlandia and Amazon's Transparent) and a much-needed rest. But coming together now, Sleater-Kinney is the same tribe as when they began as young women -- while of course having evolved; admittedly, they are less confrontational, more cemented in their mission, and more open to improvising with each others' ideas. "We've approached the process with a little more patience," says Tucker. "For each other and for ourselves."
Decades after their debut self-titled album, their newest No Cities to Love listens just as urgently: It shakes with rage, unsettlement and clarity, suggesting that the battles against sexism, inequality and exclusion are far from over -- but it was far from easy. Listening to Sleater-Kinney talk about the record's process, you got the sense that this was a record they had to get out of their systems. "We are in constant sense of agitation about the world," says Brownstein. "We are still in very tumultuous times, and Sleater-Kinney, to me, is the soundtrack to that." Echoing this, Weiss chimes in: "This record sounds desperate. Writing it was not comfortable. We were in a small, airless room, writing these songs that we really worked on, worked over, edited, and tried to make them as potent and daunting as we possibly could."
Powerful, too, is the acclaim for Broad City, the series from Upright Citizens Brigade alums Glazer and Jacobson. Produced by Amy Poehler, the show cleverly tackles social issues by way of gags and the cringingly real scenarios that two women, trying to make sense of themselves and the world amid the madness that is New York City. Inadvertently, the show has become central to a resurgence in deconstructing the notion that somehow "feminism," which simply boils down to equality between the sexes, is a bad word. "Guys, I'm going to ask a feminism thing. Don't get uncomfortable!" Glazer quipped, directing a knowing look toward the few men in the audience.
Sleater-Kinney are unafraid and unabashed feminists, and actively dispel the stereotype of soft-spoken women, shy in a corner while the boys mosh around, puffing out their chests. "There is an unapologetic obliteration of the sacred," says Brownstein, who plays jagged guitars, when asked by Glazer about the music's relation to gender equality. "It feels powerful."
After the interview, the crowd converged and chatted excitedly; one got the sense that alliances were being formed and ideas were being shared, the roots of change planted. And so powerful was the conversation that I, after years of letting my guitar gather dust in the corner of my apartment, later picked it up and began to strum once again, letting the notes take on lives of their own.