Broadway star Nick Cordero is in recovery following surgery to amputate his right leg, the performer's wife, Amanda Kloots, announced on Saturday.
"I just got a call from the surgeon. He made it through the surgery, which is really big because obviously his body is pretty weak," Kloots said in a video shared to her Instagram Story. "They're taking him back to the room to recover and rest for the rest of the night."
Cordero, who most recently appeared in Hollywood's Rock of Ages revival, lives in Los Angeles with Kloots and their 10-month-old son. The Tony Award nominee was admitted to Cedars-Sinai Medical Center's intensive care unit at the end of March with multiple health complications caused by coronavirus and has undergone several surgical procedures since then. When Kloots provided the first of several video updates regarding her husband's condition and medical treatment earlier on Saturday, she said he had been sedated for 18 days.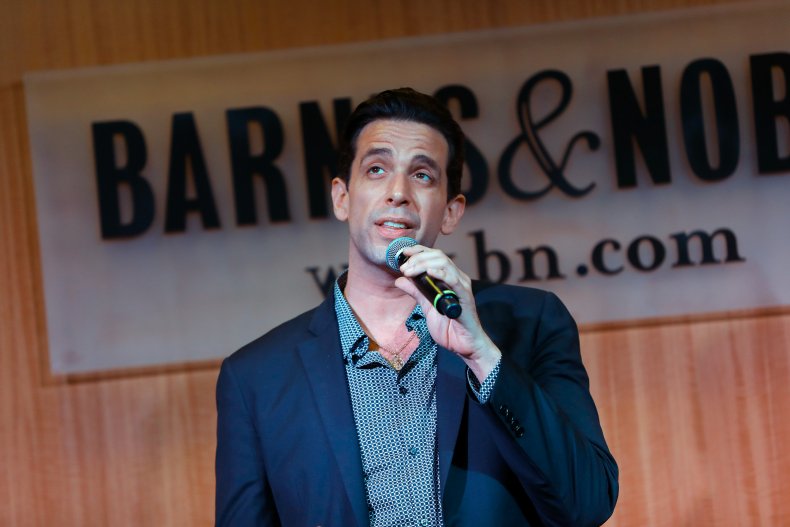 In that same update, also posted to the former dancer and fitness instructor's Instagram Story, Kloots explained that blood clots and internal bleeding preceded the doctors' decision to amputate Cordero's leg.
"We got some difficult news yesterday," her video began. "Basically, we've had issues in his right leg with clotting and getting blood down to his toes, and it just isn't it isn't happening with surgery and everything. So, they had him on blood thinners for the clotting, and unfortunately the blood thinners were causing some other issues, blood pressure and some internal bleeding in his intestines. So, we took him off the blood thinners but that, again, was going to cause some clotting in the right leg. So, the right leg will be amputated today."
Throughout Saturday, Cordero's fans and loved ones showed their support on social media with numerous videos recorded while singing and dancing to his song, "Live Your Life." Kloots re-posted many of them to her own Instagram Story—including a handful from Broadway performers Leslie Kritzer, Bobby Conte Thornton and Christiani Pitts—accompanied by the hashtag #WakeUpNick. Kloots has asked followers on social media to sing and dance with her every day at 3:00 p.m. PDT throughout her husband's hospitalization.
In response to the news of Cordero's surgery, actor and comedian Billy Eichner took to Twitter with words of support as well as comments about Florida's newly reopened beaches. "Thinking of Nick and his family today," Eichner tweeted. "This virus is real you Trump supporting fools. Have fun on the beach in Florida."
Cordero and Kloots' friends also created a GoFundMe campaign on Saturday, which had raised close to $220,000 of its $250,000 goal by Sunday morning. Caissie Levy, who starred in the original cast of Broadway's Frozen, raised awareness about the campaign on Twitter Saturday evening, writing, "Our dear friends, Amanda & Nick and their baby boy, Elvis, need help as they fight like hell against Coronavirus. It's an absolute horror what they're going through. #wakeupnick."
Kloots expressed gratitude for those who had donated to the GoFundMe shortly after confirming Cordero's surgery was complete, saying she was "blown away" by the gesture and noting that the money was "going to really help" her family.
"Nick will SURVIVE," she wrote on Instagram. "And we will now be able to get him the best rehab and make our bathroom and rooms in our new home wheelchair accessible."