Broadway Is Closed Through June 7: Here's What to Expect if You Already Have Tickets
New York's Broadway theater will not be reopening anytime soon. The Broadway League, the national trade association for the Broadway industry, has decided to extend the cancellation of performances in accordance with the city's measures to enforce social distancing and to keep large entertainment venues closed to the public. The shows will remain closed through June 7 in the wake of the COVID-19 pandemic.
The order was announced in a press release on Wednesday.
Charlotte St. Martin, president of the Broadway League, explained in the release. "Our top priority continues to be the health and well-being of the Broadway theatregoers and the thousands of people who work in the theatre industry every day including actors, musicians, stagehands, ushers, and many other dedicated professionals," she wrote. "Broadway will always be at the very heart of the Big Apple and we join with the artists, theatre professionals and fans in looking forward to the time when we can once again experience live theatre together."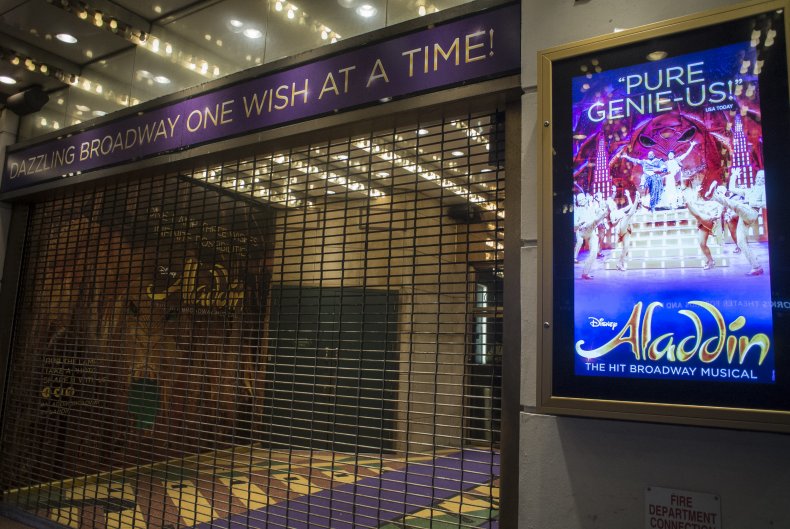 The news comes as the state of New York faces 76,876 confirmed coronavirus cases. They've totaled 4,111 deaths as of Wednesday. In comparison, China, which saw the start of the outbreak, totaled just over 81,000 coronavirus cases before reopening Wuhan businesses this week. America as a whole is close to reaching 400,000 confirmed infections.
For the safety of all, New York City is one area of America that has ordered social distancing, closed restaurants, bars and nonessential businesses in order to limit human interaction.
So what does the Broadway shutdown mean for ticket holders? If you've purchased a ticket to any Broadway show that was scheduled before June 7, you should start to check your email. The press release says that ticket holders with a now-canceled ticket will receive an email detailing refund or exchange options.
If you do not receive an email by April 12, though, you should prepare to contact someone yourself. The press release asks that ticket holders who aren't immediately contacted by their "point of purchase," meaning the website or organization that the tickets were purchased through, they should reach out to themselves. Refunds and exchanges will be offered through that point of purchase (like Ticketmaster, or an individual show's website).
Twitter users began to comment on the extended closures with disappointment, but most showed a general understanding of the situation.