Broadway Director Julie Taymor Is Back With a Vengeance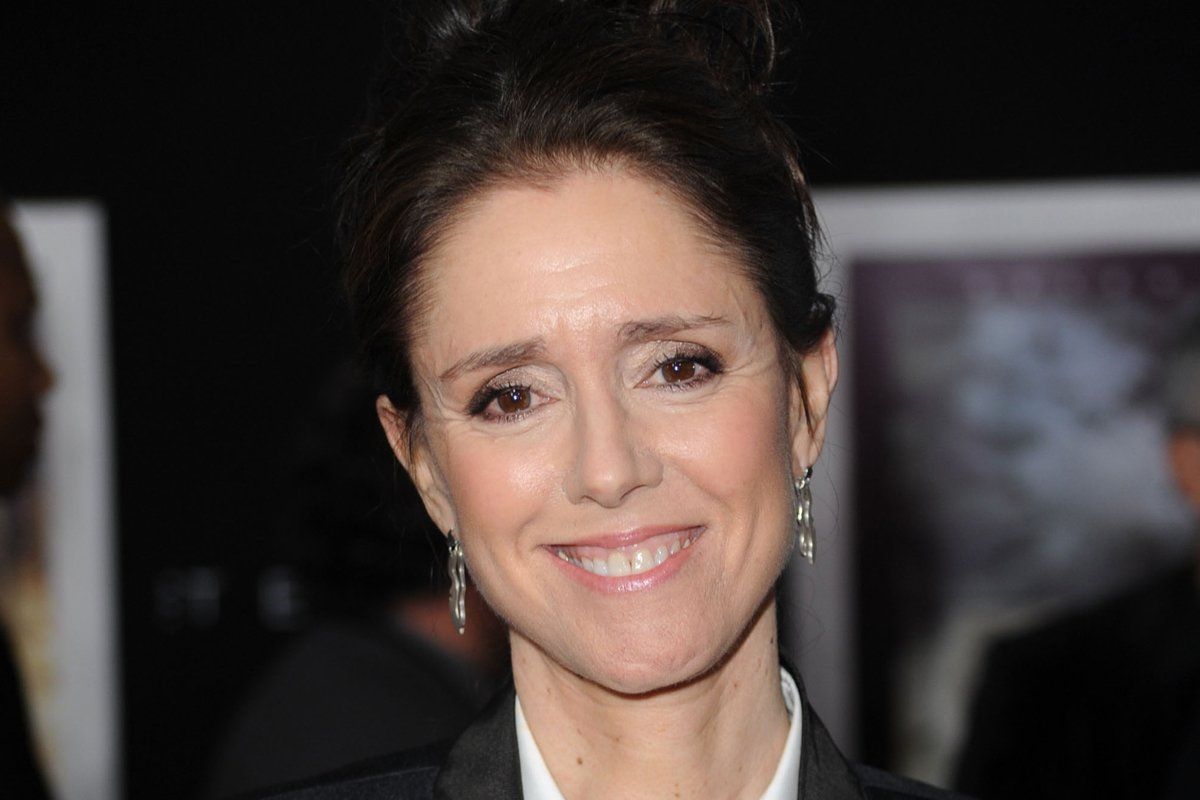 The first thing you see at the beginning of The Lion King on Broadway is a giant orange circle. It appears in the form of the sun, the backdrop on stage, and, as the show's director, Julie Taymor, will tell you, it's intentional: a "leitmotif, like in opera" for the Circle of Life (which is itself the first song of the show), of giving and taking, of the ways in which we go from high to low and back again. Over the next two hours, terrible things happen: Simba, the young lion at the center of the story, witnesses the death of his father, is driven from the kingdom, retrenches in the wilderness, and learns, ultimately, how to fight back and claim his place at the top of the food chain.
"It's the circle of life and death," Taymor says. "The sun that rises at the beginning and sets at the end after an incredible tempest of events and dark times. And if you don't have those experiences your life is probably not as rich. And now I'm beginning to talk about myself."
She certainly is. In March of 2011, after becoming one of the most well-known Broadway directors of her generation, Taymor found herself a pariah when she was fired from Spider-Man: Turn off the Dark, the beleaguered Broadway musical adaptation of the Marvel comic-book series that she'd been developing for nine years.
In the press, Taymor, who was blamed for the show's myriad problems, became a caricature, a powerful woman brought to her knees for our enjoyment, the Martha Stewart of the theater world. Which Taymor finds more than a little unfair. "What did Martha Stewart do: something criminal," says Taymor, 59. "I didn't do anything criminal. That's the thing."
But after more than a year in the wilderness, Taymor is clawing her way back. In April The Lion King, which in many ways was the springboard for Spider-Man, broke the record for the highest-grossing Broadway show ever. Its box-office total in New York sailed past $850 million to surpass Phantom of the Opera, no small feat given that the Andrew Lloyd Webber musical has been running about a decade longer. Meanwhile, Spider-Man producers Michael Cohl and Jeremiah Harris settled with Taymor's union and began paying Taymor's directing fees, which total nearly $1 million so far. (Although if there was an upside to getting stiffed, it was to reestablish Taymor as David to their Goliath. They are still haggling over royalties on the book.)
And so Taymor agreed to meet with me for what would be her first interview in months. We decided to go to a matinee of The Lion King, which she hasn't seen in a while. She says she is glad to be back, both because The Lion King can always use a tuneup, and because she loves her crew, some of whom have been there since the inception.
"Unlike other shows," Taymor says, clearly referring to Spider-Man, "I adore this whole team. It's just the most supportive group. Why does something work that's experimental, that's trying to break ground, that did break ground, that was risky? You have to have a group of people behind you who are going to be there for the long haul."
Taymor made her name doing wild, experimental productions of operas like Richard Wagner's The Flying Dutchman (she's currently developing a movie based on the original story from which the opera is derived) and Oedipus Rex. As a director with a background in Shakespeare, Taymor went to Awaji Island, Japan, to study puppetry after graduating from Oberlin, and she brought that training, along with her obsession with mythology, to both The Lion King and Spider-Man.
"I came from the avant-garde," she says. "My aesthetic was very different."
That aesthetic helped make The Lion King—adapted from the Disney animated film—a runaway hit, winning it six Tonys, including Best Musical and Best Director. But it was hardly an easy birth. "We didn't know if this imagery was going to work with a mainstream audience," Thomas Schumacher, the head of Disney's theatrical wing who hired Taymor, says of the elaborate puppetry she used in the show. At an early workshop, Disney execs didn't quite know whether to focus on the actors' faces or the masklike things on the tops of their heads.
Nor did Taymor and Schumacher agree about everything. "We had major discussions," Schumacher says. "Spirited discussions. Everything on that stage is created by Julie, but everything Julie created is not on that stage. And that's part of the process. She's a fantastic collaborator."
It helped that during the show's out-of-town run in Minneapolis, there were no gossip columnists to run a blow-by-blow. "We were able to use the preview process for what it is and get the show into shape," Schumacher says. "It wasn't being written about constantly. And I think Julie missed out on the safety of that in the last outing." Indeed, Spider-Man's elaborate flying sequences and difficulties raising cash made an out-of-town tryout impossible.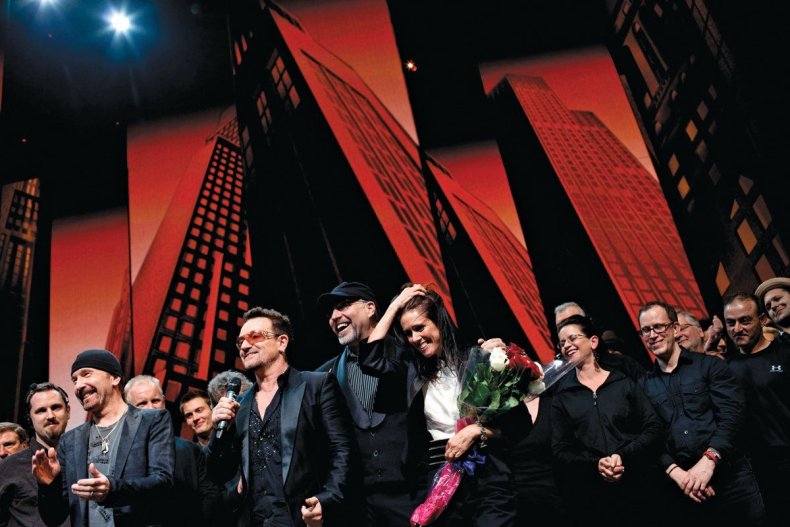 In 2002, around the time she was finishing Frida (a biopic of Frida Kahlo), Taymor became involved with U2's Bono and the Edge on the development of Spider-Man. The pairing seemed great on paper: the unconventional theater director who could take a popcorn musical and turn it into art, working alongside two of rock and roll's most commercially savvy showmen. But the project was delayed by scheduling conflicts and trouble raising funds.
Then, in 2005, just as things were getting off the ground, Tony Adams, the producer who brought Taymor, Bono, and the Edge together, suffered a stroke and died. With Adams gone, control of the show's finances went to David Garfinkle, a former entertainment lawyer with little direct Broadway-producing experience. But with roughly $30 million already spent, the show was running out of money, and nowhere near ready.
Garfinkle was replaced in 2009 when Bono roped in Michael Cohl, the former chairman of Live Nation Entertainment. Cohl was an able fundraiser who would go on to wrangle tens of millions of dollars for the show, but like Garfinkle, he and his partner Jeremiah Harris had never produced a Broadway show. By every account, Cohl forced Spider-Man into previews in November 2010, both because the show needed an infusion of cash that ticket-buyers could provide, and because the rights from Marvel were about to expire.
Problems were apparent from the first preview. Audiences were confused by the script, which drew on Greek mythology and featured a new villain named Arachne, a peripheral character from the comic books. (Taymor made her a central character, one determined to make Peter Parker fall in love with her so she could mate with him and bite off his head.) They also said the music was not memorable.
And where were Bono and the Edge? They missed most of previews due to a U2 tour. "They were far away, and our team got divided. It just got divided," Taymor says.
Technical difficulties with the flying sequences abounded, causing extensive delays during performances and occasionally injuring cast members. (A video of aerialist Christopher Tierney falling more than 20 feet from a platform and into the basement beneath the stage was widely consumed on the Internet.)
In February 2011, after over two months of previews, four wounded actors, and five postponements of opening night, a slew of critics decided it was time for Taymor & Co. to be critiqued. And most of what they wrote wasn't kind, with Ben Brantley of The New York Times going so far as to refer to the show as a "national joke."
Taymor recalls how in the early '90s, when Kiss of the Spider Woman was being developed as a musical for the stage, the producers did a trial run outside New York, because the legendary director Hal Prince wanted an audience but knew he wasn't ready for a real opening with reviews. Taymor and longtime partner Elliot Goldenthal, a composer to whom she's happily unmarried, lobbied critics on his behalf not to review the run. "They said, 'Well, it's Hal Prince. We owe it to the public.' Because he was Hal Prince they wouldn't let him have his time to workshop. I kind of don't like being in that place."
A month after the reviews of Spider-Man came out, Taymor was fired. "I was the scapegoat," she says over a salad after the matinee.
Asked what she learned from the whole experience, Taymor says: "I think the biggest is making sure that the people you're working with are on the same page. I don't think I knew who I was getting involved with."
She continues: "Maybe my taste is different than 80 percent of the people that go to Broadway, but I wouldn't say that's a mistake ... What's tricky about my career is that people get really excited, they want all that groundbreaking or envelope-pushing stuff, whatever you want to call it, and then at the 11th hour, they get nervous. They smell more success if we don't go too artistic."
Taymor remains mystified by the level of hostility leveled at the show. "What I always felt was, my God, in a recession, look how many people are being employed. Look how many people are building sets and working on flying and dancing.' Is it a good thing for a big show like Spider-Man to fail? No. Then a lot of people are unemployed."
Last month, the Tony nominations came out, and Spider-Man was snubbed in all the major categories, except for things Taymor was involved with. "It is interesting that I got bumped, when what's successful in the show is what I did. Costumes and sets, which were nominated, that is guided by the director," Taymor says.
Says Bart Sher, the Tony Award–winning director of South Pacific: "She's the most innovative, creative, courageous, and deeply experienced innovator we have. There's no way around that."
But asked whether she'd like to direct another Broadway show, Taymor says, "I don't know. It depends." She is planing on doing a Shakespeare play for Jeffrey Horowitz of Theatre for a New Audience. "I think maybe a comedy," says Taymor, who considered doing Macbeth but decided against it. "I know a lot about treason, but I'm not going to do it." She's also developing two movies. One is an adaptation of Thomas Mann's Transposed Heads, a retelling of a legend involving two people who behead themselves, only to be restored to the wrong bodies.
The other is her update of The Flying Dutchman, called Riders on the Storm. Taymor's version would take it into the present day, turning it into a story about a man who cannot love without dying, and winds up falling for a woman who is tough, hard-headed, a great athlete, and emotionally not all there.
Says Taymor: "I think the times are right for a woman, a lead woman role, where she's enormously flawed."