Preview: Irish Repertory Theatre Restores Luster to Musical 'On a Clear Day You Can See Forever'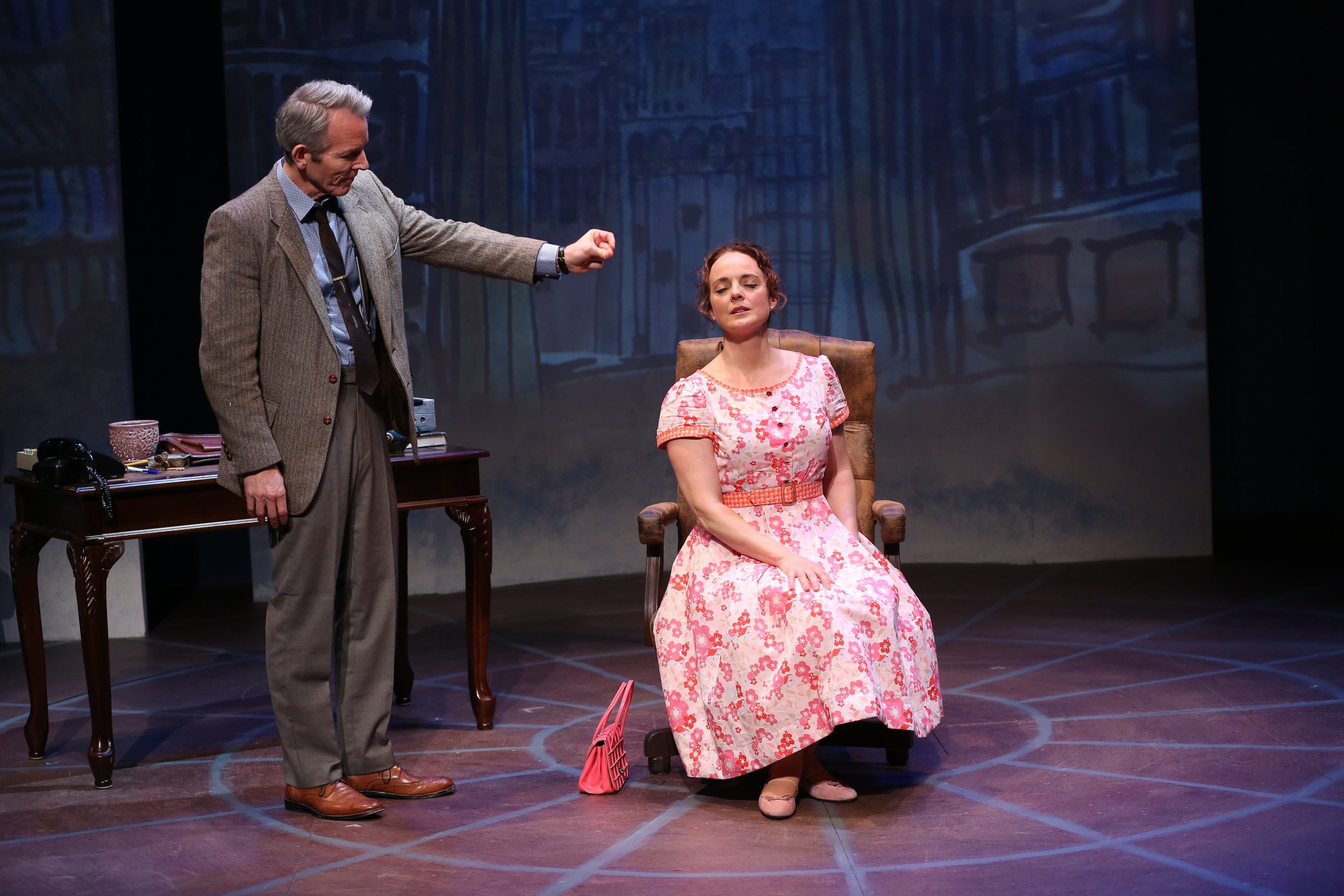 To visitors and tourists, Broadway may be the place to go, but veteran New York theater-goers know that the real gems of the New York theater scene are its nonprofits. And the emerald of that group is Irish Repertory Theatre, a small space on West 22nd Street.
The company was founded by Charlotte Moore and Ciaran O'Reilly in 1988 when, in the Mickey Rooney–Judy Garland tradition, they decided to put on a show, an Irish show, The Plough and the Stars. The critics came, the reviews were great and the show eventually sold out for its run. Moore says this was never meant be a one-off. It was always the goal to produce Irish and Irish-American plays. Today, in a newly renovated performing space and with more than 150 productions under its belt, the company is a fixture in the New York theater community.
"Ireland has a rich theatrical tradition going back to [Oliver] Goldsmith and [William] Sheridan, and up to [Oscar] Wilde and [George Bernard] Shaw, and the present," says Moore, "the storytelling tradition is big and varied." A look at the list of plays produced at Irish Rep—it's in every program—confirms that: It encompasses everything from ghost stories of Conor McPherson (Shining City, The Weir) to the classic American works of Eugene O'Neill (The Emperor Jones, Long Day's Journey Into Night) and even one on an Irish-American folk singer (Woody Sez).
And while drama has been the meat and potatoes of Irish Rep's output, Moore has demonstrated a special gift for adapting Broadway musicals for a small stage. These are full productions, not concert versions. When I ask if that's a lot of work for an adaptor, her eyes widen, "It sure is."
Related: The Golden Age of Broadway is revived in delightful 'Carousel' reboot: Review
Moore's latest musical project is On a Clear Day You Can See Forever, a show that, despite the top-level talents of such performers as Jessie Mueller (Carousel, Waitress, Beautiful), Barbara Harris (The Apple Tree, Robert Altman's Nashville) and John Cullum (too many to mention), has never had a successful Broadway production. So why choose this show? "The music. It's beautiful," she says. "The songs by Alan Lerner and Burton Lane. And when you have Melissa Errico.…" She makes no attempt to conceal her admiration for the performer.
Moore also "likes the ideas in [On a Clear Day], the relationships in it. It's not all driven by the 'stronger sex.' Daisy Gamble is a smart cookie in [two] centuries. And I was overcome by the music. The music ought to be done. It's gorgeous."
Moore says she has always loved the music of Lane. She recalls being at a "chi-chi party" early in her career when someone was at a piano playing "Look to the Rainbow." She went up to the piano player and said, "That's my favorite song from Finian's Rainbow."
"Thank you, I wrote it," said the pianist, who turned out to be Burton Lane. She and Lane developed a relationship that has served her and Irish Rep well. Her production of Finian's Rainbow is a textbook example of how to adapt a big show to a small stage. Key to that production's success was Moore's ability minimize the libretto's flaws (Yip Harburg, who co-wrote the book, was "an old lefty, and the political points of the plot have not aged well), while maintaining the overall integrity of the show. The songs she left alone. Finian's cast album is one of the best in recent years, and it is available on CD and Spotify.
As for problematic librettos, when adapting a show, Moore says she tries to stay as faithful to the book and the author's intent as she can. Sometimes this requires reading many different versions—produced and unproduced—of the text. And when applicable—as in the case of Finian's Rainbow and On a Clear Day—she will mine movie versions for anything that can help.
On a Clear Day is the story of Daisy Gamble (Errico), a woman who has extrasensory abilities. She goes to Mark Bruckner, a psychiatrist (played by Stephen Bogardus, who was a Tony nominee for Bright Star), to help her quit smoking. Bruckner puts her under hypnosis and, in the process, unlocks what appears to be Daisy's past life as an 18th-century British aristocrat named Melinda Welles. As he watches her relive a love affair with Edward Moncrief (John Cudia who played the title role in Phantom of the Opera), he becomes increasingly enamored of Melinda.
On Broadway, the original production had an orchestra of more than 20—Irish Rep has six. Making that happen is the job of musical director, John Bell, who Moore says, "is a genius, doing it with [a six-piece orchestra]." And the orchestrations are by Josh Clayton. "You just hand it over to them, and you get back something gorgeous."
The original production had more than 50 characters—Irish Rep's has 16. Some actors double in parts, and some characters have been eliminated. In On a Clear Day, Moore points out that a character who is loosely based on shipping magnate Aristotle Onassis would be lost on today's audience: "No one knows Onassis," she says half-kiddingly. "And there are no shipping magnates. So that character and his song are out."
But there are songs to spare in this show. On a Clear Day features three legitimate showstoppers—the title song, "What Did I Have That I Don't Have?" and "Come Back to Me"—and some of the loveliest earworms around (e.g., "Hurry! It's Lovely up Here," "Tosy and Cosh," "On the S.S. Bernard Coen." And making its debut is "Who Is There Among Us Who Knows," which was cut from the film version. It had been written for Jack Nicholson—honest. This, according to Moore, is the first time that song will be heard in a stage production of the show.
And the show is not all that dated. Moore stresses that one of the things that has not aged at all is the character of Daisy/Melinda, who "are two different women in this piece. Each is a very strong character. Daisy Gamble is a strong character who comes to be the person she aspires to be. And Melinda Welles in 1794 to 1798 is a very smart and powerful woman who, with her father, writes pamphlets about the selling of men in England."
And, she adds, "if anyone can reconcile those two characters, it is Melissa."
Errico, a Broadway veteran, has received a Tony Award nomination and six Drama Desk nominations. She and Moore are longtime friends: "Melissa and I are great pals, and we understand how to work together. And that's how we can accomplish difficult stuff. We are both very open to one another. And you have to open yourself up when you're doing something this tough. And [On a Clear Day] is a tough one."
The same thing was said about Finian's Rainbow, prior to its Irish Rep debut.
While the Irish Rep stage is small, there are advantages to doing this show in this venue. This is at heart a small musical, more in the vein of She Loves Me than Hello Dolly!, and one could see it getting lost on the big stages of the Mark Hellinger Theatre and the St. James Theatre, where it played on Broadway. And a small stage offers one thing for the musical theater purist. "We don't use any amplification," Moore says. "Try to find another production of a musical in New York City that doesn't use amplification. You can't."
At this point, Moore heads off to prepare for rehearsal, but she stops and looks into the theater, which is still empty. "I love being in an empty theater," she says. With any luck, she won't get much of a chance until mid-August, when On a Clear Day's run is set to end.
On a Clear Day You Can See Forever, which is in previews now, opens June 28 and is slated to run through August 12. For more information, go to IrishRep.org.