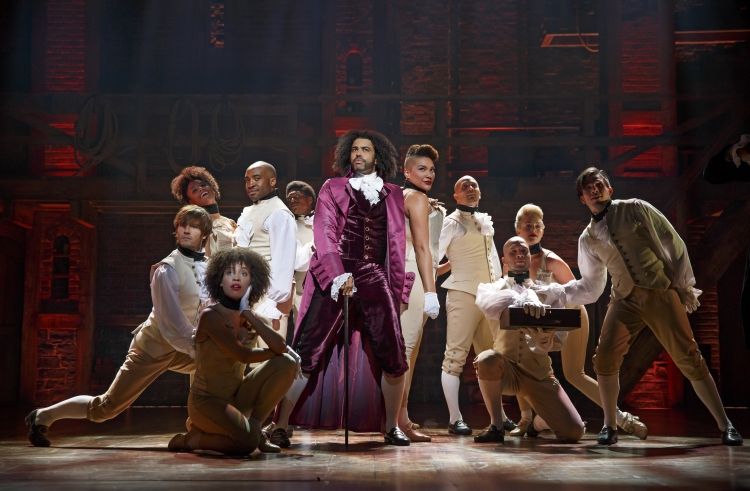 It's been said that politics is for the mediocre and theater the absurd, but neither of those applies to Hamilton, Lin-Manuel Miranda's masterful, multicultural reimagining of the life of Alexander Hamilton and the founding of the American republic. If you've just woken up from a six-month coma, you may have escaped the mountains of well-deserved accolades already heaped upon this extraordinary show as it transferred from a sold-out run at Manhattan's Public Theater to Broadway's Richard Rodgers, where it opened Thursday.
If so, you would be forgiven for feeling skeptical about the concept: a musical rendition of the American Revolution? Told through hip-hop? Packaged with colorblind casting?
Yes, it sounds like a gimmick, or 50 gimmicks, and in lesser hands it might have been. But Miranda weaves these elements together so seamlessly that your preconceived notions of formula and rubric will completely evaporate before the end of the opening number, when the powerful ensemble sings the praises of the bastard orphan from Saint Croix who rose to greatness with nothing more than a fierce intellect and skill with the quill. Hamilton is an ingenious fusion of hip-hop lyricism, pop melodies, narrative dexterity and musical theater sensibilities. It's impossible to imagine a more perfect union.
In fact, you may just slap yourself for not having seen the parallels between rap artists and American revolutionaries sooner. Both employ the power of poetic language to engage the masses and draw popular support for their plight from oppression. Among the Founding Fathers, Hamilton best personified this underdog spirit. An immigrant, largely self-taught, he sought glory on the battlefield and was tapped early on to be George Washington's right-hand man. After the War of Independence, Hamilton returned to New York, went on to write most of the Federalist Papers, was named the first treasury secretary of the United States and established the country's first centralized banking system.
Manual, who previously made a splash with the 2008 Tony-winning musical In the Heights, wrote the book, music and lyrics for Hamilton, which is based on Ron Chernow's best-selling 2005 biography. He also stars as the title character and took great pains to put the history before the histrionics, which make the deliciously reference-laden rhymes all the more satisfying. His rapid-fire lyrics pay homage to everyone from Gilbert and Sullivan to LL Cool J, and history buffs will appreciate the thoroughly researched allusions. "Everything's legal in New Jersey!" Hamilton laments in a nod to the site of his fatal 1804 duel with Aaron Burr, which took place across the Hudson because Hamilton himself helped outlaw dueling in New York City.
But what is perhaps most striking about Hamilton is its unabashed earnestness toward America's oft-told origin story. It's easy these days to be disillusioned with a political system that has failed to live up to its egalitarian promise in so many ways. But this show, with its mostly black and Hispanic cast—communities that have the most reason to be cynical about American politics—is anything but cynical. That it opened on the same day Jon Stewart aired his final Daily Show could signify some sort of cosmic changing of the guard, if you believe in that sort of thing. Miranda and his diverse ensemble of young performers remind us that we needn't mythologize our nation's beginnings to be in awe of our shared myths.
Mind you, this is not rose-colored revisionism. Miranda's revolutionaries are fully formed, warts and all, and the story he carves out deftly highlights the acrimony, contradictions and compromises that permeate our political system to this day. Should space aliens ever need a crash course in U.S. politics, the frenetic rap battle between Hamilton and Jefferson—in which the former argues for a strong federal government while the latter insists on the value of state sovereignty—will tell them all they need to know.
The cast standouts in the show are too numerous to mention, but it would be a crime not to single out Daveed Diggs, who does double duty as Lafayette and Jefferson, and who is a riot as the latter. Diggs's Man from Monticello is a flamboyant, elitist Francophile, sprinkled with a touch of Snoop Dogg—an apt foil to Hamilton's serious-minded everyman. Phillipa Soo turns in an understated but ultimately heartbreaking performance as Hamilton's wife, Eliza, who curses her husband's obsession with his legacy only to be the one tasked with preserving it. The show finds moments of laugh-out-loud humor via interludes from Jonathan Groff as the contemptuous King George, who sings smug soliloquies about the humiliating failure he is certain awaits the newly independent Colonists. Spoiler alert: They do just fine without him.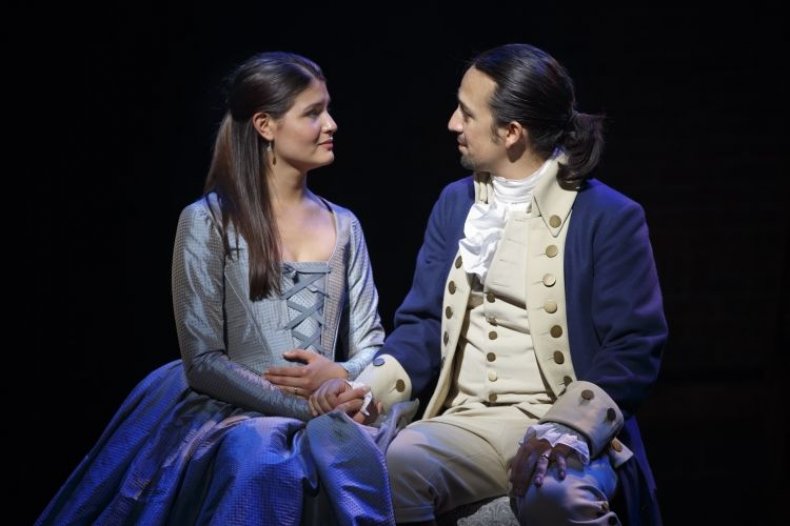 The play culminates, of course, with the famous duel between Hamilton and Burr, played by Leslie Odom Jr. But if you think you know how it ends, think again. Aided by Andy Blankenbuehler's choreography and Thomas Kail's direction, the final conflict is a staging miracle, transitioning from a Matrix-esque slow-motion sequence to the ethereal musings of a man on the cusp of a violent death. For the final number, the revolutionaries return to wonder who will tell their stories when they're all dead and gone, but Hamilton has already given us the answer. As Miranda has said, it's the story of America then, told by America now. And it's about time.
Hamilton music, lyrics and book by Lin-Manuel Miranda; directed by Thomas Kail; inspired by the book by Ron Chernow; choreography by Andy Blankenbuehler; set design by David Korins; costume design by Paul Tazewell; lighting design by Howell Binkley; sound design by Nevin Steinberg; orchestrations and music direction by Alex Lacamoire. Richard Rodgers Theatre, 226 West 46th Street; hamiltonbroadway.com