On its surface, the play The Inheritance, which originally premiered in London before moving to Broadway in November 2019, is all about class systems and how they impact one another. However, when you dig a little deeper, you begin to learn so much more—not only about the characters but also about yourself, says Kyle Soller, who plays Eric Glass in the play.
"It grapples with a lot of universal questions that humans have been grappling with since they could come up with questions," Soller, who won the 2019 Best Actor Laurence Olivier Award for his performance, told Newsweek Conversations. "Why are we here? What is my responsibility to my fellow human? How can I live in this world trying to be good with all the chaos that surrounds me? And it's incredibly brave, and heartbreaking and hilarious in equal measure."
A reimagining of E.M. Forster's Howards End, The Inheritance, written by Matthew Lopez and directed by Stephen Daldry, takes the story out of Forster's Edwardian England and moves it to 21st-century New York City among three generations of gay men: a 30-something couple, an older man haunted by the AIDS epidemic and a younger man wildly challenging the norms the older generations came to rely on, resulting in an emotional ending to Part I of the two-part play.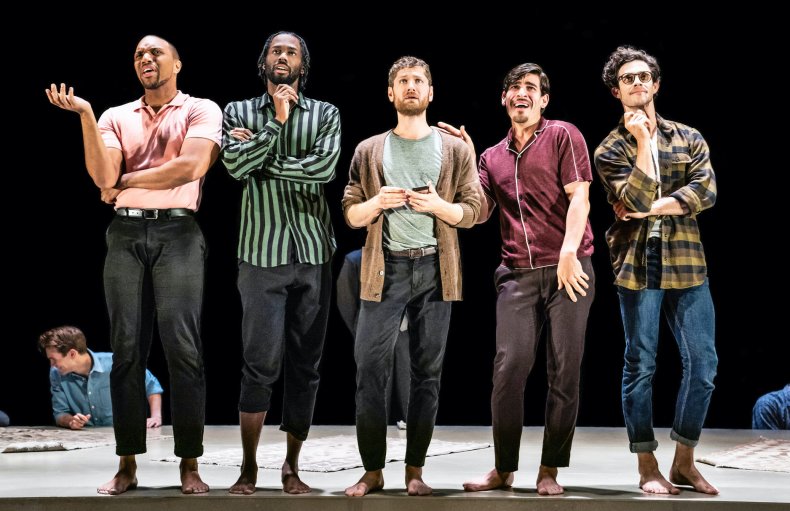 "It's really incredible. That's when the play stops being theater and something else happens," Soller says. Audiences have responded to the play, often sitting through Part I and Part II on the same day—a nearly seven-hour experience.
"I met an older gentleman at the stage door who remarkably mirrored one of the characters in the play. He's been married to his husband for 36 years, has two children from his husband's previous marriage, and he lost every single one of his friends in the epidemic. He said, 'I had seen every play that deals with this subject, and this is the first time I feel like my story is being told. And it's the best it's ever been told.'"
But even though the play is incredibly emotional, it's not all drama. In fact, the play seems to strike the perfect balance between drama and comedy.
"I think if you had a play last for six-and-a-half hours that was just soul-wrenching drama, I think our run would be a lot shorter," Soller says, laughing. "Part of that is the genius of Matthew Lopez. He writes funny unlike any playwright I have ever read. The play bounces along on these releases of tension which are these laughs that are interspersed throughout the entire six-and-a-half hours. Even in some of the more emotional moments. And you need that levity to bring your soul back up."
For more, watch the full interview with Kyle Soller on Newsweek Conversations.