Brock Turner Judge Defends Sentencing, Says Brown v. Board of Education Was Unpopular Too
Two years after sentencing Brock Turner to six months for sexually assaulting a woman behind a dumpster while she was unconscious, Judge Aaron Persky has compared his controversial ruling to the unpopularity of school desegregation.
The Santa Clara County Superior Court judge defended himself and his ruling in a press conference in Palo Alto, California, on Tuesday. Persky is facing a recall vote in June over his ruling in the Turner case, which critics claim was unjustly lenient.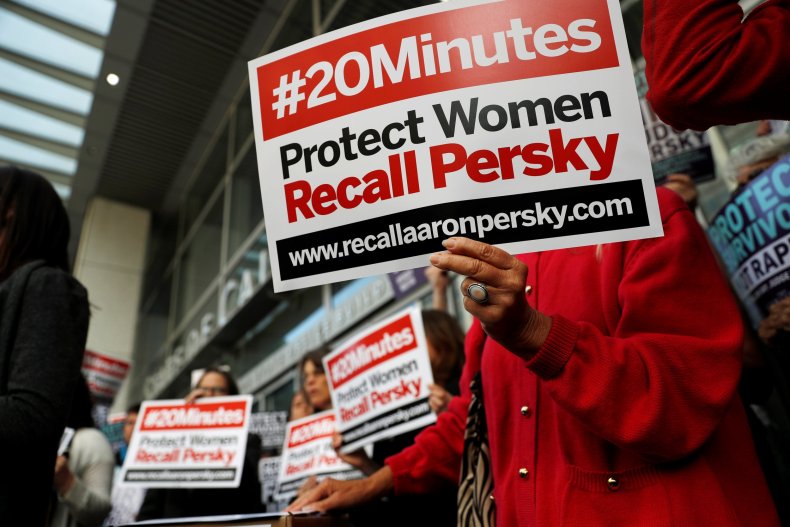 "Brown v. Board of Education was unpopular in many states," Persky said, referencing the 1954 Supreme Court decision that ruled racial segregation was illegal. "Imagine for a moment if those federal judges had been faced with judicial recall in the face of that unpopularity.
"We ask judges to follow the rule of law, not the rule of public opinion," Persky added, according to Buzzfeed News.
Michele Dauber, a law professor at Stanford Law School, has been an outspoken critic of Persky and is leading the effort to have him recalled.
"Judge Persky has a long pattern bias in favor of privileged men, such as college athletes like Brock Turner, who have committed violence against women," Dauber said in an email to Newsweek. "Persky has repeatedly abused his discretion on behalf of abusers. As a result, voters in this county have lost confidence in his ability to be fair."
Dauber called Persky's comparison to the Brown v. Board of Education as "absurd." "In Brown, the Supreme Court bravely ruled with the powerless against the powerful. In Brock Turner's case, Persky did the exact opposite," she wrote. "That was neither brave nor commendable."
The law professor also took to Twitter to call Persky "tone-deaf" and "clueless."
"Sentencing a privileged elite recruited athlete sex offender to 6 months in jail and probation is not a 'courageous' decision. It is business as usual. The fact that he would say that just shows how clueless he is about this and the impact it had on women," Dauber tweeted in reaction to Persky's press conference.
The recall effort received the endorsement of The Mercury News in an editorial published on Tuesday.
"Voters need to stand up and make a statement on behalf of women and men about the seriousness of sexual assault. Pesky's sentence failed to do so to an extent that he will never again be able to serve as a respected, effective judge. He should be recalled," the newspaper's editorial board wrote.
Persky faces a recall vote during the June 5 election.