Brodie Lee 'Being the Elite' Tribute Episode Honors the Late Jon Huber
"Being the Elite," the YouTube vlog series created by All Elite Wrestling's The Young Bucks and Kenny Omega, released a special tribute video for Jon Huber—better known to AEW fans as Brodie Lee, and WWE watchers as Luke Harper—on this week's episode.
The episode, simply titled "Brodie," is a compilation of testimonials from those who worked closely with the 41-year-old, interspersed with clips from Huber's classic segments with The Dark Order.
There are even never-before-seen outtakes from Brodie Lee's segments that are just as funny as the actual bits themselves.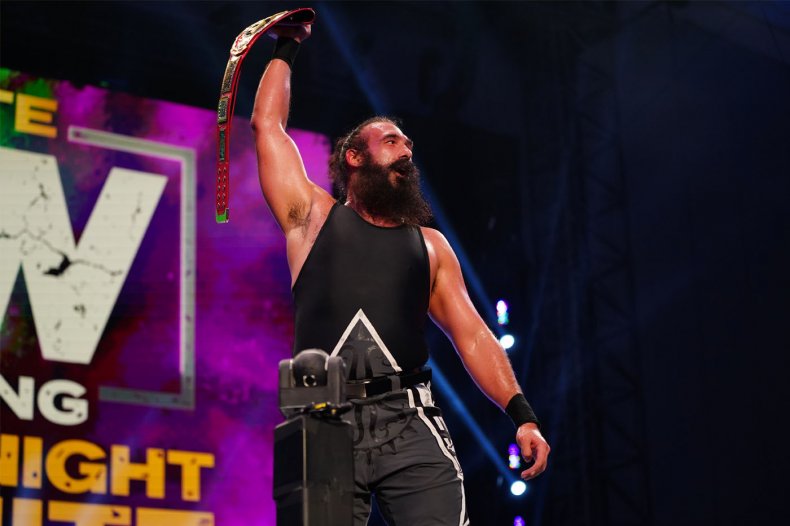 Huber died Saturday night after two-plus months of being off of AEW television. In a statement on Instagram, Huber's wife explained that the professional wrestler succumbed to a non-COVID related lung issue.
"My best friend died today. I never wanted to write out those words. My heart is broken. The world saw him as the amazing Brodie Lee (fka Luke Harper) but he was my best friend, my husband, and the greatest father you would ever meet," the statement reads. "No words can express the love I feel or how broken I am right now. He passed surrounded by love ones after a hard fought battle with a non Covid related lung issue."
Following the news, the wrestling world began to mourn as tributes and stories about Brodie Lee swarmed social media. No matter the promotion, wrestlers and wrestling fans were not shy in showing their love for the one affectionately nicknamed "Big Rig."
"In an industry filled with good people, Jon Huber was exceptionally respected and beloved in every way - a fierce and captivating talent, a thoughtful mentor and simply a very kind soul that starkly contradicted his persona as Mr. Brodie Lee," AEW wrote in a tribute to Huber.
"Known as both Luke Harper and Brodie Lee in the ring, Huber found success in every stop of his sports-entertainment career, as his soft spoken yet imposing presence helped him create countless awe-inspiring moments in the ring," WWE wrote in its salute to Huber.
Huber's last match was on the October 7 episode of AEW Dynamite, when he tried to defend his TNT Championship in a Dog Collar match against Cody, a bout that he lost.
Since the news of Huber's death broke, several wrestlers have been donating proceeds from their merchandise sales on Pro Wrestling Tees to the late wrestler's family. Some of the notables doing so include Mick Foley and CM Punk.
EC3 has begun selling his own Brodie Lee/Luke Harper legacy shirt on their online shop with the proceeds going to Huber's family. If you feel compelled to support the Huber family during this time, consider purchasing a shirt from one of these sources.