Broken Schools Can't Be Saved by Hero Teachers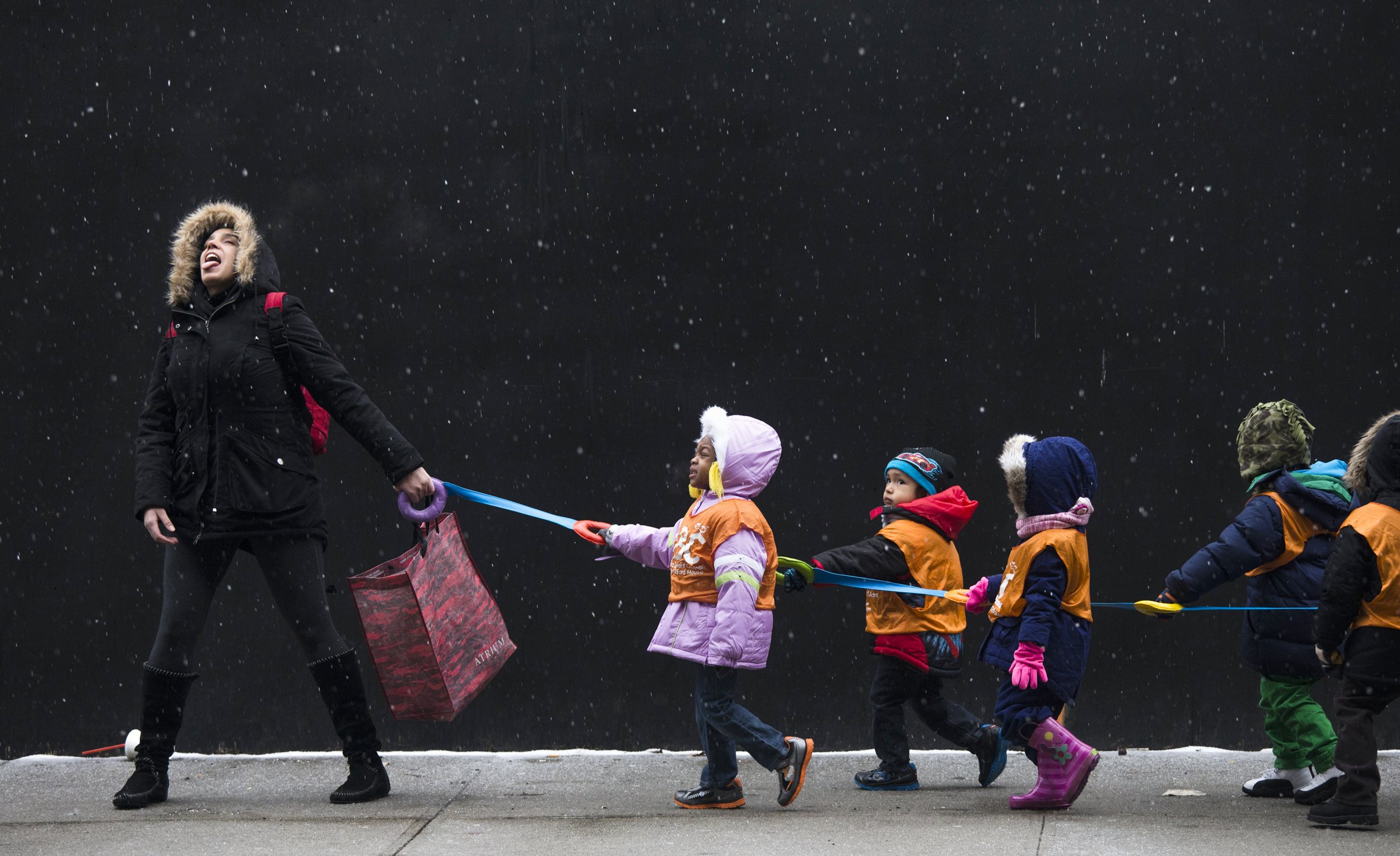 It was late June and the school year was heaving its way toward the finish line. I stood at my desk at a New York City high school and scanned the faces of my ninth-graders.
Angela came to school for the first time that year—on May 1—with a baby in tow.
Jésus had been recently recruited into a gang—by his father.
Nee-cole had been homeschooled the year before by her devoted, mentally troubled and homeless mother—mostly on a subway car.
Byron, brilliant but undocumented, was afraid he wouldn't attend the Ivy League because he lacked papers. (He never went to college at all.)
Like so many teachers, I went into the field fueled by the myth of the "hero teacher" who through sheer effort and caring alone can reach, teach and help troubled kids. Hollywood provides no shortage of stories about superhuman educators who can turn around a class of disaffected children and send them to college in 90 minutes flat.
More than just icons of pop culture—celebrated in movies like Stand and Deliver and Dangerous Minds—they are now deeply woven into the narrative of educational reform, whether it is Teach for America or "no excuses" charter schools like Success Academy and KIPP. Faced with an education system that consistently fails our most vulnerable children, policymakers are heavily placing their bets on heroic teachers rather than on systemic solutions to the true culprit—poverty.
I aspired to be a "hero teacher" myself, but, truth be told, I didn't reach, teach or help most of my students. Faced with their failure and my own, I flamed out hard and quick and left after just one year.
Maybe I just didn't have the chops, but if so, I have a lot of company: 68 percent of new teachers leave New York City high-poverty schools within just five years, either for higher-income schools or for other professions. Other high-poverty districts from rural Colorado to inner-city Chicago report similarly dismal statistics.
Even more alarming, the school where I taught wasn't one of the classic "failure factories." It was a reform-minded, Gates Foundation–funded small high school that promised to do secondary education better and different. We had a dedicated, energetic faculty, a charismatic principal, a solid curriculum and caring counselors.
Nearly a decade later, I have followed the progress of many of my students. Despite the school's stated goal of preparing students for college, only about half of the kids even graduated from high school. As far as I know, only three of the 92 students I taught that year graduated from college on time. Many of them have dropped out of shady, for-profit colleges loaded with debt. Others already have their own children whom they are struggling to support.
Despite all those good intentions and significant resources, how did things go so terribly wrong? I look back and see the different steps that I as a teacher and we as a school could have taken—and there are a great many of them. But with the benefit of time and reflection, I've arrived at this simple conclusion: We didn't fail those kids; our society did.
This contradicts the thinking of many leading figures in education reform, from Wendy Kopp of Teach for America to Michelle Rhee, the former chancellor of Washington, D.C.'s public schools. In the words of Success Academy Charter Schools CEO Eva Moskowitz, "there is a myth in this country that poverty and race are overwhelming barriers to a child's ability to learn." This idea of fixing schools first and poverty will sort itself out is well-intentioned and brimming with American can-do spirit, but it is not the silver bullet they promise.
The education reform debate remains far too focused on schools and teachers as the sole solutions. Year in and year out, teachers face the collateral damage from a raft of social issues that are none of their making: mass incarceration, punitive immigration policies, inadequate wages and housing, and poor health care, all underpinned by institutional racism.
This is no idle threat to just the fringe of our society. In 2013, 51 percent of children in American public schools qualified for free or reduced lunches—the benchmark of low-income families; that's up from 38 percent in 2000.
Pinning our hopes on individuals with superhuman abilities is not a strategy for fixing a broken system. No matter how dedicated the teacher, how well-crafted the lesson, how shiny the laptop, we won't be able to effectively educate our most vulnerable students when they are crippled by poverty and its attendant problems. All those elements can help, but even at the most ambitious schools, there is a limit to how far they can go.
Many look to the KIPP charter schools with their laser focus on better recruiting, training and supporting of teachers for answers. KIPP rightly boasts of its 44 percent four-year college graduation rate, which many consider one of the most promising results of the reform movement. (The average rate for low-income kids earning degrees is about 9 percent.) Impressive? Absolutely. But what about the other 56 percent?
We know those students won't have a decent shot at the American dream since 65 percent of all jobs will require postsecondary education by 2020. Adding to the concern, teacher turnover rates at charter schools are generally even higher than in traditional public schools.
There is so much more we can do outside of the classroom. Here are just two systematic, well-researched solutions given short shrift in the current debate.
Integrate schools: Our schools today are as segregated as they were in 1968. Fueled by racist fears, we've created an apartheid-like school system: good schools for white kids and bad schools for brown kids.
Decades of research show when low-income children attend higher-income schools, they do far better and the middle-class kids don't do any worse.
In a hopeful sign, the Century Foundation just released a compelling report profiling more than 90 districts and charters in 32 states that are bucking the trend and diversifying schools along socioeconomic and racial lines.
Attack childhood poverty: Poverty is the true source of educational failure, not "lazy teachers," "bad kids," "uncaring parents" or "flabby curriculum," so we must embrace policies to reduce it.
Many measures—such as implementing a living wage, immigration reform and ending mass incarceration—would not raise taxes and might even decrease them.
Then imagine if we found the political will to spend money on promising initiatives like high-quality, universal pre-kindergarten, affordable housing and better health care for the poor.
Too expensive, you say? Somehow, we dug up $3 trillion for two ineffective wars and spend $60 billion annually on prison expenses.
We must broaden the education reform debate beyond what happens within the four walls of the classroom. Teachers can and will do their part to improve our most troubled schools, but until we enact broader systemic reforms, we will be caught in a cycle of failure.
Simply put, the richest country in the world should stop expecting Hollywood hero teachers alone to solve our education crisis and create policies that will result in fewer poor kids to educate.
Ed Boland is the author of The Battle for Room 314: My Year of Hope and Despair in a New York City High School.