Astronauts departing the International Space Station (ISS) are about to have what they call a "suboptimal" flight home.
The capsule used to transport the astronauts has a broken toilet, which will force them to wear diapers on their trip back to Earth, the Associated Press reported. Pools of urine were discovered in the capsule due to a loosened pipe. Despite the break, the capsule is otherwise safe to board and return in.
"Spaceflight is full of lots of little challenges," NASA astronaut Megan McArthur said during a news conference. "This is just one more that we'll encounter and take care of in our mission. So we're not too worried about it."
The debate over when to bring McArthur and crewmates Thomas Pesquet, Akihiko Hoshide and Shane Kimbrough back home is ongoing. Managers are debating if the current crew should return to Earth before launching their replacements. The flight to bring up the new astronauts has been delayed due to inclement weather and an undisclosed but minor injury suffered by one of the crew members.
While in the ISS, the astronauts helped to upgrade the power grid, grew chile peppers, and even hosted a Russian crew that was the first to film a feature film in space.
For more reporting from the Associated Press, see below.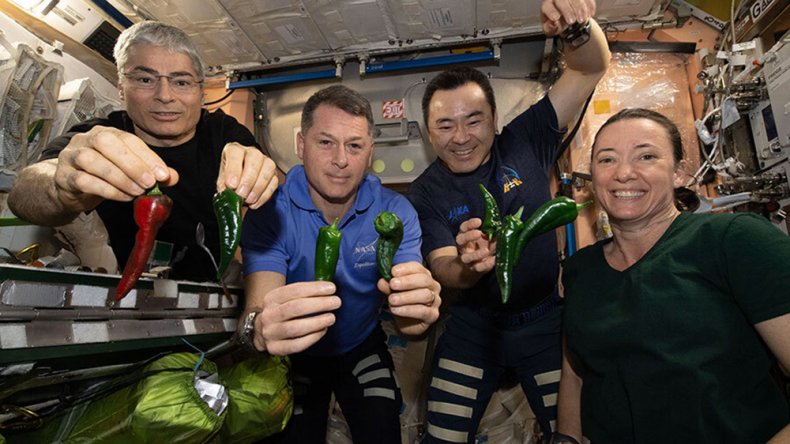 The problem was first noted during SpaceX's private flight in September, when a tube came unglued and spilled urine beneath the floorboards. SpaceX fixed the toilet on the capsule awaiting liftoff, but deemed the one in orbit unusable.
The astronauts got to sample their chile pepper harvest in the past week, adding pieces of the green and red peppers to tacos.
"They have a nice spiciness to them, a little bit of a lingering burn," she said. "Some found that more troublesome than others."
One American and two Russians will remain on the space station following their departure. While it would be better if their replacements arrived first—in order to share tips on living in space—Kimbrough said the remaining NASA astronaut will fill in the newcomers.
Newsweek previously reported that the incoming weather that the Kennedy Space Center is expected to experience contributed to the delay of the upcoming crew's arrival.
"The weather in November can be especially challenging," said NASA commercial crew program manager Steve Stich, "so our goal is to move forward on the plan with the highest probability of mission assurance and crew safety."