Bronx Official Suggests BLM Mural Painted Outside Yankee Stadium, After Team Invites Trump to Throw First Pitch
Bronx Borough President Ruben Diaz Jr. suggested a Black Lives Matter mural to be painted outside Yankee Stadium in response to the team inviting President Donald Trump to throw out the ceremonial first pitch in August.
The New York Yankees invited Trump to throw out the first pitch at the team's home game against rivals the Boston Red Sox, as previously reported.
Diaz criticized the Yankees, whose stadium is in the Bronx, saying he was "shocked and outraged" regarding the invitation in a statement on Friday. He said that inviting the president contradicted a statement the team had made on June 8 in support of the Black Lives Matter movement.
Diaz highlighted a portion of the statement where the team wrote: "Black Lives Matter: The New York Yankees condemn racism, prejudice, and injustice in all forms." In his statement, Diaz said the Yankees' sentiment was rendered meaningless by inviting the president to throw out the first pitch, while calling for similar action taken by protesters outside of Trump Tower in Manhattan.
"By inviting President Trump to throw out the first pitch, they are blatantly demonstrating that their pronouncements are cynical and devoid of genuine meaning. Perhaps, in fact, the words 'Black Lives Matter' should now also be painted on the street outside of Yankee Stadium, the same as Trump Tower," Diaz said.
Referencing the rising coronavirus numbers and the negative impact that the COVID-19 has had on working-class people, especially in his borough, Diaz suggested that those who have been impacted by the virus deserve the honor more than the president.
"We all deserve better than a careless major league baseball organization that consistently ignores the surrounding community while pandering to an unapologetic white supremacist like Donald Trump," he said. "The Yankees would be better served by honoring them and their families rather than a president whose bluster and incompetence utterly failed to restrain the pandemic."
Along with further criticism of Trump, especially his handling of the COVID-19 pandemic, Diaz finished his statement by saying the Yankees disrespected both the borough and their fans. "That the Bronx Bombers would see fit to invite Donald Trump to our great borough, to throw out the first pitch, is a resounding slap in the face to Bronxites and loyal Yankees fans who will always root for their home team," he said.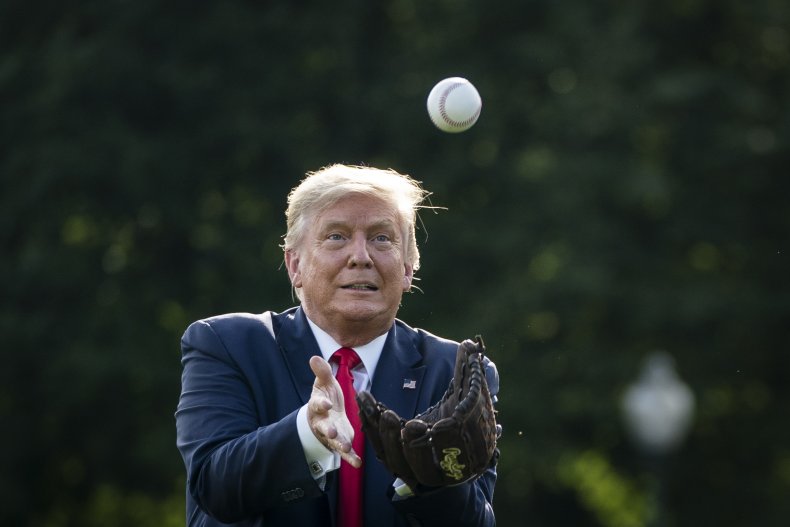 Newsweek reached out to the Yankees and Diaz's office for comment, but did not receive a response in time for publication.
Upon Major League Baseball's return, Trump said that he didn't want players to kneel, as previously reported. "I hope they're not going to be kneeling when the flag is raised. I don't like to see that. That would hurt a lot of people in our country. They don't want to see that with the NFL, or baseball, or basketball, or anything else. There are plenty of places you can protest. You don't have to protest on the raising of our flag," he said in an interview with Fox News host Sean Hannity.
Trump also welcomed baseball's return by having a recent catch with former Yankees relief pitcher Mariano Rivera.