Brooke Shields Slams Barbara Walters' Body Questions When She Was a Teen
Brooke Shields blasted a decades-old interview she did as a teenager with Barbara Walters, calling it a "fiasco."
Speaking on The Drew Barrymore Show, the iconic model and actress recalled the uncomfortable 1981 sit-down.
"She asked me what my measurements were and asked me to stand up," Shields, was just 15 at the time of the taping with Walters, told host Drew Barrymore on Tuesday's show. "And I stand up, and she was like comparing herself to this little girl. And I thought, 'This isn't right. I don't understand what this is.'
"But I just behaved and I just smiled, and felt like so taken advantage of in so many ways."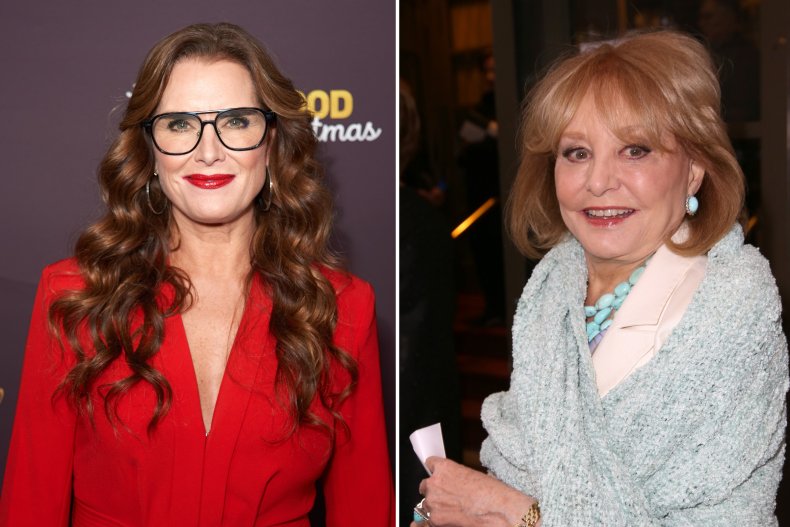 The interview in question occurred following the launch of Shields' jeans campaign with Calvin Klein, Page Six said.
Shields previously slammed Walters during a podcast episode from last year, calling their 1981 encounter "practically criminal."
"It is not journalism," she said at the time.
Shields also mentioned Walters during an interview with Newsweek'sH. Alan Scott published earlier this month. When asked about the media's sexualization of her as a child, Shields said that her mother did a great job of protecting her and helping to "maintain a certain naïveté."
"Being in those situations where Barbara Walters is asking me what my measurements are, or the sort of lack of respect for a young person, didn't insult me or hurt my feelings, but what it did was just made me lose so much respect," she told Newsweek. "I remember thinking, 'Here we go again, I thought these were supposed to be the smart people, but I guess not.'"
During the '81 Walters interview, Shields was also asked about if she withheld certain things from her mother. She was also peppered with questions that appeared to make her uncomfortable and reminded Walters of the fact that she was still growing up.
Later, during a 2021 podcast interview with Armchair Expert, Shields told host Dax Shepard that it seemed as though her responses to interviewers' questions on the heels of the Calvin Klein ad never seemed to satisfy them.
"They never wanted my answer, right? They never wanted the answer. They just—they wanted their point of view," she said on the pod.
For her part, Walters—who retired several years ago—has previously opened up about the sexism she experienced throughout her storied career in journalism. Newsrooms were widely male-dominated as she pushed to carve a name for herself in the industry, she noted during a 2014 taping of Oprah's Master Class.
"The so-called hard news, a woman couldn't do it. The audience wouldn't accept her voice," Walters said at the time, per HuffPost. "She couldn't go into the war zones, she couldn't ask the tough questions."
Still, Walters was successful in delivering hard-hitting interviews.
"Some people admired it. Others said, 'She's rude,'" Walters said. "On the one hand, it made me more valuable; on the other hand, I got the reputation as being a pushy cookie. 'There goes that pushy cookie.'"
Newsweek reached out to representatives for Shields and Walters for comment.
Update 11/22/22, 11:22 a.m. ET: This story has been updated with additional information and background.
Do you have a tip on an entertainment story that Newsweek should be covering? Let us know via entertainment@newsweek.com.