Terry Crews Talks 'Brooklyn Nine-Nine' Season 5 Finale, Cancellation and Revival
The 24-hour saga of beloved comedy Brooklyn Nine-Nine's cancellation at Fox (and subsequent pick-up at NBC) was unlike anything the internet has ever seen. The outcry and support from fans, including some of Hollywood's biggest names, helped ensure the series a sixth season on a new network.
The reactions online were crazy, but nothing compared to the emotional upheaval experienced by the cast and crew. Terry Crews (Sergeant Terry Jeffords) was on the set of $100,000 Pyramid with castmate Andre Braugher when he got the news.
"Five minutes before I go on, I get an email from our showrunner Dan Goor that we were canceled, and I'm a deer in the headlights." Crews told Newsweek. "It's like Bambi and you killed my mom. It's a vortex of emotion. People are looking at me and smiling, but I'm going, 'oh my god.'"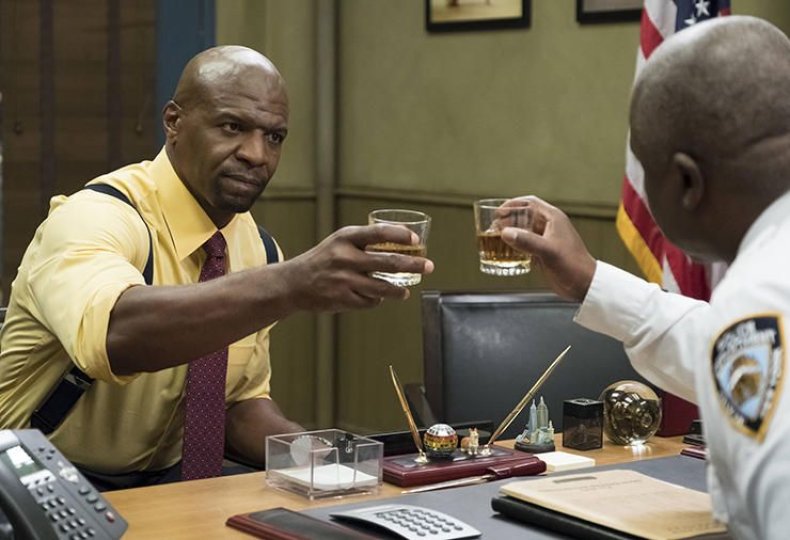 Crews compared the feeling to losing your favorite uncle, but the actor knew he had to move past the shock. He made the best of his time on the game show, treating it as a welcome distraction from what would become a rollercoaster day.
Doubt crept into Crews's mind. He wondered if Brooklyn Nine-Nine was as good as the cast believed it was. But the reactions from fans and stars like Mark Hamill, Lin Manuel-Miranda, Sean Astin and Guillermo del Toro reassured the star.
"When it was all over, it came over me. I went back to my hotel room and mourned and looked on the internet to see what was going on, because we never saw it coming," Crews said. "But the whole internet, once they got wind that we were canceled, because they didn't see it coming either, boom! The world went nuts. It was so validating, beyond validating. If we didn't come back, the good thing was to know that the world did love us."
Crews and the rest of the Brooklyn Nine-Nine cast wondered about the next step. They used a group chat to share news, hoping Hulu or Netflix would save the show. But that notion was quickly dashed when the streaming services passed.
He went to bed, exhausted after a grueling day. Waking in the middle of the night, he checked his phone: "I'm thinking it's my wife or something else, but when I looked at it all it said was NBC picked us up. Now, remember that analogy of losing your favorite uncle. Imagine he dies in a car accident and then walks through the door. That's how I felt. I can't even tell you the emotions because you're dealing with something that's gone and now it's back. But not only that, it's on a bigger and better network."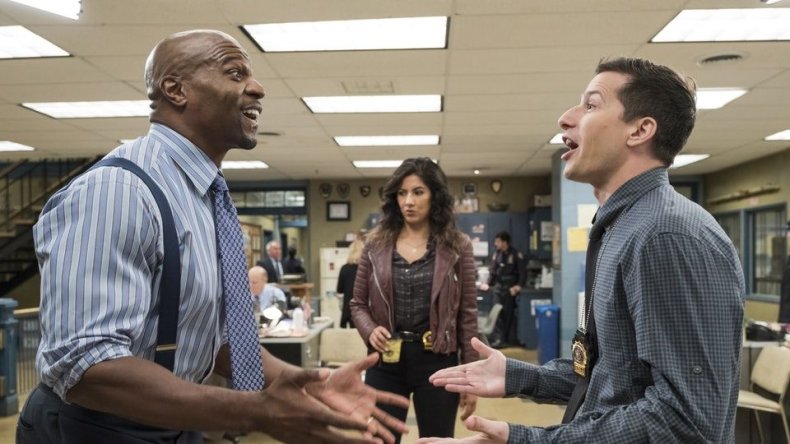 NBC will pick up the threads of the Brooklyn Nine-Nine Season 5 finale, which will finally see the marriage of Jake and Amy. But Crews says the show isn't done laying the groundwork for future stories.
"Jake and Amy have been together for a long time and have been planning this wedding. It's the perfect ending to our time on Fox," Crews said. "But there are other things that Captain Holt has been trying to do and everyone on the force is trying to take it to another level. We find out a few more things that set up what's happening next. We were planning for our sixth season over on Fox, but now it's going to happen on NBC. There are some great things being set up for our new life on our new network."
Brooklyn Nine-Nine Season 5 finale airs Sunday, May 20 at 8:30 p.m. on Fox.