Brooklyn College Professor Refers to Kavanaugh's Alleged Conduct as 'Spin the Bottle' Activities
A professor at a college in New York is facing backlash over a blog post he wrote in response to last week's hearings for Supreme Court nominee Brett Kavanaugh.
Mitchell Langbert, an associate professor of business at Brooklyn College, in New York, wrote on his own personal blog on Thursday about the hearing and accusations of sexual misconduct leveled against the nominee.
"If someone did not commit sexual assault in high school, then he is not a member of the male sex," Langbert wrote. "The Democrats have discovered that 15-year-olds play spin-the-bottle, and they have jumped on a series of supposed spin-the-bottle crimes during Kavanaugh's minority, which they characterize as rape, although no one complained or reported any crime for 40 years."
In testimony on Thursday, Christine Blasey Ford said she believed Kavanaugh was going to rape her in 1982 at a high school house party. Ford is one of the three women who have come forward and accused the Supreme Court nominee of sexual assault or misconduct. In his blog post, Langbert called the hearing a "travesty" and called the Democratic Party "the sissy party."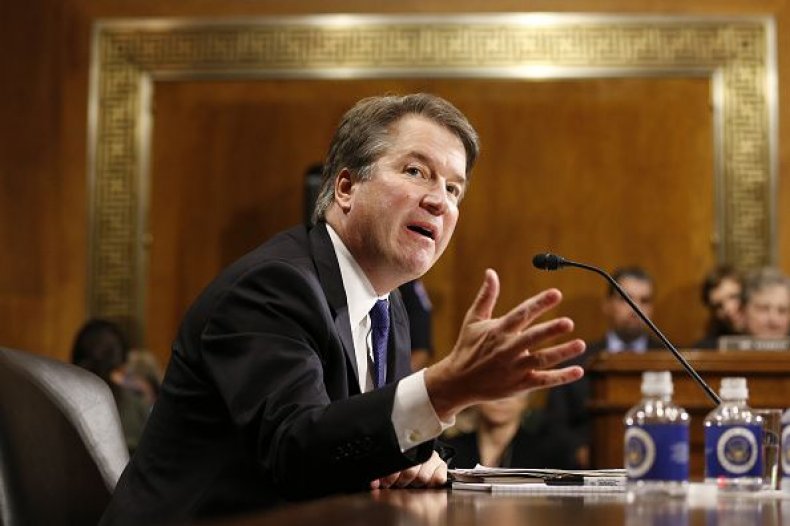 "The Kavanaugh hearing is a travesty, and if the Republicans are going to allow the sissy party to use this travesty to stop conservatism, then it is time found [sic] a new political party," Langbert wrote. "In the future, having committed sexual assault in high school ought to be a prerequisite for all appointments, judicial and political. Those who did not play spin-the-bottle when they were 15 should not be in public life."
Langbert's blog post has drawn criticism on the Brooklyn College campus. Corrine Greene, a senior at Brooklyn College and the leader of the school's chapter of the Young Progressives of America, told the New York Post that his statements were "genuinely dangerous."
"They clearly advocate for participating in violent crimes, and generally in discrimination against women, who are already in serious danger, statistically, on college campuses and in broader society," Greene told the publication.
In an interview with Newsweek, Langbert said he is in favor of Kavanaugh as a Supreme Court nominee, but his blog post was a satirical piece to Jonathan Swift's essay A Modest Proposal, in which Swift satirically writes about selling children for food. Since he posted the blog, the college professor said he has received threatening emails.
"It was supposed to be satirical, and a lot of people didn't get it," Langbert told Newsweek. "I quote Jonathan Swift at the top of my blog post. It wasn't meant to be taken literally."
Brooklyn College posted a statement from Anne Lopes, the Provost and Senior Vice President for Academic Affairs on the college's Facebook page. Lopes wrote that while she found the post to be offensive, she noted the First Amendment "protects even speech that many experience as offensive, such as the faculty member's post."
"I view the post as offensive, obviously abhorrent, and contravening the fundamental values and practices of our community. However, the First Amendment to the United States Constitution protects even speech that many experience as offensive, such as the faculty member's post," Lopes wrote. "I understand that in response to the speech students have organized a protest that will take place on the East Quad on Thursday during common hours."
Lopes said a webpage has been created for students and faculty to comment on the blog post. She also said a forum will be planned over the next week so the college can discuss and reflect on the matter.
This story has been updated to include comments from Mitchell Langbert.