In Brooklyn, Mourning Prince With a Dance Party, Not a Funeral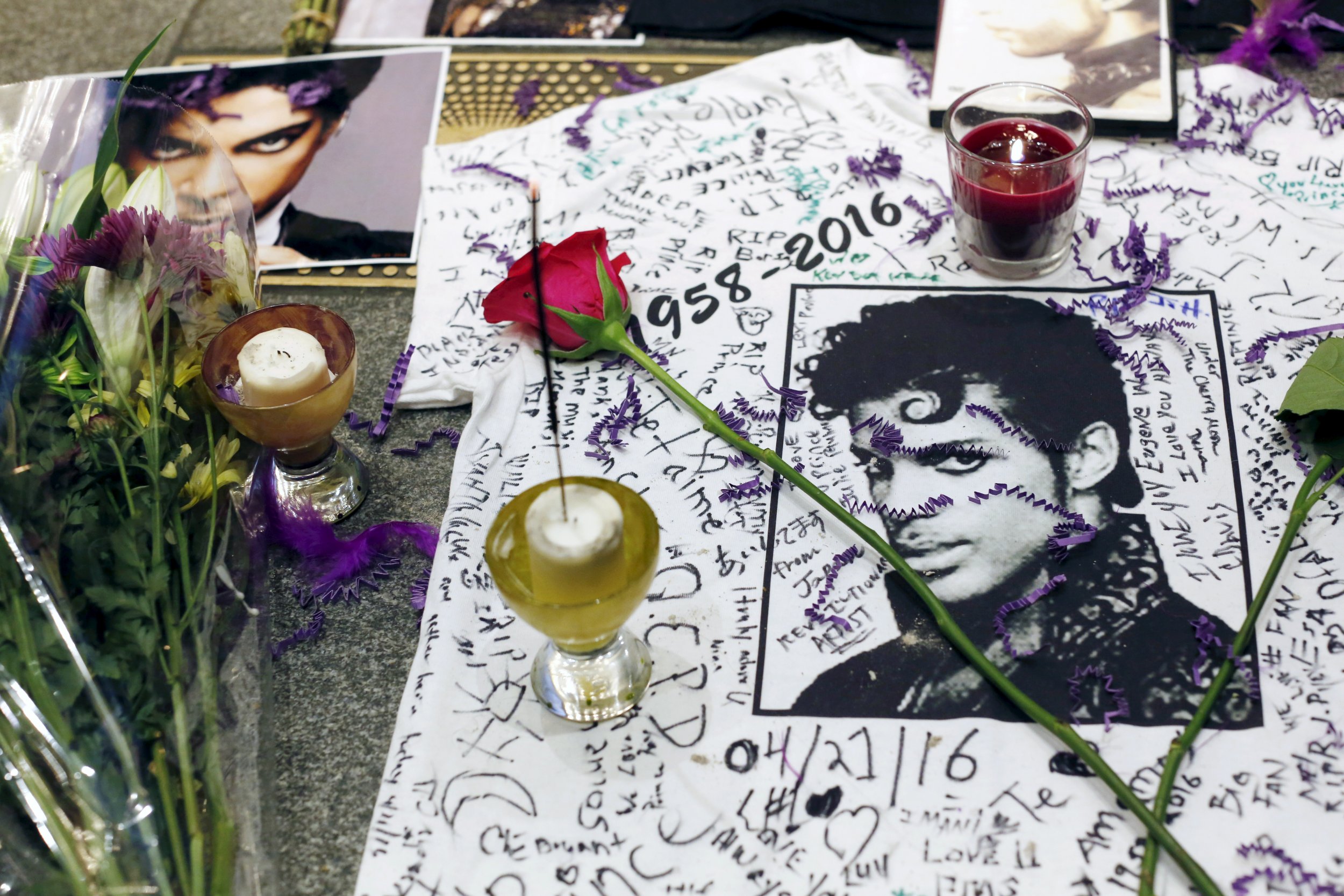 How do you mourn a pop star who made everybody dance? You dance.
Throughout the weekend, Prince fans channeled their grief into impromptu dance parties following the unexpected death of the 57-year-old pop icon.
On Thursday and Friday, fans in Minnesota made the pilgrimage to First Avenue, the legendary Minneapolis nightclub where Prince both began his career and filmed much of Purple Rain. People left flowers, notes and balloons, much of it purple. Thursday night, the nightclub held an all-night bash where fans could gather and swarm the streets in Prince's honor.
On the East Coast, Brooklyn seemed to be the biggest hub of Prince-themed gathering. Filmmaker Spike Lee hosted a Prince appreciation party on his block in Fort Greene, with an estimated 500-800 fans attending and even cops singing along to Prince classics.
In Williamsburg, Roots drummer and noted Prince devotee Questlove turned his regular Thursday night DJ set at Brooklyn Bowl into a Prince-themed marathon dance party.
"Cry. Listen. Dance. Sing," teased Questlove on Twitter before the event. Each of these activities took place inside the purple-splattered mélange of Prince appreciation, though the vibe was more exuberant than mournful. On the dance floor, fans young and old danced deep into the night; Questlove lurked unseen, spinning a career-spanning mix of Prince deep cuts and remixes, from the deep funk of 1991's "Gett Off," from Diamonds & Pearls, to the colorful psychedelia of "Starfish and Coffee" and "Anotherloverholenyohead." Classics like "Alphabet St." and the Batman soundtrack smash "Batdance" drew cheers, though Questlove's selections went way beyond the hits.
Visuals from Finding Nemo looped on screens around the venue, cheekily referencing the time Prince cut short a Questlove DJ set by replacing him with a Nemo DVD.
Outside, the line to get in stretched more than a block down Wythe Avenue. Many wore purple dresses, shirts and headbands. One fan could be heard protesting, regarding her friend being denied entry to the venue: "She's from Minnesota! She should be in this bitch!"
Near the bar and restaurant area, fans pooled their grief and shared stories of where they were when they heard that Prince died.
"I actually cried when I was at work," said Renee Mintz, a teacher who heard the news on the radio. "I had to leave moments after. I couldn't teach anymore. People kept coming up to me, saying, 'Are you alright?'" Mintz's co-workers didn't quite understand, she said, because they were years younger than her.
Sarah, a 40-year-old fan who declined to give her last name, said she recently threw a Prince-themed party. "It was my birthday. So I threw a Prince dance party. It was packed."
Thursday was a less cheery occasion. "I've actually been really depressed all day," Sarah said. Her mood momentarily lifted as the synth refrain from 1982's "D.M.S.R." began blaring over the speakers, and she headed back toward the dancefloor.
"It's like the music for life," said Greg Martin, a state safety officer at a psychiatric facility. "He came in, and he created a new era of music."
But Martin praised the celebratory spirit of the event.
"It's the best," he said. "A celebration of his life. I think we should carry this on for at least 30 days."