'Brooklyn Nine-Nine' Hits Episode 99: How Creator Dan Goor Made a Hit Comedy About Cops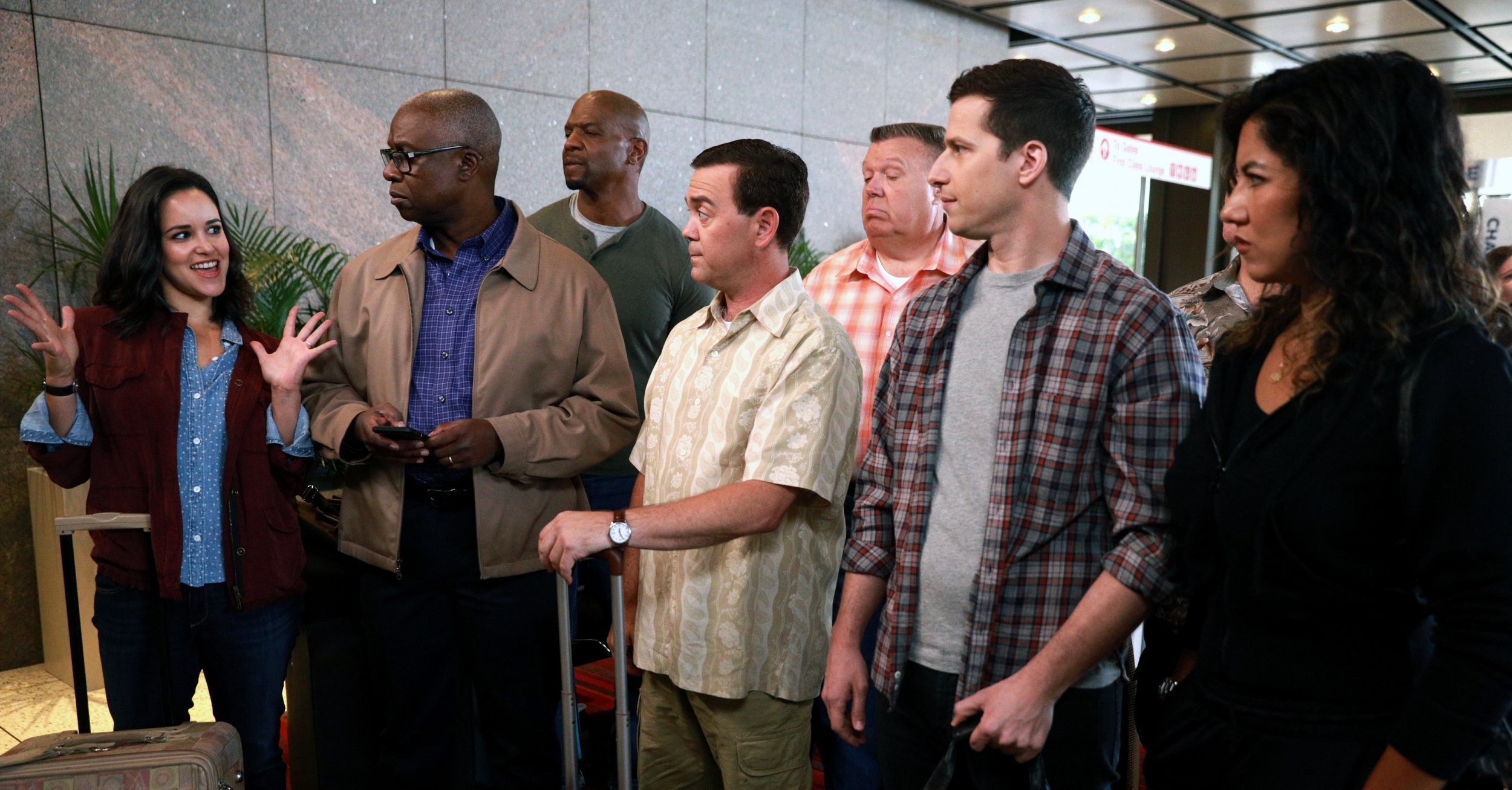 In TV land, a show reaching the 100-episode milestone is typically cause for celebration. Producers and networks are happy because the program is now eligible for syndication, which means bigger profits for the producers, not just the network.
The accomplishment is generally comes with very special episodes. The Office, for example, sent the Dunder Mifflin crew to Malibu in "Company Picnic," and Friends' "The One Hundredth" saw Phoebe give birth.
Brooklyn Nine-Nine, FOX's acclaimed cop comedy currently in its fifth season, will reach the 100-episode mark next week—or, rather, the 99th. "I don't remember whose idea it was to celebrate the 99th instead of the 100th, but as soon as I heard it, I thought it was a no-brainer," co-creator and showrunner Dan Goor told Newsweek.
The fictional 99th precinct went big for "99," which airs tonight at 9:30 ET. The entire team flies from Brooklyn to Los Angeles in a "travel" episode to attend the funeral of their former captain. But the real goal is getting their current captain back to New York in time for his interview to become Chief Commissioner of the NYPD. Flights get canceled, rental cars are unavailable, the rented RV breaks down—you know the drill. Shenanigans!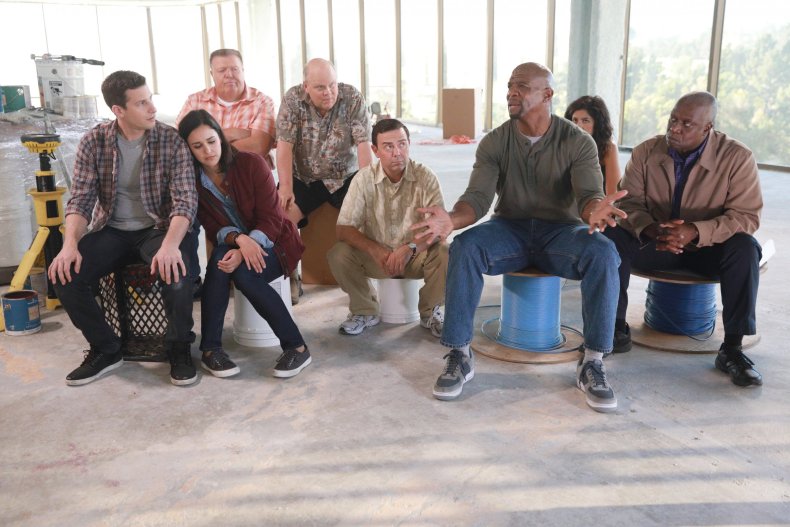 "We had this discussion on day one of the series—no, I'm kidding," Goor said. "We started talking about [the 99th episode] at the beginning of this year. We wanted it to be different, we wanted it to be a group episode and we wanted to focus on the relationship between Holt and Jake."
That relationship has been building since the pilot, when Jake (SNL alum Andy Samberg), a rule-breaking class clown, clashes with his new by-the-book captain, Raymond Holt (the great Andre Braugher). As Goor noted, eagle-eyed fans will recognize callbacks to that first meeting, like Jake's "meep morp" impersonation of Holt's robotic cadence, in the 99th episode. "The hardest thing about that pilot was that we had to keep reminding Andre not to smile," Goor said. "He's a very smiley guy!"
Though Holt's smiles remain rare, his affection for Jake (and vice versa) is now clear, even explicitly stated, in the latest episode. It's the sort of emotional payoff fans of Brooklyn Nine-Nine love. "We've learned the show works best when the characters are well-intentioned," Goor said. "They want the best for one another. Of course, when you have characters that get along, that makes it difficult, because conflict drives story and comedy."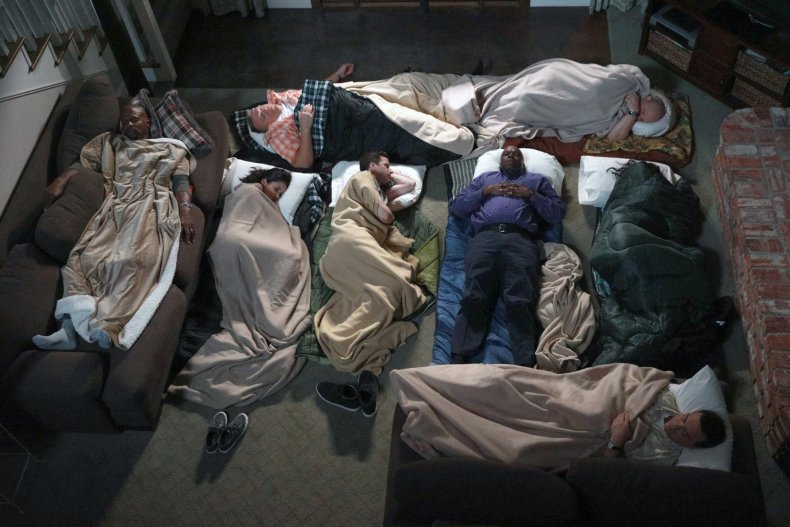 Goor's approach to the relationships of the characters was developed while working on NBC's Parks and Recreation, another sitcom built on inherently good people and the triumph of positivity. Goor wrote regularly for the show, alongside friend and showrunner Mike Schur (who went on to create NBC's The Good Place). After a few years of working closely on Parks, Schur set out to help Goor develop a show of his own.
"We got breakfast twice a week and pitched each other ideas," Goor said. "I suggested a police station because when the audience sees that building, they know exactly where they are." The storytelling value of instand recognition was another lesson learned from Parks. The NBC sitcom struggled its first season because so much exposition was required. "No one knows the details of local government!" said Goor with a laugh. "Ultimately that helped make [Parks and Recreation] great, but I wanted a story where the stakes are immediately apparent."
Barney Miller was the last great sitcom involving cops, way back in the '70s; since then it's been decades of heavy-duty dramas: Law & Order, NYPD Blue, Homicide. But when it comes to loaded topics, comedy can be a powerful weapon. Season Four's "Moo Moo," for example, dealt with racial profiling when Terry Jeffords (Terry Crews) gets harassed by a white cop while off duty. The episode, inspired by a story Goor saw posted by a black officer on Facebook, was praised for its graceful and genuine handling of the of the subject.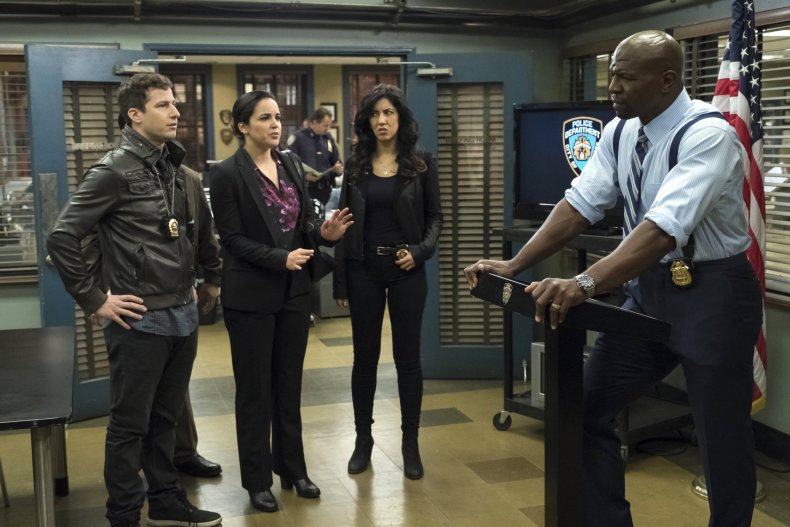 Schur worked alongside Goor as co-creator and writer when the show premiered in 2013, but he took a step back around the second season. It is Goor's ability to find a narrative balance between comedy and drama that has brought the sitcom to this historic moment, the 100th—sorry, 99th—episode. "The long-term plan was always for Brooklyn to be Dan's show to run, and that's how it's been now for a while," Schur told Newsweek. "He deserves the vast majority of the credit for its ongoing success."
Goor has promised several other big moments in Season 5, including Jake's marriage to Amy (Melissa Fumero) and the return of officer detective Gina Linetti (actress Chelsea Peretti, like her character, has been out on maternity leave) next Tuesday. Goor is also plotting Season 6, which will feature "Jake tracking down his ultimate foe."
There was a brief celebration of Brooklyn Nine-Nine's milestone behind the scenes. "We had a cake-cutting ceremony and then we all got back to work," Goor said. "Oh, and there was a massive party. I just wasn't invited."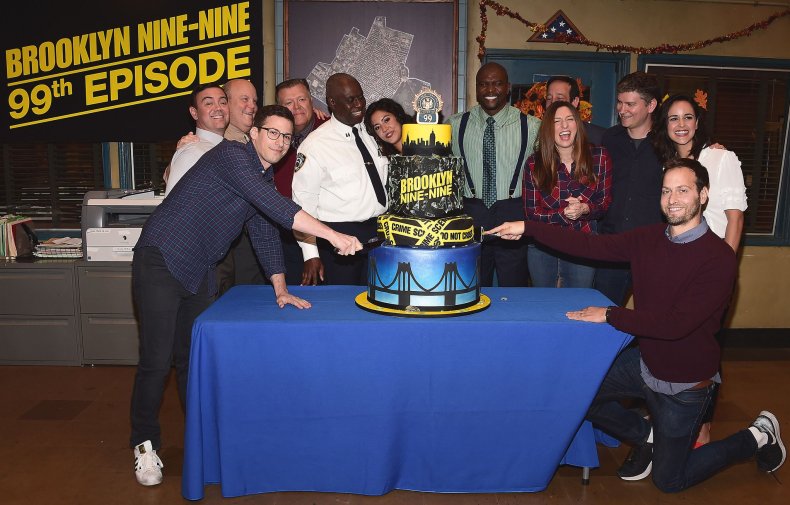 Brooklyn Nine-Nine's 99th episode airs Tuesday, December 5, at 9:30 ET on FOX.