'Brooklyn Nine-Nine': Canceled by Fox, Saved by NBC and Back for Season 6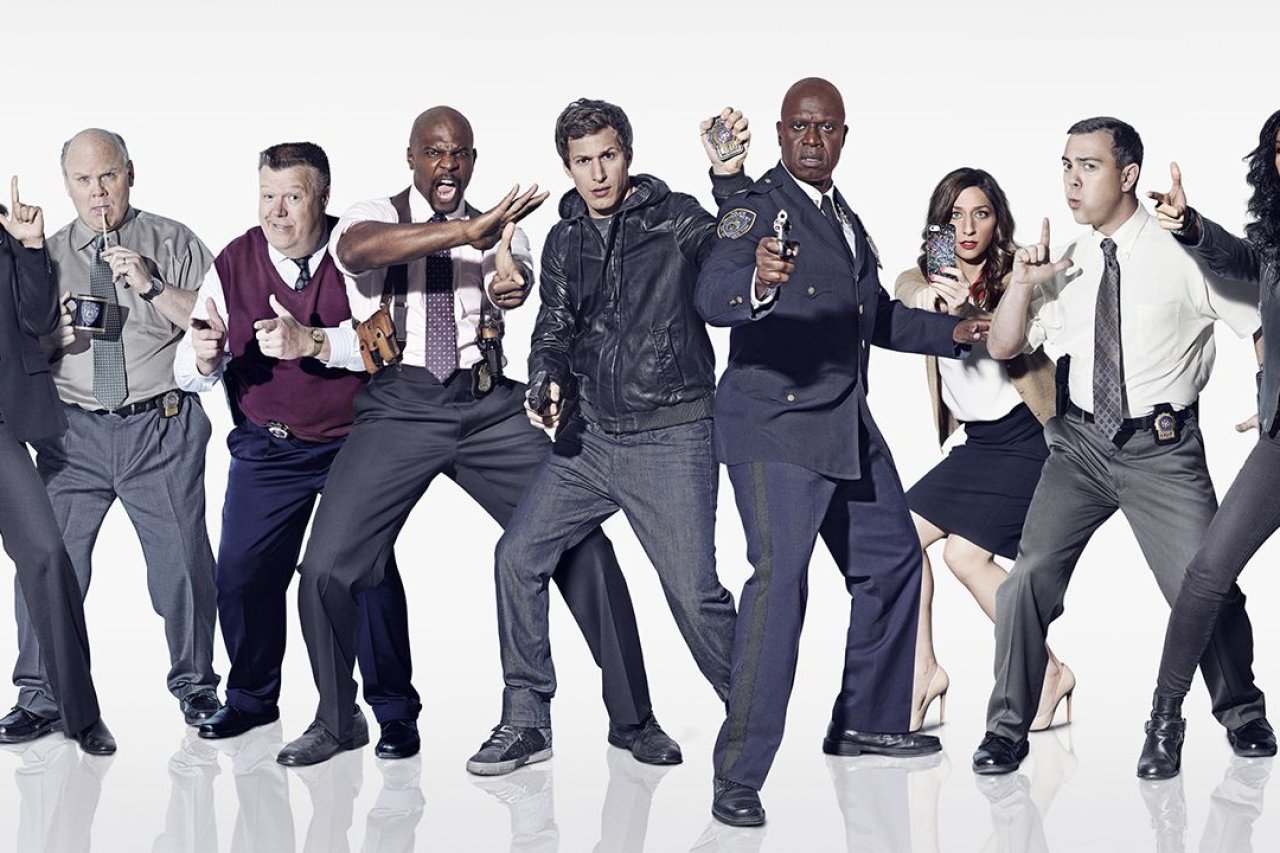 Last May, Fox canceled Brooklyn Nine-Nine after five seasons, two Golden Globes, three Emmy nominations and too many Tumblr GIFs to count. The cast of the feel-good sitcom—starring SNL alum Andy Samberg as an immature but gifted New York Police Department detective named Jake—figured that was it. "I may or may not have been a crazy, crying, screaming lady walking through JFK the day of cancellation," says Melissa Fumero, who plays Amy, Jake's competitive, rule-abiding foil and eventual wife.
But within a few hours, Twitter lit up with support for the show; #RenewB99 began trending worldwide, with everyone from Hamilton's Lin-Manuel Miranda to Star Wars' Mark Hamill lamenting Fox's decision. "We were all texting each other that day," Samberg tells Newsweek. "Like: 'Are you guys seeing this? We got canceled, but we really touched people.' We were all prepared for that to be the end of the story."
In fact, no: About 24 hours later, NBC announced it was picking up Nine-Nine for Season 6. Fans rejoiced; much like Timeless—canceled by NBC, then swiftly renewed following a Twitter outcry—the show was saved with the power of the internet!
Well…not exactly. Unbeknownst to the actors and show's devotees, the reports of its death were, if not exaggerated, then premature. Showrunner Dan Goor—co-creator of Nine-Nine with Michael Schur—had an inkling of what was to come just before the annual "upfronts," when network executives present their fall lineup to advertisers. "It had gone from, 'We're definitely getting picked up,' to 'We might get picked up,' to 'We're hearing rumors that Fox isn't picking up any single-camera shows,'" says Goor. But even then, his "sorrow was tempered by a glimmer of hope."
NBCUniversal produces the show, and though the studio had sold it to Fox—the network that made the best offer—the former chairman of NBC Entertainment, Robert Greenblatt, had always regretted "letting it get away." Tracey Pakosta, the co-president of NBC scripted programming, had been working at Universal Television at the time the show was created. "It has been very close to my heart," says Pakosta. "When we got word that the show was possibly being canceled, everyone mobilized."
Did the online fan response influence things at all? Kinda, says Pakosta. "In our minds, we were part of that cheering squad," she says. "Hearing the enthusiastic voices—particularly from internal talent like Seth Meyers [host of NBC's Late Night With Seth Meyers] always helps. But everyone was quick to jump on the opportunity to get Brooklyn on NBC."
On January 10, the show slips into a Thursday slot between Schur's The Good Place and Will & Grace, for an 18-episode season. The biggest change from switching networks, everyone agrees, is the enthusiasm. "The attention and push NBC is giving us—we feel really supported," says Fumero. "Even though we've been on for five years, we feel like a brand-new show in Season 1."
"The promos and advertising have really blown us away," says Goor. No one's willing to diss their old stomping grounds, but let's just say that Fox never foot the bill for a two-minute Die Hard parody, complete with helicopters and explosions, just to announce a new season. "When I saw that trailer, I was jaw-dropped," admits Goor. "They get the show's humor and point of view."
"Also, when we went to upfronts for NBC," says Samberg, "I knew all the security guards from SNL. Not gonna lie, it felt real good."
Behind the camera, almost nothing has changed. "Our immediate overlords [Universal Television] remain the same," says Goor. "It's the same studio lot, soundstage, writers and crew." (Well, almost the same; according to Samberg, "There were a few heads of departments that got new jobs within 24 hours of our cancellation, which is pretty hilarious.")
For Goor, the tricky part was the season premiere, which "had to accomplish a lot of things: the first episode on NBC, the first episode of the season and the 113th episode of the series." A meta-episode referencing the cancellation—or even just a few wink-wink-nudge-nudge lines about the network switch—was seriously considered. "We decided against that for two reasons," says Goor. "One, meta stuff is cutesy, and it takes you out of the show. Two, we did a very similar story in Season 4 [Episode 15, "The Last Ride"], where office manager Gina (Chelsea Peretti) rallied the troops on the internet and created an uproar to save the precinct. Ironically, art presaged life."
Instead, it's more or less business as usual. The Season 5 cliffhanger—the stoic Captain Ray Holt (played by Emmy-nominated Andre Braugher) was just about to tell the squad whether or not he made NYPD commissioner—is resolved swiftly in typically quippy Nine-Nine fashion. Newlyweds Jake and Amy, meanwhile, are off to Mexico for their honeymoon—which, naturally, is not the romantic escape they'd envisioned.
The rest of the season includes a journey to the '80s with a young Hitchcock and Scully, a confrontation between Jake and Amy's reserved Cuban-American family, and a goodbye for the sarcastic and self-absorbed Gina (Peretti announced in October that she was leaving the series with the possibility of future guest appearances).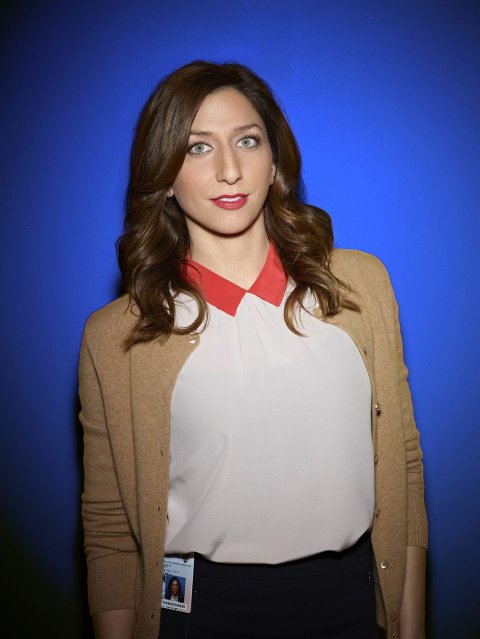 "Gina's two-episode goodbye is unlike anything we've done before," says Goor. "We have four separate stories, with Gina the lead of each. We're taking advantage of having fewer episodes this season by doing more format-breaking episodes—like one where Jake and Rosa (Stephanie Beatriz) spend an entire episode at a crime scene."
Season 6 also continues Nine-Nine's tradition of "issues" episodes. Season 4 took on racial profiling with Terry Crews's Sergeant Terry Jeffords; 5 tackled identity issues when Rosa came out as bisexual; and this season the show takes on #MeToo. "Jake and Amy are dealing with a 'he said, she said' case, and it brings up stuff for her," says Fumero. "Different versions of the male point of view are used: The man that's trying to be an ally, and the man that's stuck in old ways. It was lovely," she adds, "to see a vulnerable side of Amy."
NBC has committed to one season for sure. "We're in it for the duration," says Samberg. "However long people want to see the show."
"Same," adds Fumero. "I still enjoy spending 12 hours a day with these people. As long as NBC will have us, we will happily show up."