Brooklyn Nine-Nine seemed to be over after it was cancelled by Fox in May 2018. The series has since moved to NBC with a two-season commitment. Next month Season 7 of the cop comedy will see a Saturday Night Live star join the cast thanks to a plot that follows the shocking events of the last season finale, as seen in the '80s-inspired trailer.
When does Brooklyn Nine-Nine Season 7 start on NBC?
Brooklyn Nine-Nine Season 7 begins airing weekly episodes on February 6 at 8:30 p.m. on NBC. The latest season will be the shortest in the show's history, with 13 episodes compared to the high of 23 episodes it had every season at Fox (and the 18 it had on NBC last year).
However, as Deadline noted, NBC also commissioned the previous season for 13 episode before extending it by another five episodes, meaning the network could give us more from the nine-nine in spring.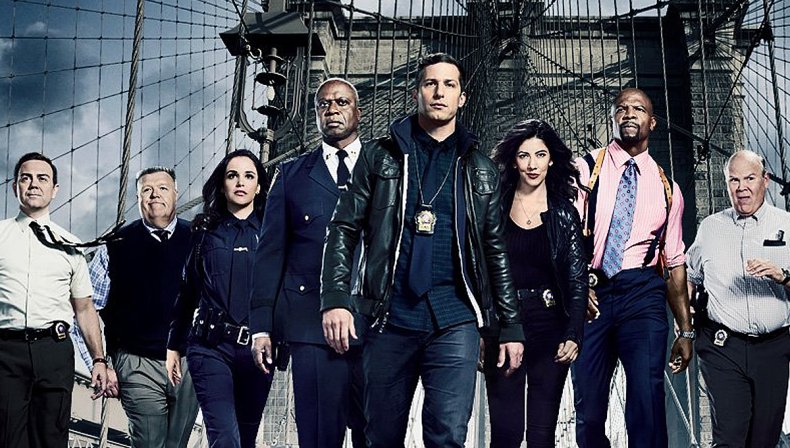 Who is in the cast of Brooklyn Nine-Nine Season 7?
All of the show's regulars will be back with the exception of Gina Linetti ( Chelsea Perreti), who left the show back in Season 6. Though she made a guest appearance at the end that season, Perreti has denied she is in the new season, telling a fan on Twitter, "im not in season 7 babe unless they do a flashback hun."
Among the characters who will be back, however, are Jake Peralta (Andy Samberg), Ray Holt (Andre Braugher), Rosa Diaz (Stephanie Beatriz), Terry Jeffords (Terry Crews), Amy Santiago (Melissa Fumero) and Charles Boyle (Joe Lo Truglio).
Season 7 of Brooklyn Nine-Nine will also see a new cast member join in a guest role. With Holt demoted from his position and back on the streets as a patrolman, he will have a new partner, Debbie Fogel, played by SNL alum Vanessa Bayer. In Season 7, Episode 2, meanwhile, the team will have an interim captain in the form of The Rookie actress Nicole Bilderback.
What will happen in Brooklyn Nine-Nine Season 7?
With Madeline Wuntch (Kyra Sedgwick) demoting Holt in the Season 6 finale, the 99 will have to deal with the change in power dynamics in the precinct. In a first look preview trailer on TVLine, Crews said of the upcoming episodes, "the fact is that he's still captain to us, but it's such a different position for him." Terry will have particularly tricky time, have to take over Holt's role as captain. Lo Truglio said of this, "The rest of the squad is learning how to relate to Lieutenant Terry Jeffords running the show."
The trailer for the series also teases the return of Jimmy Jab Games, while Beatriz teases, "If you thought these episodes were packed with stuff before, get ready..."
Brooklyn Nine-Nine Season 7 stars February 6 on NBC.