'Brooklyn Nine-Nine': Why the Show Has Scrapped its Season 8 Episodes
Brooklyn Nine-Nine star Terry Crews has given an interview in which he revealed that the scripts for the first four episodes of Season 8 have been scrapped in the wake of the Black Lives Matter protests.
The actor told Access Hollywood: "We talked about what's happening in this country and we talked about the shift of consciousness going on. They had four episodes all ready to go, and they just threw them in the trash. It's like, 'We have to start over.'"
The America's Got Talent host added: "We've had a lot of somber talks and very deep conversations. Through this we hope to bring something that will be truly groundbreaking this year. We have an opportunity and we plan to use it in the best way possible." He also admitted, "right now we don't know which direction we're going to go in."
This interview came after there were numerous calls for NBC to cancel Brooklyn Nine-Nine as so-called 'copaganda' that portrays police in a positive light–a campaign that led to the cancelation of unscripted shows like Cops and Live PD.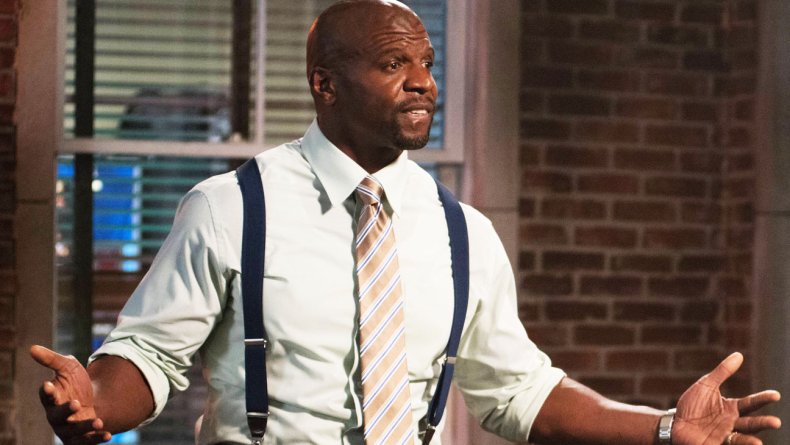 Accusations that Brooklyn Nine-Nine has glamorized the police have been made ever since the show debuted in 2013. That year, for example, David Grossman wrote in The New Republic, "[Brooklyn Nine-Nine creator Michael] Schur and Brooklyn Nine-Nine take the strange position that we should view the NYPD like Dunder Mifflin [the setting of The Office], full of loveable kinda-losers who are just trying to get by. It's fine for a fantasy land, but Brooklyn's law enforcement system is a real, deeply problematic place."
Earlier this month, the cast and showrunner of the NBC show made a $100,000 donation to the National Bail Fund Network. The show also tackled racial profiling and police brutality in the 2017 episode "Moo-Moo". In that installment, Police Lt. Terry Jeffords (played by Crews) was stopped, manhandled, and frisked by a white officer.
In that episode, Crews' character delivers a speech in which he says: "When I got stopped the other day, I wasn't a cop. I wasn't a guy who lived in a neighborhood looking for his daughter's toy. I was a black man, a dangerous black man. That's all he could see, a threat."
Episode co-writer Dan Goor said of this to Buzzfeed News: "It would almost feel woeful to not talk about this thing that is happening. What is our way into the issue, given that we portray our cops as cops who wouldn't racially profile somebody, or who wouldn't stop-and-frisk somebody? How do we bring those issues to the fore?"
In the same interview, he said: "Our particular squad—our heroes—we've always made sure are good cops and model the kind of behavior and techniques that we would hope all cops exhibit." He later added: "There are a lot of cops who are trying to do the right thing."
Brooklyn Nine-Nine Season 8 starts this fall on NBC