'Brooklyn Nine-Nine' Stars Talk 'This Is Us' Crossover, But Here's Why It Probably Won't Happen
Now that Brooklyn Nine-Nine has found its rightful home on NBC, the show's stars have begun dreaming of possible crossover episodes. A crossover episode or moment for the series wouldn't be surprising. Fans of the series may remember when Jess, played by Zooey Deschanel, appeared on an episode of the show for a New Girl crossoverwhen both series aired on Fox. But chances of NBC crossover are slim. Here's why.
Nine-Nine star Andy Samberg was the first to mention his want for a This Is Us crossover on the newly-placed NBC comedy. "I want that This is Us [crossover]. I've said I'll settle for nothing less," he said during a Brooklyn Nine-Nine press event in December, according to The Wrap.
But a This Is Us feature on the series could be confusing. Sterling K. Brown, who plays Randall Pearson on This Is Us, formerly appeared on Brooklyn Nine-Nine, not as Pearson but as Phillip Davidson, a murderer dentist. Nine-Nine showrunner Dan Goor explained if Brown were to appear on the cop comedy again, he'd never be able to play Pearson because his image on the show is already set as Davidson. Samberg joked he's sure no viewer would care.
Terry Crews alleged the This Is Us kind of happened already with Brown's dentist role. He thought of other possible crossovers, but ran into the same problem.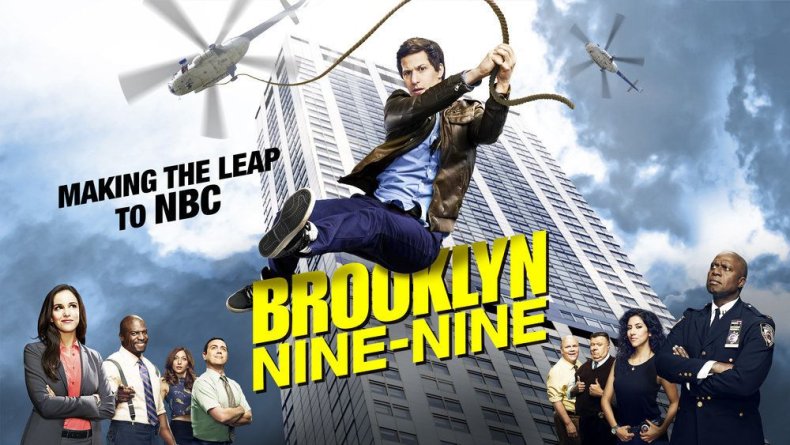 "You know what's weird is, we did kind of have one with This Is Us with Sterling coming on the show, you know?" Crews said at the press event. "And it's wild, because I'm a big fan of The Good Place. But when you see characters that are on The Good Place, like Captain Holt's husband, [Kevin].
"Marc Evan Jackson (Kevin) plays a different character [on The Good Place], so you start to wonder, 'Can we do this?' I don't know."
Crews offered a solution. "Maybe just characters from The Office showing up in the precinct," he said of the canceled NBC show which last aired in 2013.
Brooklyn Nine-Nine was canceled on Fox in May, but was re-signed by NBC in only 31 hours, according to Vulture. The decision to sign Season 6 came after fan outcry on social media and videos from the beloved show with a nearly cult-like following, circled the internet.
Season 6, the first on NBC, will air on Thursday night at 9 p.m. EST.