In a Brooklyn Warehouse, Prepping for the Climate March With Art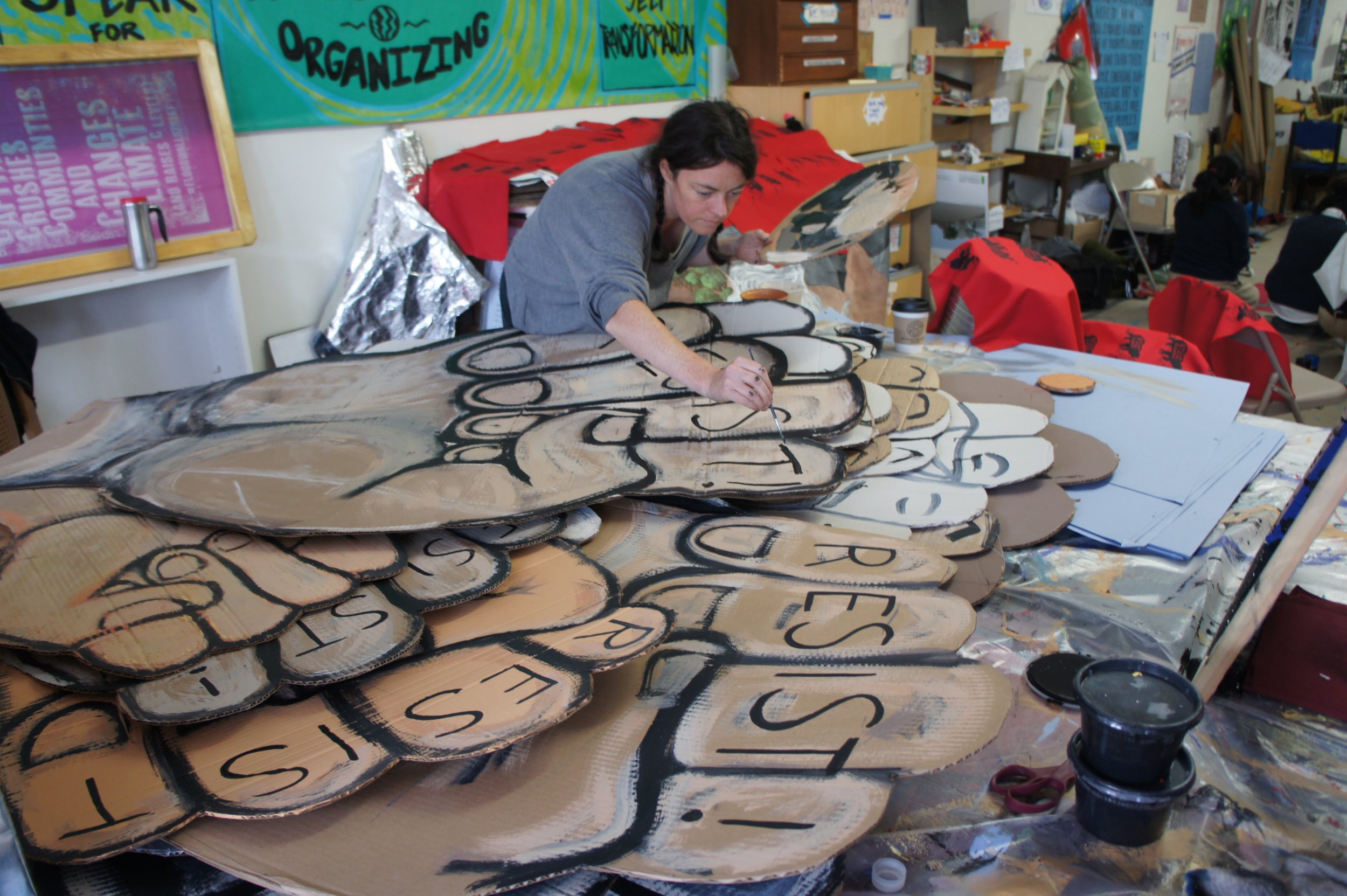 On Friday afternoon on the terrace of a warehouse in Bushwick, Brooklyn, the sun was hot, and paint was drying quickly. Activists and artists crouched over bright banners bearing anti-tar sands slogans, the phrase "Capitalism versus Climate," and phone numbers protesters could call if they get arrested during a sit-in on Wall Street planned for next week.
Inside, all three floors of the brand-new warehouse were teeming with activists and art supplies. Bushwick, a neighborhood already bursting with artists' studios, seems a natural place to find the artistic center of the People's Climate March, the massive demonstration planned to snake through Manhattan on Sunday. The brightly-colored scramble to make props and flags for the march is the first use of the building since it was built earlier this year, and the people organizing it hope to continue housing activist art projects here. Nearby, at a second warehouse normally home to Be Electric, a photography and videography space, artists worked on larger sculptures and floats for the march.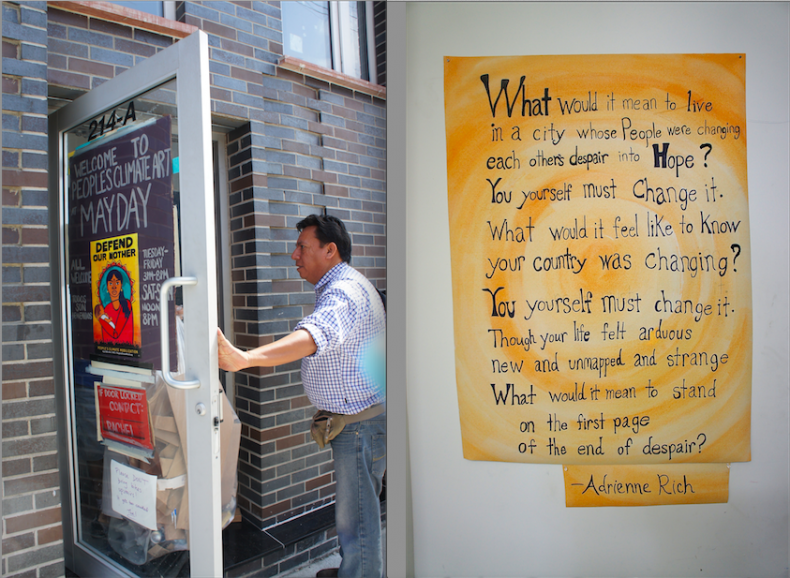 Anna Nogueira, 38, is a longtime activist organizer who has lived on the block for 13 years. She and Sandy Nurse, 30, who runs a composting group called BK Rot, began collaborating when Nogueira's landlord asked if she had any thoughts for a way to use his new building. They've dubbed it the "MayDay Space," and hope to open a bar and cafe on the first floor to help with rent. For now, though, there's a "coming soon" sign on the first floor entrance, and the environmental organization 350.org is paying their rent through October.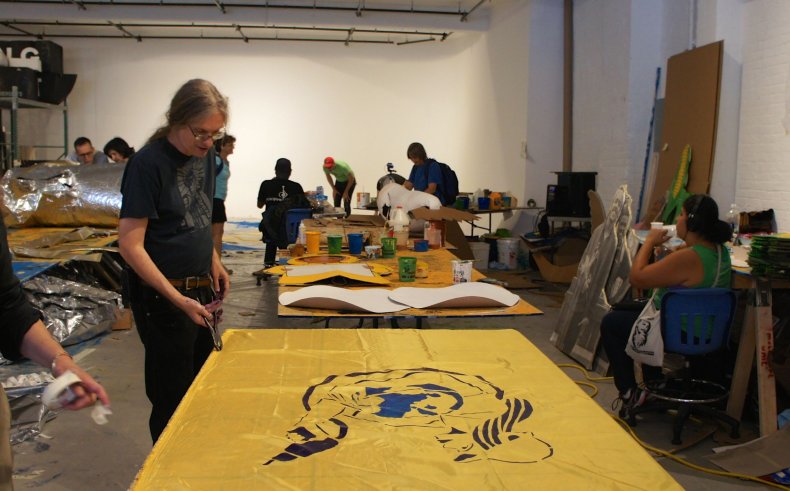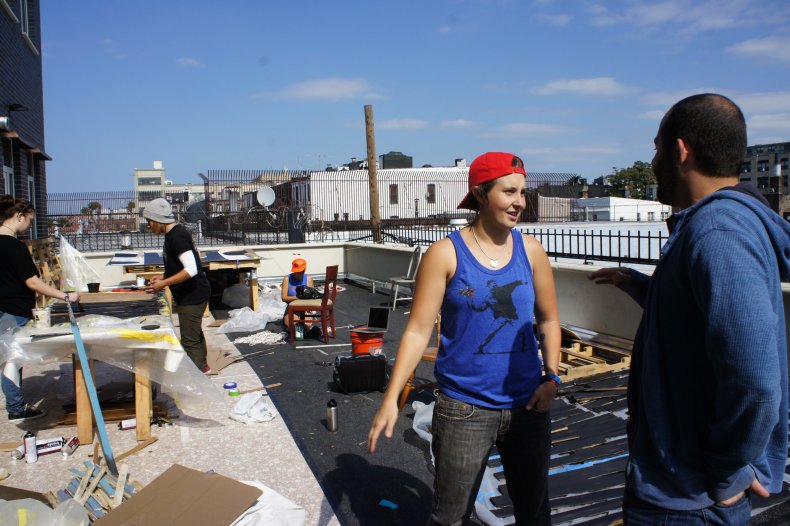 Lauren Wood, 26, arrived in New York from Utah last night and is crashing with friends in Brooklyn. She is part of Utah Tar Sands Resistance, the group that made headlines by locking themselves to equipment and blockading the entrance to a tar sands strip mine near Moab, Utah, in July. At the march on Sunday, Wood will be walking with a block of organizations broadly titled "We Know Who Is Responsible," which will include other anti-fossil-fuels groups along with anti-corporate organizations.
"I've been a Utah raft guide my whole life. Being on the river, it's obvious why this stuff matters."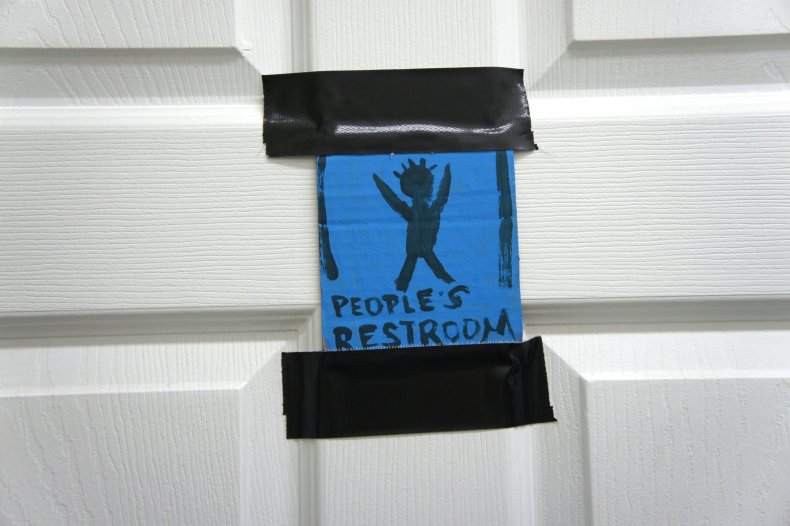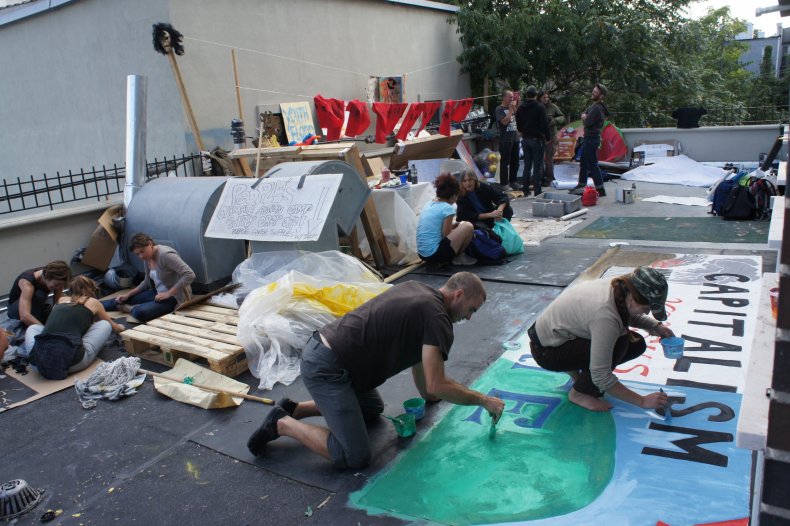 Ruddy, 29, crouches on the warehouse's large terrace, painting a big sign with the phone number for the National Lawyers Guild, where protesters can call for legal support when they've been arrested. Ruddy arrived Thursday from southeastern Florida, where she is an organizer with Everglades Earth First, a group that protests companies that replant native forests with stands of genetically modified eucalyptus trees. She says she is and more interested in the sit-in scheduled to take over Wall Street Monday morning (where arrests are expected to occur) than in the massive Sunday climate march. She criticizes the march as being too connected to large companies. Patagonia, PepsiCo, Target, and Red Bull, are among the companies that have come out in support of the march.
"I read an article the other day, that criticized the march for its lack of a goal, lack of a target. There are large corporations involved. This is white man's money," Ruddy says. By contrast, the anti-capitalism sit-in, called Flood Wall Street, has no corporate support, and no permit from the NYPD—thus the poster with the phone number.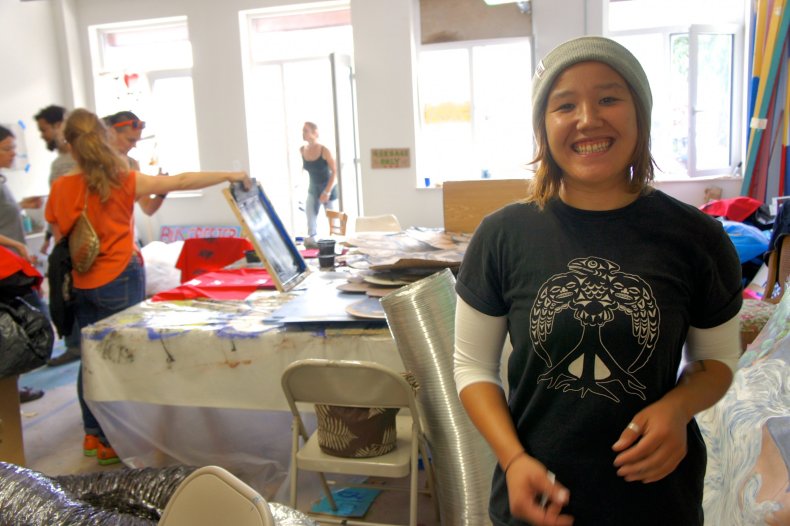 Callan Chythlook-Sifsof, 25, a professional snowboarder and member of the USA Olympic snowboarding team, hails from Bristol Bay, Alaska. She's the first Alaska Native to be an olympian, and she came out as gay during the Sochi games, to protest Russia's anti-gay law. Now, she says she's using her platform to speak out against Pebble Mine—a giant open-pit gold and copper mine proposed for the Bristol Bay region. At 13, Chythlook-Sifsof moved to a ski resort for training. "But my family has been there for 10,000 years," she says.
Bristol Bay is the most productive wild salmon fishery in the world, surrounded by sensitive tundra, and EPA administrator Gina McCarthy recently announced her agency would investigate what impact waste from the mine would have on the ecosystem. Nearby Alaskan communities have protested the mine for years, but, says Chythlook-Sifsof, they are often overlooked.
"I grew up there, commercial fishing with my family. That's a huge industry in that area. And it's done sustainably—it's not like we're killing all the fish," she says. "The politics of Anchorage and the few other large communities just completely overpower anything that anybody else in these rural villages says. Nobody listens. It's just what's happening in all of rural Alaska, with mines and oil drilling. It's taking over our state. The people who make these decisions don't ever go out to these rural villages."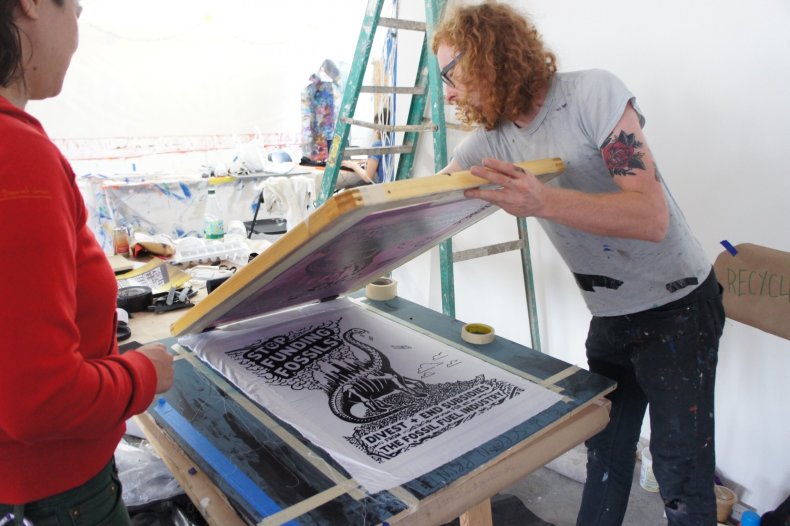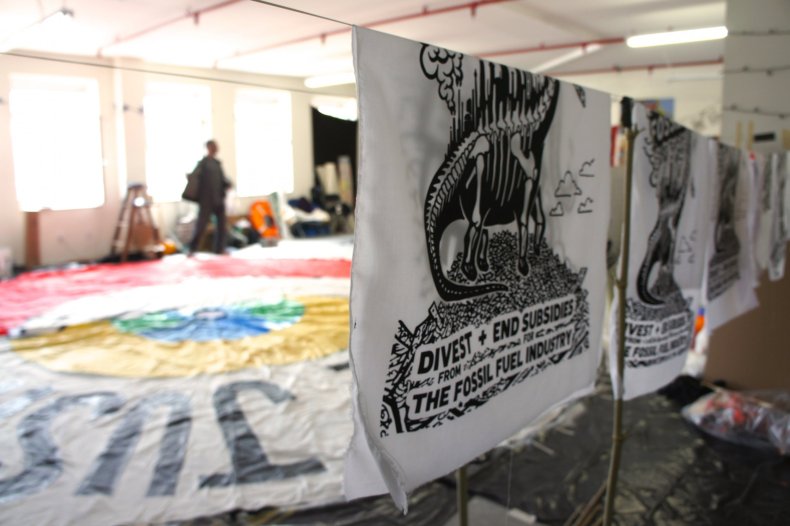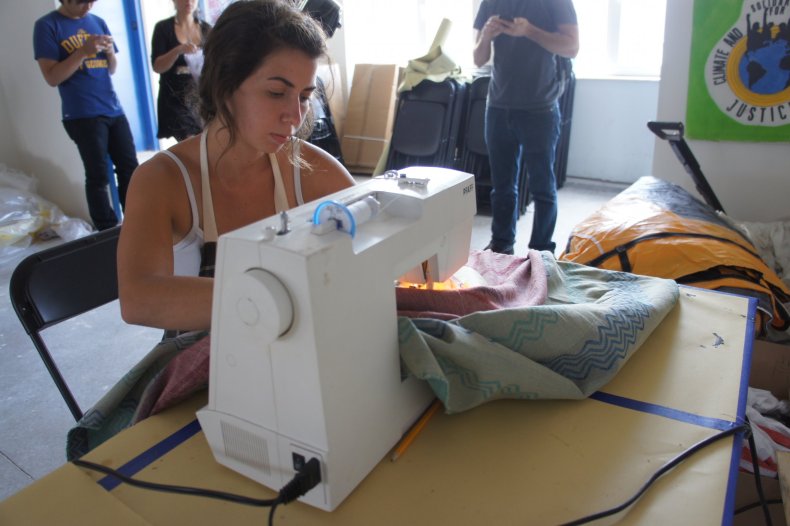 Ella Belenky, 23, sat on the third floor of the warehouse, draped in a heavy pile of cloth, a bit of which she fed into a sewing machine. She arrived last week from Vermont with members of the Bread and Puppet theater, a celebrated politically radical puppet theater known for serving their home-baked bread at all productions. Belenky was sewing a banner that will read "Just Because We Aren't In Power, Doesn't Mean We Don't Have Power," intended for "the kids' block," the youngest contingent of marchers on Sunday. "We don't know how many kids are going to come. It could be 100, or it could be 5," she said. Tomorrow, in a nearby park, she plans on making masks with neighborhood kids of "their favorite animals that might go extinct with climate change."