The Viral #BroomstickChallenge Now Has Celebrities Getting In on the Action
There's a new trend sweeping social media. People all across the U.S. have taken to Twitter to show off their tall standing brooms in the new Broomstick Challenge that erupted on social media on Monday, and even a few celebrities have gotten in on the fun.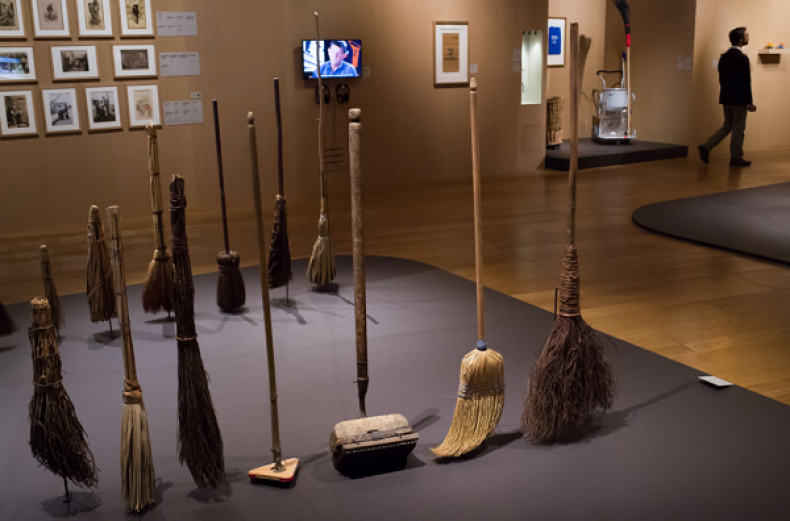 Rapper Future participated in the challenge and shared a photo of himself sitting in his kitchen next to a broom that was standing straight up on its own.
Ally Brook of Fifth Harmony also got in on the challenge, although her reaction to her standing broomstick may have freaked her out a bit. "OH MY GOD?!?! I REBUKE THIS #BroomChallenge #Gravity," she wrote on Twitter alongside a photo of her broom standing in her kitchen.
Singer Paula Abdul had a dance party with her standing broom. She shared a video on Twitter of herself dancing and twirling around her broom, which was also standing straight up before her moves caused the broom to fall down. "Pajama broom challenge. What are you doing on a Monday Night?! #broomchallenge," she wrote.
The challenge started with a viral tweet alleging that NASA said Earth's gravitational pull would allow a broomstick to stand straight up on its own for one night only on Monday. However, that turned out to be false—NASA said no such thing, and the agency has provided no source information backing the claim.
In an email, NASA told Newsweek: "This is another social media hoax that exemplifies how quickly pseudoscience and false claims can go viral. While this hoax was harmless, it also shows why it's important for all of us to do some fact checking and research—including checking in with @NASA and NASA.gov for real science fun facts—before jumping into the latest viral craze."
In actuality, brooms can stand on their own at any given moment because the center of gravity is low on a broom and resides directly over the bristles, according to CNN. This means that if a person can stand a broom on its bristles at the right angle, or position the bristles like a tripod, the broom will stand no matter the time or the day.
Al Roker tested the theory live on the Today show and debunked the claim when he managed to stand his broom upright on Tuesday.
"It's not about yesterday. You can do this any day," he said. "Basically you use the short bristles like a tripod. Anybody can do it any day. There you go."
The myths surrounding standing brooms are nothing new. Long before people on Twitter started spouting claims about Earth's gravitational pull causing brooms to stand upright, people believed items like brooms and eggs would balance on their ends as a reaction to the vernal and autumnal equinoxes each year.