Brother And Sister Whose Firefighter Dad Died in 9/11 Graduate Together From FDNY Academy
On Tuesday, 301 probationary firefighters graduated from the FDNY Training Academy, including 13 whose fathers perished in the Word Trade Center attacks on September 11, 2001.
In all, the fathers of 21 new graduates died in the line of duty.
"Many of their fathers were killed on September 11th, several others died of World Trade Center illnesses, and others lost their lives in the course of their duty, bravely working to save and protect others," said New York City Fire Commissioner Daniel A. Nigro, who presided over the graduation ceremony. "Today, these 21 legacies are no longer children dreaming of their careers their fathers loved, and of serving in the world's greatest fire department. Today, they have fully achieved their dreams."
Siblings Marc and Rebecca Asaro, who graduated Tuesday, are following in the footsteps of their father, firefighter Carl Asaro of Engine 54, one of the 343 FDNY members killed on September 11th. The Asaros have two brothers already in the department, Matthew and Carl Asaro, Jr.
"Every day that I came to the academy, I was grateful to be there and to follow in the footsteps of my father, brothers, uncle, and all those who came before. This is exactly where I want to be," said Rebecca Asaro.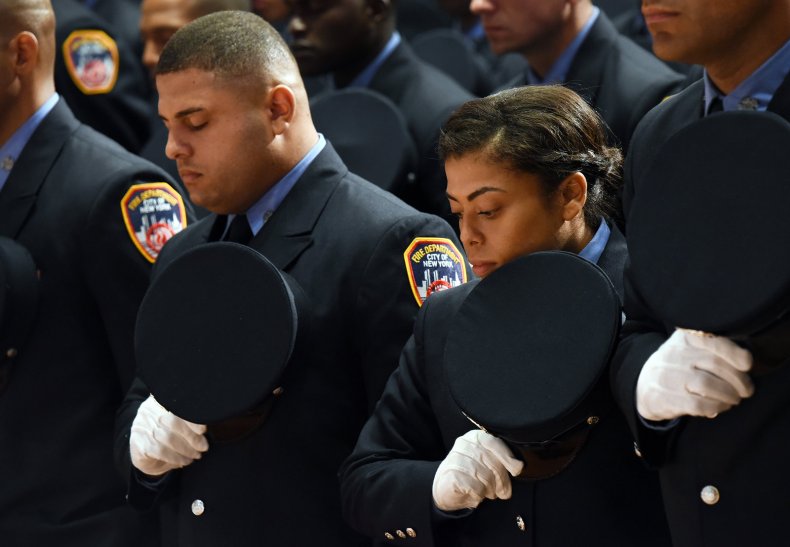 Marc Asaro said he was proud to be able to do the same thing his father had laid down his life for. "It's more incredible that my sister and I are doing it together. It's a proud feeling."
"My sister and I push each other to be better every day," he added.
Class valedictorian James Devane shared his story of being severely burned when he was trapped in a basement fire nearly a decade ago and spending three weeks in an ICU.
"I was then told I would never be 100 percent back to normal again. Well, I am," Devane told his classmates. "While I was home recovering I was told I would never be able to fulfill my dream of becoming a New York City Firefighter. Today, I get to say I am."
Robert Tilearico Jr, another graduate, was following the legacy of his firefighter dad, Robert Sr., who survived the World Trade Center terror attack, but succumbed to 9/11-related cancer years later.
"I took the FDNY test the same month my dad passed away from 9/11-related cancer," Tilearico told WPIX 11.
This class of probationary firefighters is among the academy's most diverse, with 37 percent identifying as people of color—including 12 percent as black, 20 percent as Hispanic, and 5 percent as Asian—and 16 female graduates.
"It's empowering to see and be surrounded by so many females with the same goals as me," said Kristen DeRop. "I'm really happy that there are so many powerful, strong women on the job."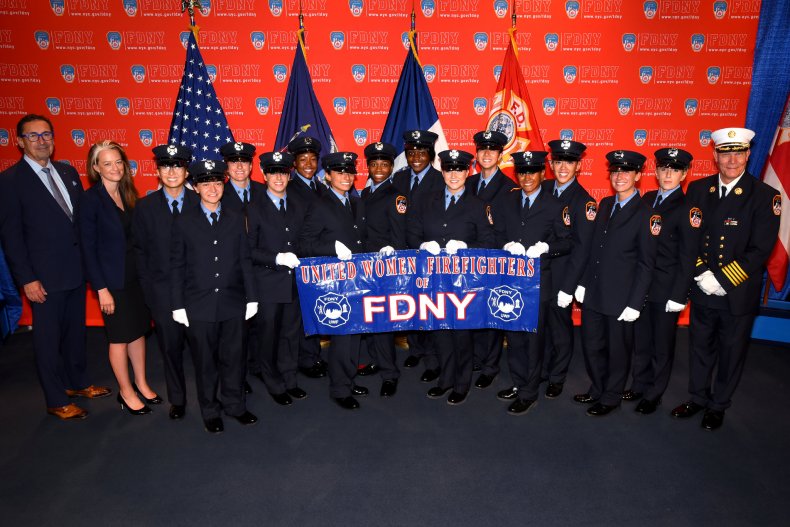 In addition to their rigorous training, the probationary firefighters donated 276 pints of blood and donated more than $11,240 to various charities and to the family of Steven Pollard, a recent graduate who was killed in the line of duty while responding to a crash in Brooklyn in January.
Earlier this month, the FDNY added 22 more names to the 9/11 memorial wall at FDNY headquarters in Brooklyn. Added in a ceremony on September 6, the names were all of firefighters who had died of illnesses related to their work in the rescue and recovery efforts at the World Trade Center, the department indicated in a statement.
"This solemn wall is a poignant and permanent reminder of the sacrifice of all that responded on September 11th and toiled for weeks and months at the World Trade Center searching for the innocent lives taken that day," said Fire Commissioner Nigro. "Because of their dedication and bravery, each year the already staggering loss suffered by the FDNY continues to grow as illnesses claimed the lives of those who so bravely served our city."